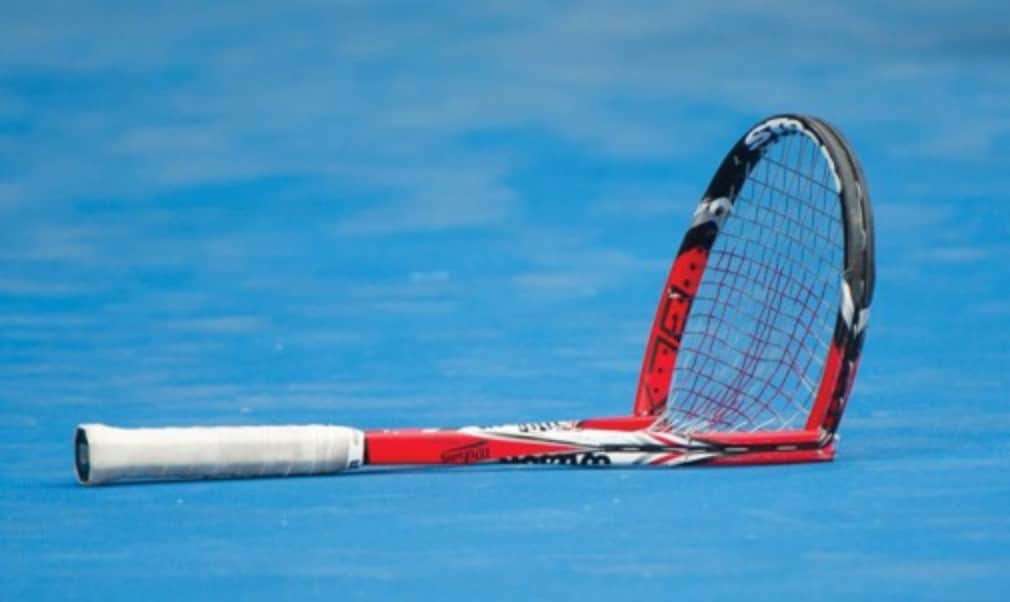 Top Ten: Racket smashing moments
Originally published on 25/02/14
1Ernests Gulbis
If there were degrees for racket-smashing, Gulbis would graduate with first-class honours. The Latvian uses up his rackets quicker than Fernando Verdasco gets through hair gel. At Delray Beach Gulbis smashed one with a single throw. "The racket and strings were perfect," he said after beating Sam Querrey. "It was issues with me and my head."
2 Fernando Gonzalez
Most racket-smashing incidents are brief affairs, but Gonzalez made the entertainment last after double-faulting against Roger Federer at Indian Wells. Having broken the racket on the baseline, the Chilean took three more swipes with it on the way back to his chair, where he encouraged the crowd to jeer him even more loudly.
3 Dmitry Tursunov
Tursunov knows a thing or two about breaking rackets and chose a novel method after losing to Juan Ignacio Chela at Indian Wells. Having missed a forehand on match point, Tursunov broke his racket across his knee. Job done, he hurled the racket towards his chair before going to the net to shake hands with the Argentine.
4 Novak Djokovic
Grass is not the best surface on which to mangle your racket, which might explain why Djokovic needed three attempts while playing Marcos Baghdatis at Wimbledon. Exploding in anger after hitting a backhand beyond the baseline, Djokovic showed little respect for the grass as he repeatedly pummelled his racket into the surface.
5 Marat Safin
Nominating Safin's most smashing moment is a bit like trying to name the Beatles' best song. Where do you start? How about Monte Carlo in 2008 against David Ferrer? Having broken his racket by hurling it to the ground, Safin made sure it was well and truly mangled by thumping it into the net post and the back of his chair.
6 Vera Zvonareva
The Russian is one of the game's brainiest players but she also knows how to demolish a racket. Following a double fault against Sam Stosur in the Charleston final of 2010, Zvonareva smashed her racket on the court surface three times, hurled it at her seat and, for good measure, gave it a good kicking too.
7 Marcos Baghdatis
It's one thing to smash a racket in a moment of rage, but quite another to do so with method and purpose during a changeover. While losing to Stan Wawrinka in the 2012 Australian Open, Baghdatis smashed four rackets in succession as he sat in his chair, the last two without even taking off the plastic wrapping.
8 Goran Ivanisevic
Ivanisevic became the first player to exit a maintour event after smashing all his rackets. He took only three on court against Hyung-Taik Lee at Brighton in 2000 and mangled the last of them in the third set. Gerry Armstrong, the supervisor, told spectators that Ivanisevic could not carry on "because of lack of appropriate equipment".
9 Roger Federer
Even Mr Super Cool has his moments of racket rage, as he showed after making a series of forehand errors against Novak Djokovic in Miami in 2009. After a moment's thought, the Swiss pummelled his racket into the court surface, breaking it in a single motion, as you might expect from the greatest player in history.
10 Andy Murray
Murray is not a habitual racket-smasher but the Scot's temper got the better of him at this year's Australian Open. Murray mangled his racket after losing the third set to world No.119 Stephane Robert.
Did we forget any good ones? Get in touch via email, facebook or Twitter.