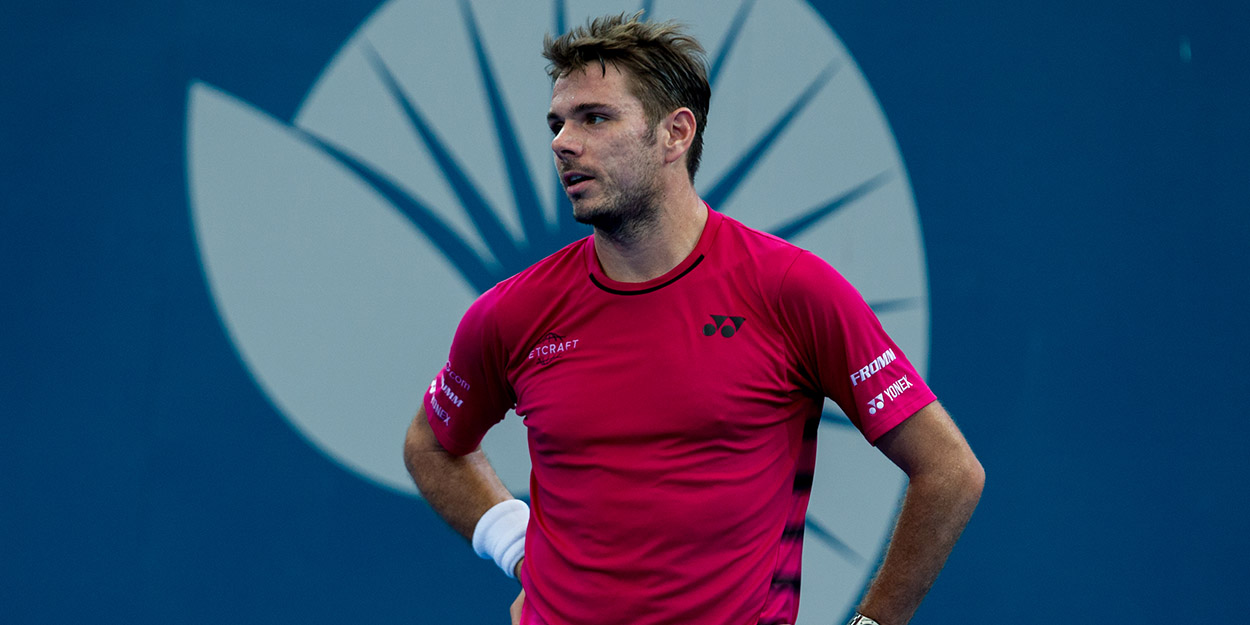 Stan Wawrinka wins 2016 US Open
For the eventual champion the match did not get off to an auspicious start; Wawrinka, who saved a match point against Britain's Dan Evans in the third round, has his serve broken in the second game and found himself 2-5 down against the world No.1. But with a mix of canny serving, mixing up 90 mph serves with 134 mph serves and winning some of the longest rallies of the match, when he was serving at 5-6 down, the Swiss clawed his way back into a tiebreak. After a series of errors and two points where each player won one remarkable point and encouraged the crowd to get involved, Stan lost the first set tie break 7-1.
But watched on by a very calm coach, Magnus Norman and girlfriend, player Donna Vekic, who looked less calm, Wawrinka used one of his trademark shots, the backhand down the line, to break Djokovic's serve to take a 3-1 lead in the second set.  He followed that with a service hold from 0-40 down, showing the resilience and strength that eventually helped him win the match. Djokovic clawed it back back to 4-4 but Wawrinka, who until this stage had not held a service game to love, held his serve without dropping a point and then broke Djokovic to take the second set 6-4.
The temperature outside went down as the sun set, while the heat on court went up. Djokovic smashed his racket in frustration at the end of the second set and with Wawrinka on roll – he won five games in a row from 4-4 in the second set and established a 3-0 lead in the third. But in a set of scintillating tennis, which lasted an hour and sixteen minutes, Djokovic worked his way back to 4-4. Wawrinka held serve, only for Djokovic to match him, but Wawrinka eventually managed to break Djokovic to take the third set 7-5.  The Swiss, hitting 18 winners, had taken both of his break point opportunities in the set, while Djokovic had managed only one of six.
The 25,051 people who had come to Flushing Meadows were not disappointed with the fourth – and what proved to be the final – set. There was a controversial moment when trailing 1-3, and therefore not at an official change of ends, nor seemingly a medical emergency where the rules of tennis allow for a medical time out, Djokovic signaled to the chair umpire that he had a problem with the toes of his left foot and the trainer came on. After a six minute break, play resumed with Stan holding serve to make it 4-1. The games went with serve until Stan serving with the new balls was victorious on his second championship point.
Djokovic said that Stan had been the more "courageous" player on court.
Wawrinka, who added the US Open title to his 2014 Australian Open and 2015 Roland Garros titles, tucked the $3.5 million prize cheque into his pocket and thanked everyone who had supported him. He said he had played a lot of tennis over the fortnight (coming into the final, his matches had lasted 17 hours and 54 minutes and on Sunday he had played for a further three hours and 55 minutes). "I am completely empty," he said, but still found the words to remember what had happened in New York 15 years ago on the September 15, 2001 when terrorists attacked the twin towers of the World Trade Centre.
This man Wawrinka, who had just said his tennis goal "was to give everything I have" and "to be the best I can" had shown how on and off the court he is a true champion.
Wawrinka's Route to the 2016 US Open Championship
R1             Fernando Verdasco                 7-6(4) 6-4 6-4
R2             Alessandro Giannessi              6-1 7-6(4) 7-5
R3             Dan Evans                               4-6 6-3 6-7(6) 7-6(8) 6-2
R16           Ilya Marchenko                        6-4 6-16-7(5) 6-3
QF            Juan Martin del Potro               7-6(5) 4-6 6-3 6-2
SF             Kei Nishikori                            4-6 7-5 6-4 6-2
Final          Novak Djokovic                       6-7(1) 6-4 7-5 6-3