Roger Federer, the evolution of a champion from 2003 to 2018
An analysis of 10 key metrics from Roger Federer's first and most recent Wimbledon victories demonstrates how his game has evolved.
Roger Federer's game has matured through the years at Wimbledon. He has adapted his playing style as the conditions have evolved and modified his tactics to take advantage of trends in the sport and to counter his fiercest opponents.
The following analysis is a direct comparison between 2003 and 2017, the years when Federer won his first and eighth Wimbledon titles. There are 10 different metrics to consider that uncover his different pathways to the title.
| | | |
| --- | --- | --- |
| | 2003 | 2017 |
| Round 1 | H T Lee 6-3 6-3 7-6(2) | A.Dolgopolov 6-3 3-0 RET |
| Round 2 | S Koubek 7-5 6-1 6-1 | D Lajovic 7-6(0) 6-3 6-2 |
| Round 3 | M Fish 6-3 6-1 4-6 6-1 | M Zverev 7-6(3) 6-4 6-4 |
| Round 4 | F Lopez 7-6(5) 6-4 6-4 | G Dimitrov 6-4 6-2 6-4 |
| Quarter final | S Schalken 6-3 6-4 6-4 | M Raonic 6-4 6-2 7-6(4) |
| Semi final | A Roddick 7-6(6) 6-3 6-3 | T Berdych 7-6(4) 7-6(4) 6-4 |
| Final | M Philippoussis 7-6(5) 6-2 7-6(3) | M Cilic 6-3 6-1 6-4 |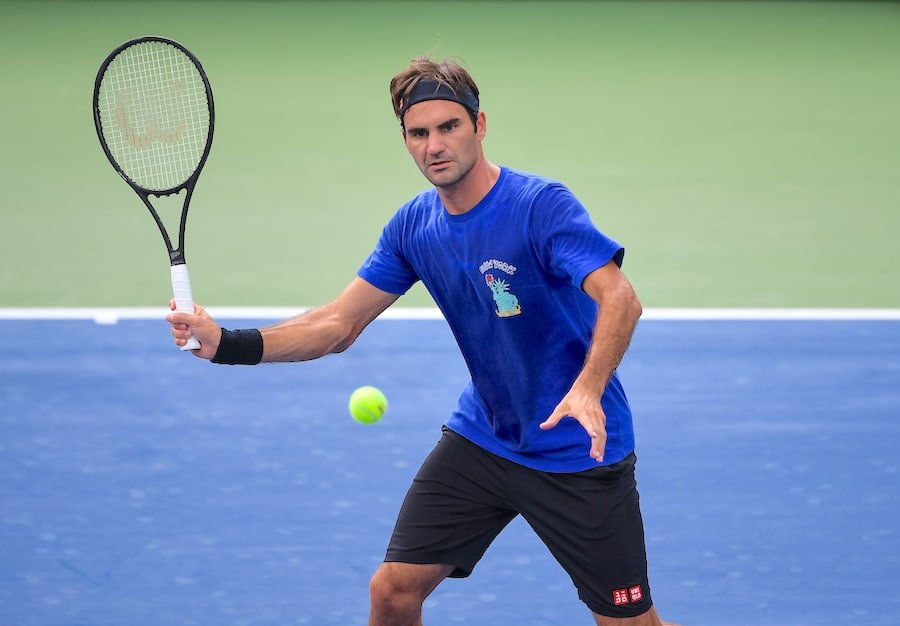 Serve and volley
2003 Won 68 per cent (213 out of 313)
2017 Won 83 per cent (68 out of 82)
There is no comparison here. In 2003 Federer played serve-and-volley almost four times more frequently than he did in 2013. In his fourth-round win in 2003 (a straight-sets victory over Feliciano Lopez) Federer played serve-and-volley 61 times, winning the point on 38 occasions (62 per cent). That's almost as much serve-and-volley as he played in all his matches combined last year.
Serve-and-volley will always be a staple of Federer's game, but of late he has been using it more as a secondary tactic rather than as a primary one. If Federer can't put his first volley away, quite often you will see him hit it back behind his opponent rather into the open court. This is because it is actually easier to hit a passing shot on the run and a lot tougher to have to stop and go back in the direction you just came from before hitting the shot.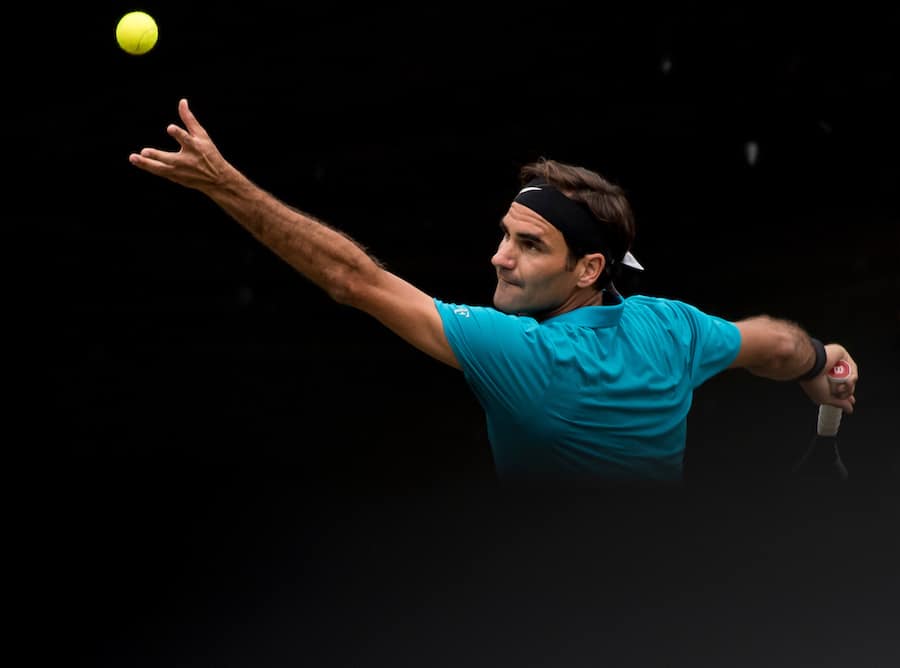 Aces / double faults
2003 93 aces / 20 double faults
2017 72 aces / 12 double faults
The most aces Federer served in a match in 2017 was 13. The most in 2003 was 21, in the final against Philippoussis. That included one second-serve ace. In 2017 he averaged one double fault for every six aces. That's a superior ratio to 2003, when he averaged one double fault for every 4.6 aces.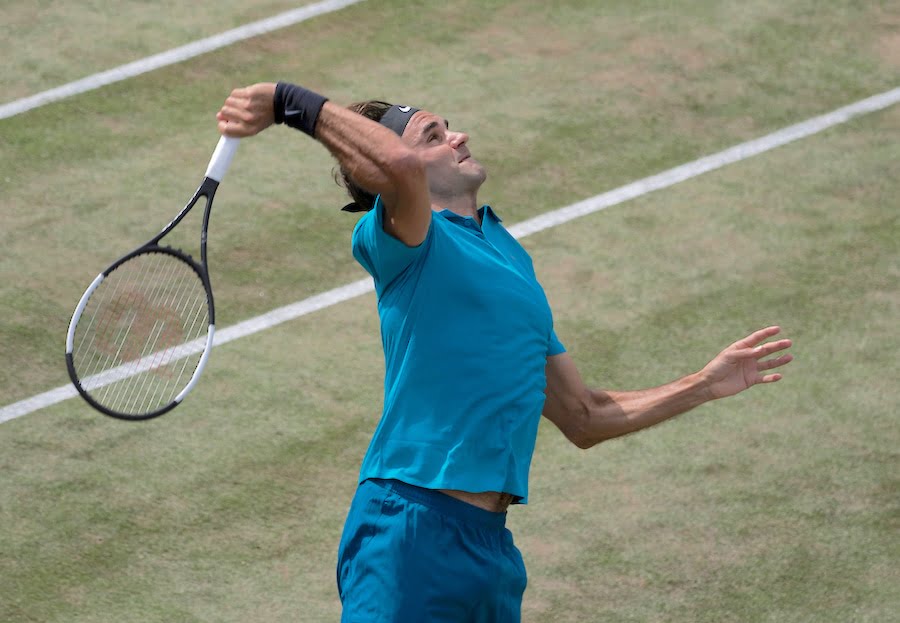 Average serve speed
2003 Average first-serve speed 114mph / Average second-serve speed 98mph
2017 Average first-serve speed 114mph / Average second-serve speed 98mph
Nothing has changed here. We seem to have it in our minds that athletes are continually improving, getting faster for example. While that may be true in some areas of our sport, it is not moving the dial at all with Federer's serve speeds. You could almost think of it as ideal serve speed based on his physicality, which includes his height, weight and strength.
Some opponents can hit more aces and hit the serve consistently harder, but Federer is maximising his talents with the speed he hits the ball and his ability to hit his serve targets both out wide and down the middle of the service box. In 2003 an average of 41 per cent of Federer's serves went unreturned. That rose ever so slightly to 42 per cent in 2017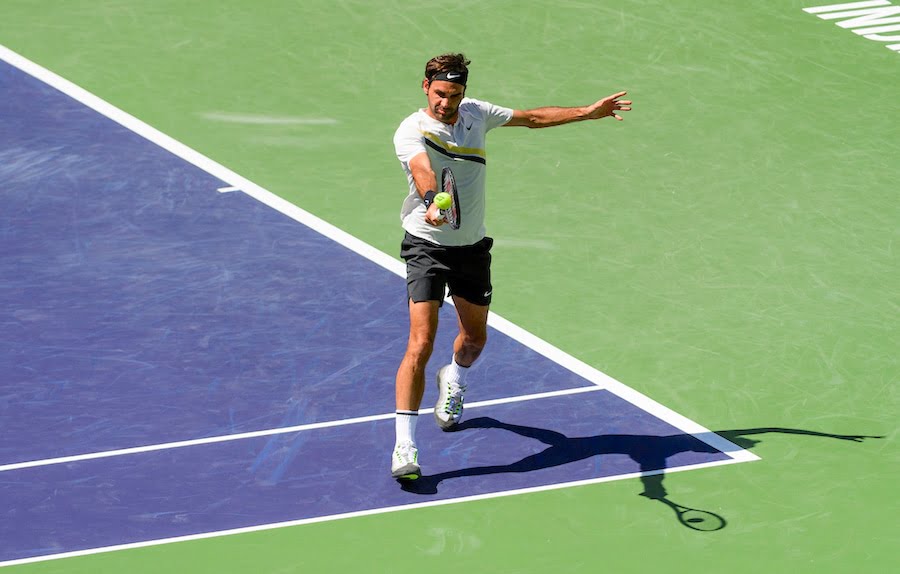 Returns in
2003 71 per cent
2017 66 per cent
Federer was very impressive with his return game in 2003, especially when you consider that he faced big servers (Andy Roddick and Mark Philippoussis) in the semi-final and final. Federer has typically blocked his forehand return and sliced his backhand return on the grass courts at Wimbledon, but blocking his backhand return has been a significant factor in his return to the top of the world rankings. This takes time away from the server's Serve +1 groundstroke and forces more errors early in the rally.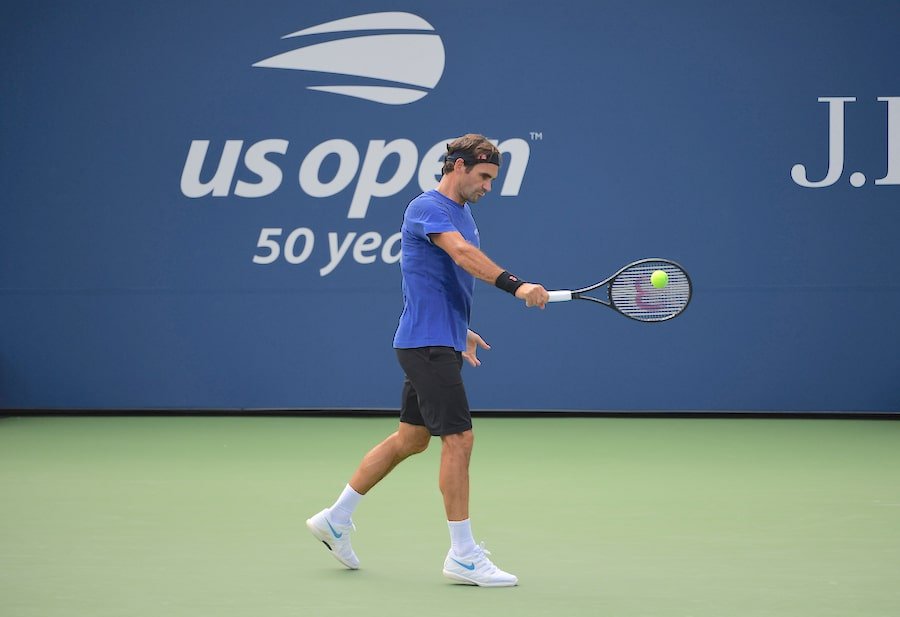 Baseline points won
2003 51.8 per cent (275 out of 530)
2017 55.9 per cent (302 out of 540)
 It is impressive that Federer has a winning record above 50 per cent in both tournaments. For example, when Federer won the 2016 Australian Open he only won 49.1 per cent (247 out of 503) of his baseline points. Federer put up outstanding numbers from the baseline in 2017, winning almost 56 per cent of his baseline points to be ranked first in this strategy category. Stop and think about that for a minute. Federer won more points from the back of the court than Novak Djokovic (55 per cent), Rafael Nadal (53 per cent) and Andy Murray (52 per cent).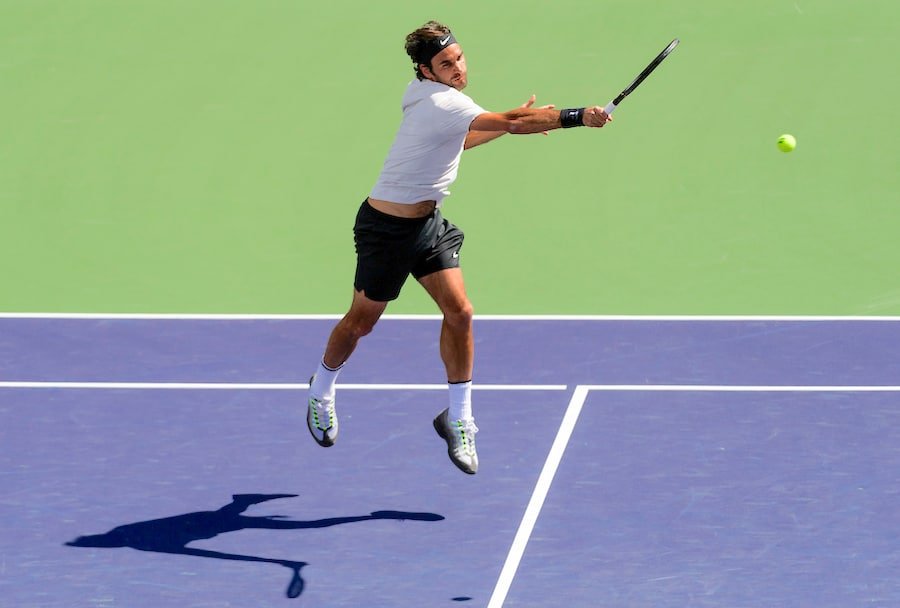 Groundstroke winners
2003 Forehand 66 / Backhand 46
2017 Forehand 79 / Backhand 31
One thing that Federer has refined over the years is his ability to find more run-around forehands in the Advantage court. His thirst for more forehands over backhands is reflected in these numbers, with more forehand winners being struck in 2017 compared with 2003 and fewer backhand winners.
A preferred tactic of Federer is to move quickly to his left once he sees his opponent is targeting his backhand and turn that groundstroke into a forehand. Federer's forehand is more lethal in the Advantage court, as he can attack down the line or cross-court and freezes his opponent with the natural open stance that is typically hit to produce the shot.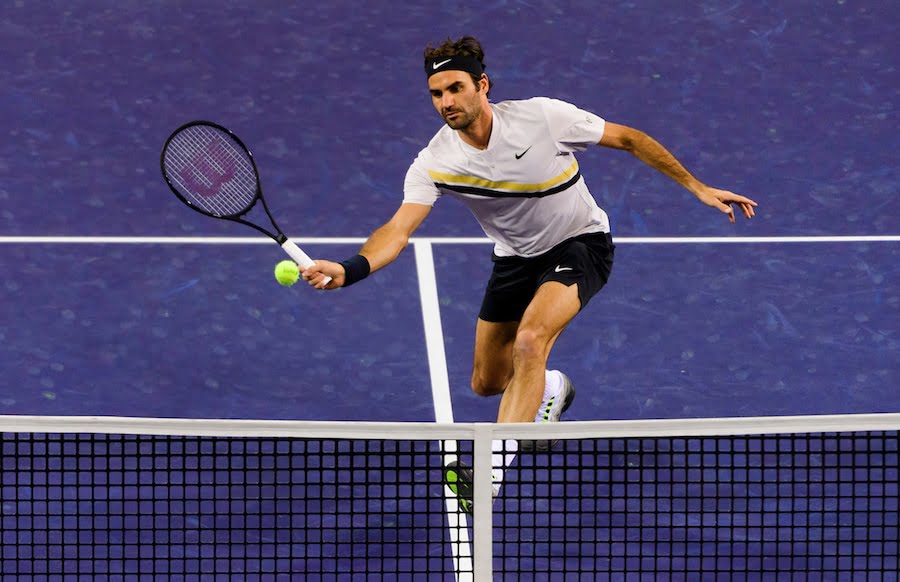 Total net points won
2003   57 per cent (197 out of 347)
2017 74 per cent (111 out of 150)
Federer came to the net more than twice as much in 2003 compared with 2017. There are many contributing factors, such as the speed of the grass courts, or the game style of the opponents. Overall, Federer (and the rest of the players on tour) have ventured forward less in recent years, choosing to battle more from the back of the court.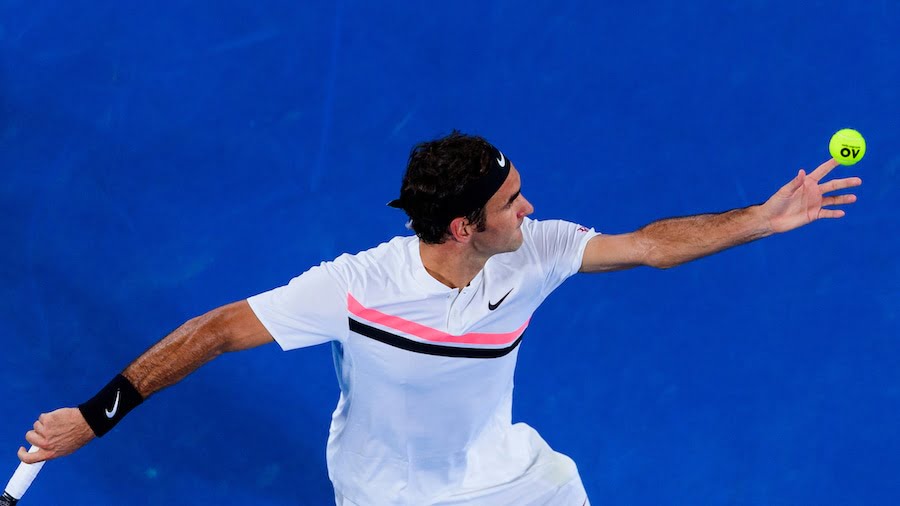 Second serve points won
2003 51 per cent
2017 67 per cent
Typically, anything above 50 per cent in this critical category is a win. Federer has a career average of 57 per cent in this area. In 2003 his second serve had not yet grown to be a strength of his game, but it was not a weakness either. By 2017 it had fully matured into a lethal part of his arsenal. To win more than two out of three points behind your second serve, even on grass, is quite an achievement.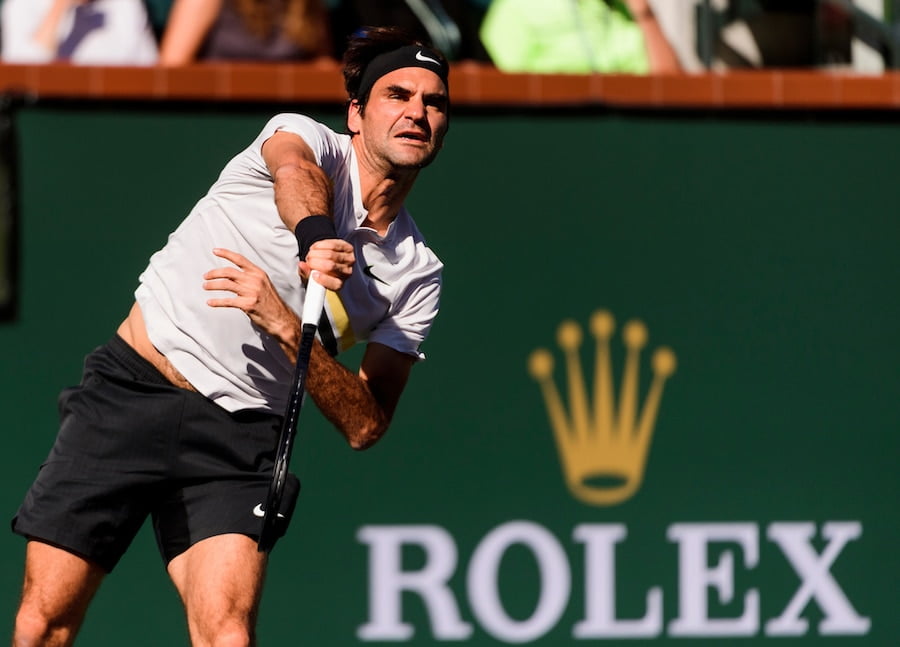 First serve percentage
2003 62 per cent
2017 67 per cent
Federer's career average for first serves made is 62 per cent, which is exactly the same as his average in winning Wimbledon in 2003. By 2017 he had refined the art of making first serves and hit the target with 67 per cent of them over the whole tournament. When Federer serves wide, he is typically hitting his serve slower and with more slice, trying mainly to elicit a return error from his opponent. When he serves down the centre, he is chasing aces and service winners a lot more.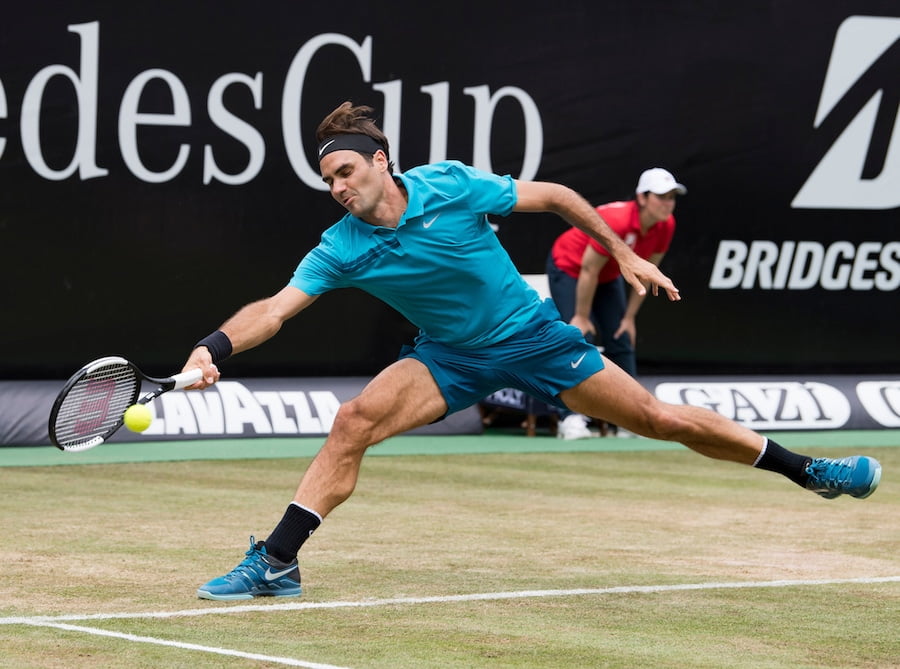 Break points saved
2003 73 per cent (30 out of 41)
2017 81 per cent (17 out of 21)
This is where you can see the experience of winning so many major titles throughout his career coming into play. Federer faced only 21 break points in 2017 and had to deal with almost double that amount in 2003 (41). Federer was broken only four times in 2017 and 11 times in 2003. Legend status is born during these crucial moments. Federer is as good as it gets in handling pressure on the world's biggest stage.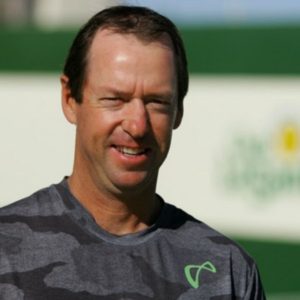 About the expert
Craig O'Shannessy is the strategy analyst for the ATP World tour, Wimbledon, the Australian Open and the New York Times. 
For more amazing insight like this get your copy of Tennishead magazine here