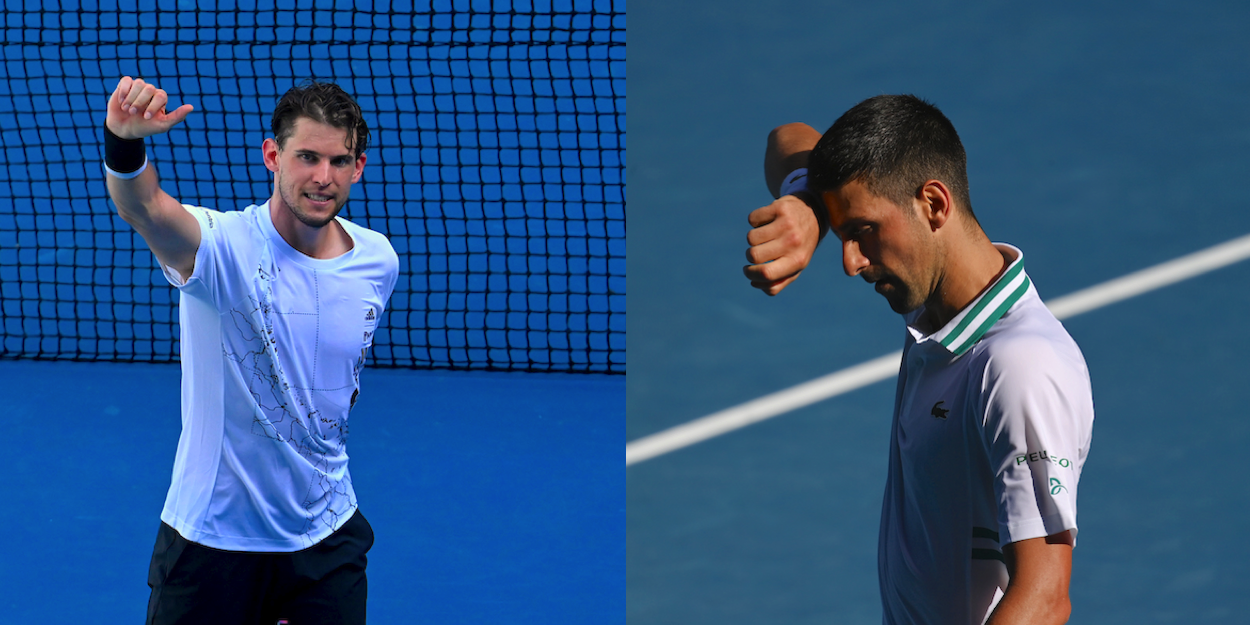 Revealed: Why Dominic Thiem poses such a threat to Novak Djokovic at the Australian Open
Injured Novak Djokovic could have to play Dominic Thiem in the semi-finals of the 2021 Australian Open and this investigative analysis shows why his thoughts will undoubtedly return to the match he played against the young Austrian in the final of last year's tournament
Novak Djokovic was pushed to the limit in last year's Australian Open final, eventually winning the 5-set thriller against Dominic Thiem  6-4, 4-6, 2-6, 6-3, 6-4. Djokovic has a remarkable record in the latter stages of the Australian Open but Thiem provided a different challenge for him doing something that Djokovic's previous opponents in the Australian Open final have not been able to do as effectively. That is he was able to put more pressure on the Serb's second serve.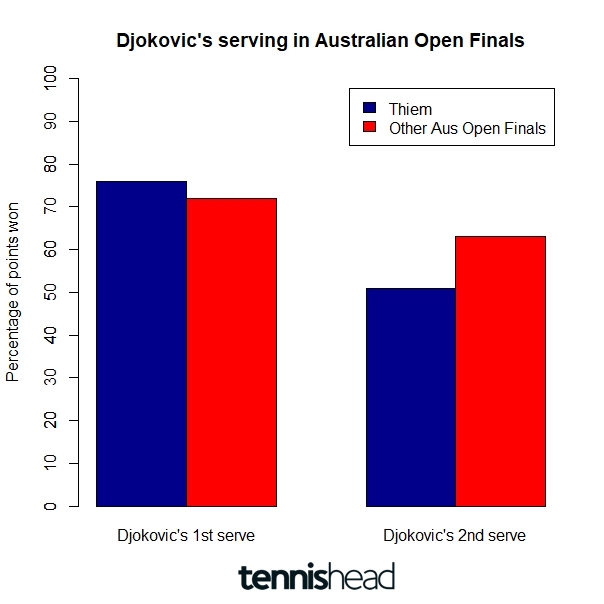 As shown in this graphic, Djokovic was able to win a higher percentage of points behind his first serve, compared to the other Australian Open finals. However, against Thiem he won only 51% of points behind his second serve. This is much less than the 63% he averaged in the other seven finals.
It is possible that this is in part due to Djokovic struggling physically in last year's final. But, there are plausible reasons as to why his difficulty on second serves was cause by Thiem. Thiem usually stands fairly far back even on the second serve return, while most take a couple of steps forward if their opponent misses their first serve. Although this may seem counter-intuitive it has its benefits. Giving himself more time, Thiem is able to put a lot of second serves back into play. Thiem hits his groundstrokes with high speed and to be able to do this he takes big cuts at the ball. Standing further back allows him to take these big swings. In this way he is still able to attack the second serve, without having to take the ball early.
With his heavy groundstrokes Thiem is possibly the best equipped player to beat Djokovic on his favourite court. If we get a repeat of last year's final, Thiem will have to again put Djokovic's second serve under pressure, while finding a better way to negate Djokovic's first serve. If he can do this, he has a realistic chance of doing what nobody has achieved before.
Luka Elliott has a B Com in Economics and Statistics from the University of Cape Town. His thesis was titled "Engineering Features for Tennis Match Outcome Prediction in a Statistical Learning Framework". He now writes for Tennishead focussing on how statistics effect the outcome of ATP matches