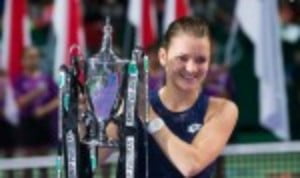 Radwanska ends the season on a high
Originally published on 02/11/15
But the round-robin format ensured she lived to fight another day, and despite losing her first two matches, against Maria Sharapova and Flavia Pennetta, she still managed to qualify for the semi-finals.
Victory against top seed Simona Halep in the final round robin match was enough to sneak through at the expense of US Open champion Flavia Pennetta.
In the semi-finals she came from behind to defeat Garbine Muguruza – a player she had lost to four times this season – 6-7(5) 6-3 7-5 before upsetting 2011 champion Petra Kvitova 6-2 4-6 6-3 in the final.
She is the first player since the introduction of the round robin format in 2003 to win the title after losing her first two matches.
"I lost the first two matches but it's not like I was playing bad," she said. "They were still good matches. I just didn't take my chances.
"I wasn't really focused enough and something just slipped away and then it was hard to come back. But definitely not bad matches, especially the one against Maria. I was really feeling better afterwards, and I think I got used to conditions, used to the surface."
Radwanska only narrowly qualified for the season-ending tournament after a late run of form in Asia, lifting the trophy in Tokyo and Tianjin and reaching the semi-finals in Beijing.
Earlier in the season she dropped out of the top 10 after a difficult run of form, winning just 11 of 21 matches between February and the start of the grass court season.
"It's unbelievable. I didn't really expect this at all, especially the beginning of the year it was not great," Radwanska admitted. "I think the perfect sentence here is: Doesn't matter how you start, it matters how you end.
"I think this is it. Definitely I think just no words to say what I was feeling on the court. Definitely I didn't expect it at all."