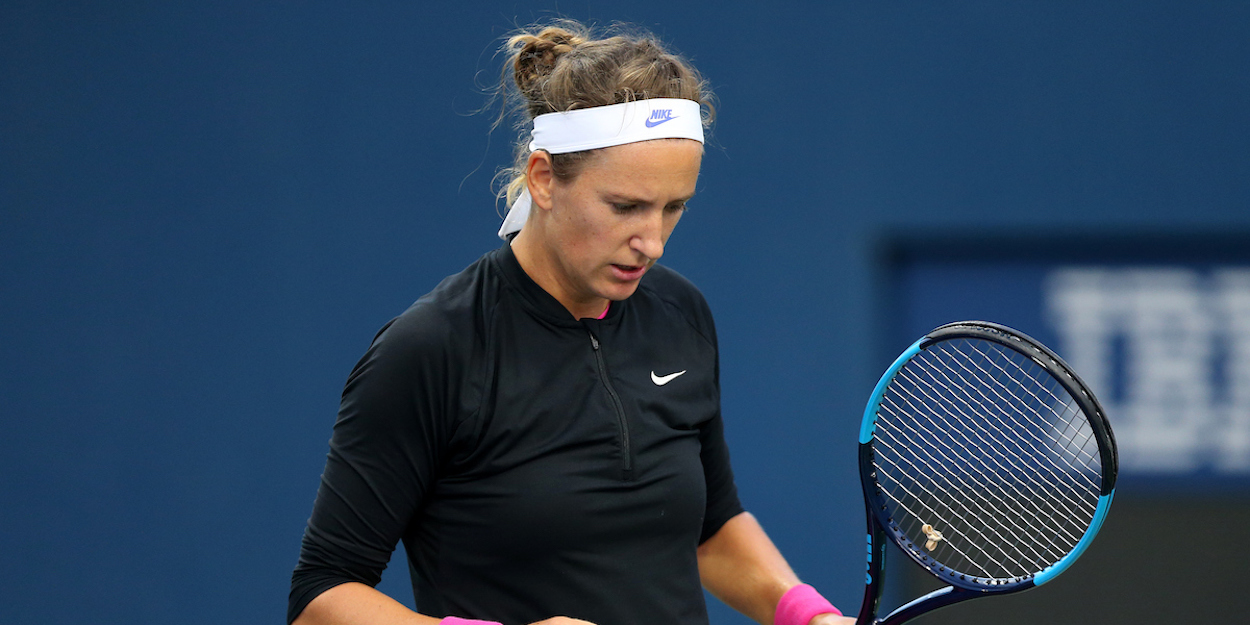 Pironkova and Azarenka show the strength of mothers
Having a child can have mental and physical benefits for women, like Victoria Azarenka, who decide to return to top-level competition
When you're a young player on the tour it's easy to become very self-centred. Everything revolves around your tennis and it can seem like nothing else matters. You don't see beyond your own little world. No wonder defeats can feel like enormous setbacks in your life.
Perhaps that is why mothers like Victoria Azarenka who return to tennis can seem so much stronger mentally and better equipped to deal with the emotions surrounding their sport. When you have a young family to care for once your tennis is over for the day, there is little time to worry about your service action or about how you will deal with your next opponent. Indeed, the demands of motherhood can mean that playing a tennis match is one of the least stressful parts of your day.
---
"Mothers who return to tennis can seem so much stronger mentally and better equipped to deal with the emotions surrounding their sport"
---
Tsvetana Pironkova expressed this perfectly after her stunning second-round victory over Garbine Muguruza at the US Open, which was her first tournament for three years following the birth of her son. "It's just great to be playing without that extra pressure that I had put on myself before," the 33-year-old Bulgarian said. "Before, it was almost like a life-and-death situation for me to win a match. Right now it's not really like that. Above all it's just about enjoying being on the court."
Pironkova went on to beat Donna Vekic and Alize Cornet before losing to another mother, Serena Williams, in the quarter-finals. She showed great strength of character and was remarkably calm. It was astonishing that she was able to play at such a high level so quickly. After all, in her "first" career she had never reached the world's top 30 and had only ever won one title.
What many of us remember about Pironkova were her two victories in successive years over Venus Williams at Wimbledon, in 2010 (when she eventually lost to Vera Zvonareva in the semi-finals) and in 2011. I remember at the time hearing how her father had taught her to play, rather like Richard Williams had coached Venus and Serena, with very little prior knowledge of the game.
Pironkova's style is unorthodox. She has an extremely flat backhand, which is very effective. Daniela Hantuchova picked out something interesting about the stroke: as she hits her backhand, Pironkova comes slightly inside it and makes the ball swerve away, which can be very difficult for opponents to handle.
Her sliced forehand is even more unusual. Back in the 1980s people used to talk about "the South African forehand", a sliced shot that nearly all players from that country used. I remember Elna Reinach, the girl I beat in the Wimbledon junior final in 1984, using it. Even before that I can recall John Newcombe hitting sliced forehands on his way into the net.
Some of the South Africans played the shot routinely, but Pironkova uses it sparingly. It can disrupt an opponent's rhythm and it certainly unsettled Muguruza, who smashed her racket so hard in frustration that the head came off. Pironkova had great success at Wimbledon in the past and I can see her doing well there again. Her game is ideally suited to grass because she takes the ball so early.
---
"It's refreshing to see someone with such an interesting game style, because the modern game can be one-dimensional"
---
Pironkova goes about her tennis with great intelligence, but in no way is she a classic tennis player. In some respects she's like one of those club players you come across every now and then whose unorthodox games can make them such tricky opponents. Her example underlines how important the mental side of tennis is – and how the technicalities don't always count for too much. Her style works for her and that's all that matters. Her strength of character is more important than any technical aspect of her game.
It's refreshing to see someone with such an interesting game style, because the modern game can be one-dimensional. Ons Jabeur has also been successful with her cunning mix of spins, slices and angles. Hopefully the success of players like Pironkova and Jabeur will encourage others to be a bit more adventurous.
Pironkova was also a revelation on a physical level. She uses her legs well on her ground strokes and has great powers of endurance. After three years away from the game you might have thought she would struggle to recover from matches, but she seemed to do so without much trouble. She was a little tired at the end, but that was completely understandable.
Is that physical strength partly down to motherhood? I always remember an eminent doctor telling me many years ago that women who have children are fundamentally stronger physically – and the evidence in tennis at the moment suggests that is definitely the case.
Look at Victoria Azarenka, who went so close to winning her first Grand Slam title for seven years before Naomi Osaka's fightback in the final in New York. Azarenka, who gave birth to a baby boy at the end of 2016, is looking fitter and stronger than ever. She has had fitness issues over the years, sometimes because of injury, but now looks in great condition.
She also appears to have put behind her the mental anguish that came out in a tearful press conference after a first-round defeat to Laura Siegemund at the Australian Open last year. She had clearly been through a lot with the birth of her child and a subsequent custody battle.
Now, however, Azarenka appears to be much more settled in her mind. In New York she talked about how her ego in the past had been "way too big" and added: "Now it's a little smaller and the results are coming." Her performances at Flushing Meadows, along with those of Pironkova and Serena Williams, demonstrated how a mother's physical and mental strength can be a formidable combination.