"No reason his success cannot continue" Expert unearths factors behind Cameron Norrie stunning form
The British journeyman Cameron Norrie is in the form of his life and Tennishead's resident analyst knows why
"Cameron Norrie has played the best clay court tennis of life in the last couple of weeks. Last week at the Barcelona Open he lost to Nadal in the quarter-finals, getting big wins over Khachanov and Goffin. This week at the Estoril Open he is through to his first ATP Tour final on clay. This recent success on clay is down to his improved serve.
"In Barcelona and Estoril Norrie has won 73% of first serve points, compared to his previous average on clay of 65%. A good first serve can bail you out on important points and on clay Norrie has been able to use his first delivery to set up points effectively. He has also been much better on his second serve. In the last two weeks he has won 53% of second serve points, which is a 7% increase. In the last 2 weeks Norrie has made it much more difficult for his opponents to attack his second serve. All this means Norrie was able to hold serve more often, which makes up for his return game.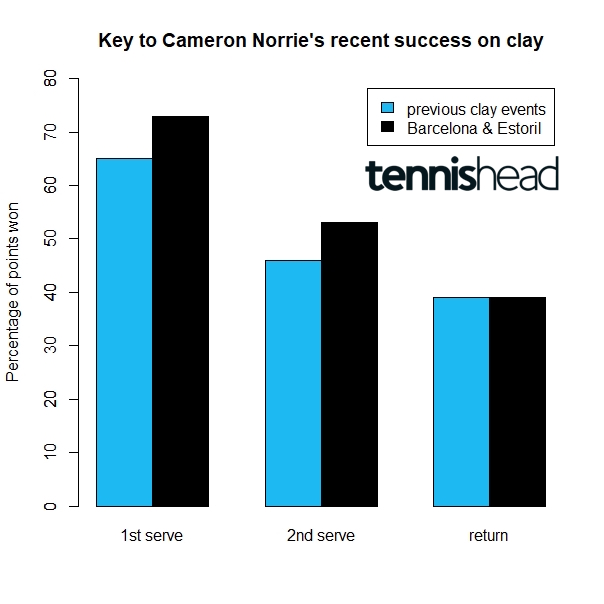 "On return he has been as good as he was in previous clay events, winning 39% of return points. His return game can definitely still get better, which is encouraging.
"Norrie will gain a lot of confidence from the last two weeks. He has shown that he can be successful on clay against some top players of the ATP Tour. If he keeps serving well and improves on return, there is no reason his recent clay success cannot continue."
Luka Elliott has a B Com in Economics & Statistics from the University of Cape Town where his thesis was titled "Engineering Features for Tennis Match Outcome Prediction in a Statistical Learning Framework". He now writes for Tennishead focussing on how statistics effect the outcome of ATP matches