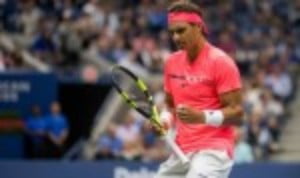 Nadal makes winning start
Originally published on 30/08/17 00:00
It was the Spaniard's first outing since regaining top spot in the rankings, and his renowned battling qualities helped him overcome a stuttering start.
"It was a tough beginning to match," admitted the two-time champion. "I practiced at a high level every day in the week before the tournament but today I didn't play at that high level. It happens like this, but the most important thing is that I won and I have one more day to keep practicing."
Nadal, who failed to produce his best in Montreal and Cincinnati earlier this month, struggled with his timing in the early stages and he racked up the unforced-errors.
He slipped a break behind in the third game but rescued the situation when Lajovic attempted to serve for the opener. The world No.1 remained composed in the shootout and bagged the all-important first set by eight points to six.
Lajovic had thrown his best shots at his opponent but was left with nothing to show for his efforts. He continued to scrap for every point but only managed to pick up four more games in the remaining two sets.
Roger Federer survived an almighty scare as he overcame Frances Tiafoe 4-6 6-2 6-1 1-6 6-4 in a late-night thriller in the city that never sleeps.
It's just the fourth time the Swiss has been extended to a fifth set in the first round of a Grand Slam and he was visibly relieved to have made it through unscathed. "It was more than a test tonight," explained the 19-time major winner. "I think we both enjoyed ourselves out there but it's why I came to New York, to go through these emotions.
"I had a bit of a slow start today but Frances felt good from the beginning. I was perhaps a little bit worried about my back issue from a couple of weeks ago but eventually I was able to let go. It was a pity that in the fourth set I could not get in the driver seat early but Frances fought well, I must say. He started to serve better in patches and when things connect for him, he is a very good player. He is going to have a great future ahead of him. The fifth was a coin toss, and it went my way, so I'm very happy.
"To get through a five-setter you have to be okay somehow, so I believe this is going to give me great confidence in the body and also in my game because preparations were a bit compromised. I'm really, really happy with tonight."