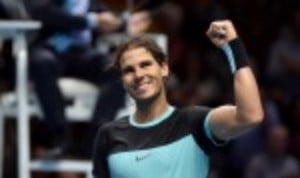 Nadal beats Murray to reach semi-finals
Originally published on 18/11/15
Nadal's 6-4 6-1 victory – his most convincing win against Murray away from a clay court – coupled with Stan Wawrinka's 7-5 6-2 win over David Ferrer sealed the No.5 seed's place in the semi-finals, and top spot in Group Ilie Nastase.
Murray will face Wawrinka in a straight shootout for second place on Friday evening, with both players having beaten Ferrer, whose second straight sets defeat ended his chances of progressing to the last four. He will face compatriot Nadal in a dead rubber during the afternoon session on Friday.
"It is an important victory, because that put me in a good position to try to be in the semi-finals, and at the same time I have had a big day against a great player on a tough surface," said Nadal, who was 3-9 against his London rivals in 2015 coming into the event.
"I'm just happy the way that I played today, happy the way I was working. It's just another step for me be able to play at that level, against such a great player, which is good news. I just want to try to keep working the same way to keep confirming that I am [heading] in the right direction."
Murray, who would be forgiven for having one eye on next weekend's Davis Cup final, had the chance to sew up the year-end No.2 ranking with victory against Nadal, but defeat keeps Roger Federer in with a chance of catching him.
"He was able to dictate most of the points and he was hitting the ball harder than he was at the beginning of the match," said Murray, who let an early break slip away. "I was starting to drop the ball shorter. Obviously when he's inside the court, he's extremely, extremely good. He can move his forehand around very well. He can use all of the angles on the court and make you do a lot of moving."
Barclays ATP World Tour Finals
Results
Day Four (Wednesday, November 18)
Singles Group Ilie Nastase
R Nadal bt A Murray 6-4 6-1
S Wawrinka bt D Ferrer 7-5 6-2
Doubles Group Fleming/McEnroe
P Herbert & N Mahut bt M Matkowski & N Zimonjic 5-7 6-3 10-8
J Rojer & H Tecau bt I Dodig & M Melo 6-4 7-6(3)
Order of Play
Day Five (Thursday, November 19)
12:00 S Bolelli & F Fognini v R Bopanna & F Mergea
14:00 R Federer v K Nishikori
18:00 B Bryan & M Bryan v J Murray & J Peers
20:00 N Djokovic v T Berdych