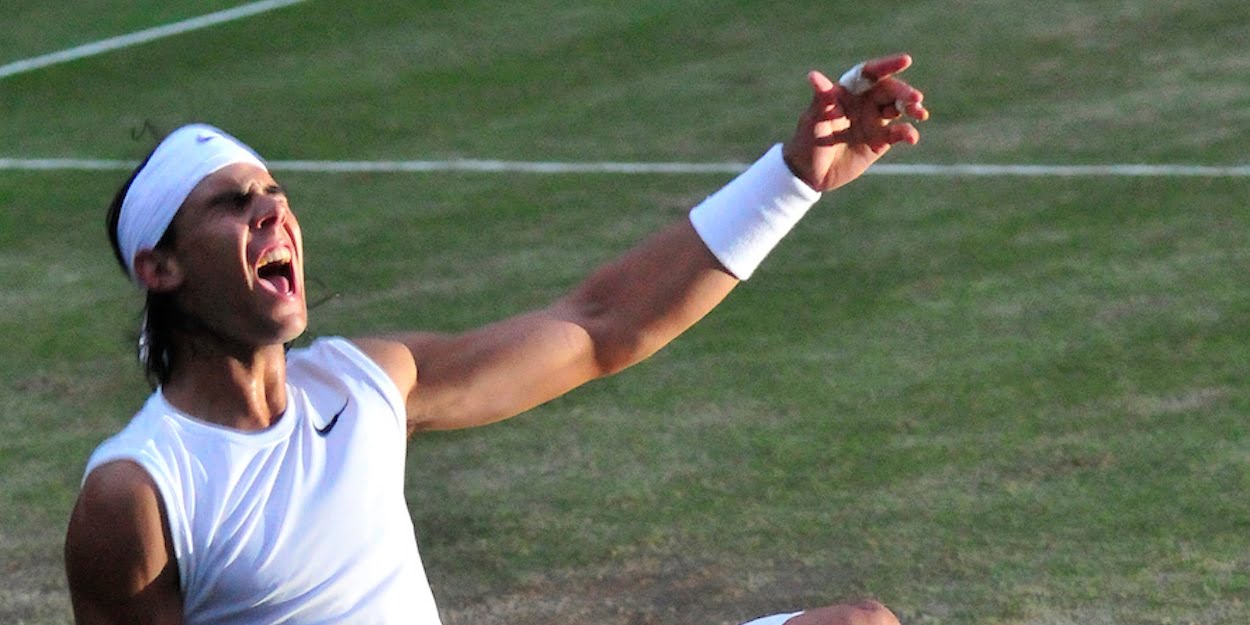 Nadal beat Federer in famous Wimbledon 2008 final because "he played the important points better" reveals analyst
Many tennis fans will always remember the Wimbledon 2008 final between Rafa Nadal and Roger Federer and now Tennishead's own statistical analyst can reveal some of the key factors that lead Nadal to such a famous and earth shattering result
"The 2008 Wimbledon final between Roger Federer and Rafael Nadal is considered to be the greatest tennis match of all time, and for good reason. It was a titanic contest, 4 hours and 48 minutes of outstanding tennis. The great rivals pushed each other to the limit, with Nadal eventually emerging victorious 9-7 in an epic 5th set. The match was fascinating for many reasons, including the strategical approach taken by both players.
"Federer and Nadal used their forehands in very different ways. Nadal clearly targeted Federer's backhand, using the crosscourt forehand 62% of the time. While Federer's most common type of forehand shot was also crosscourt, he went there far less. Only 38% of his forehands went crosscourt. Federer also frequently hit the inside-out forehand, using that shot 26% of the time. Given he lost the match, there is a natural follow up question. Did Federer get his tactics wrong?
"The answer is probably not. Nadal's strategy, of trying to break down the Swiss maestro's backhand, is quite logical. But Federer's strategy seems pretty sound too. Of course you would like to keep the ball away from Nadal's menacing forehand. That is why hitting to the backhand with a crosscourt forehand is a good idea. But Nadal will still look to run around his backhand, and try to use his forehand to dictate the course of rallies. That is why a shot such as the inside-out forehand is crucial. Nadal presents open space on the forehand side when he looks to camp towards the backhand corner. You want to hit the ball into this open space with shots such as the inside-out forehand.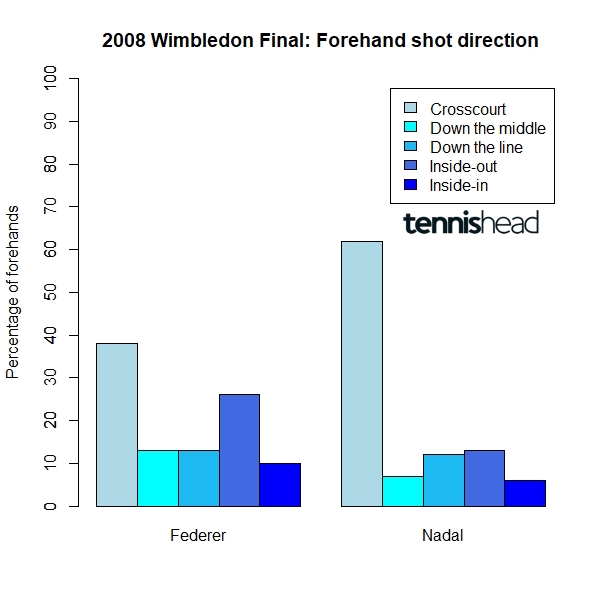 "There is likely a much simpler reason as to why Nadal came out on top. He played the important points better. Both players created 13 break point chances. But Federer converted only once, while Nadal converted 4 times. Moreover, in the final set Federer only manufactured one break point chance, which Nadal saved. Whereas he faced 6 on his own serve and eventually succumbed to the pressure.
"While Federer did not take his break point chances, this does not take away from the greatness of this tennis match. The level produced by both was truly incredible and the differing forehand tactics just added to the intrigue of this great sporting spectacle."
The data used in this article was sourced from The Tennis Abstract Match Charting Project, which is based on the work of Jeff Sackmann. The project is licensed under a Creative Commons Attribution-NonCommercial-ShareAlike 4.0 International License. No changes were made to the original data.
Luka Elliott has a B Com in Economics & Statistics from the University of Cape Town where his thesis was titled "Engineering Features for Tennis Match Outcome Prediction in a Statistical Learning Framework". He now writes for Tennishead focussing on how statistics effect the outcome of ATP matches