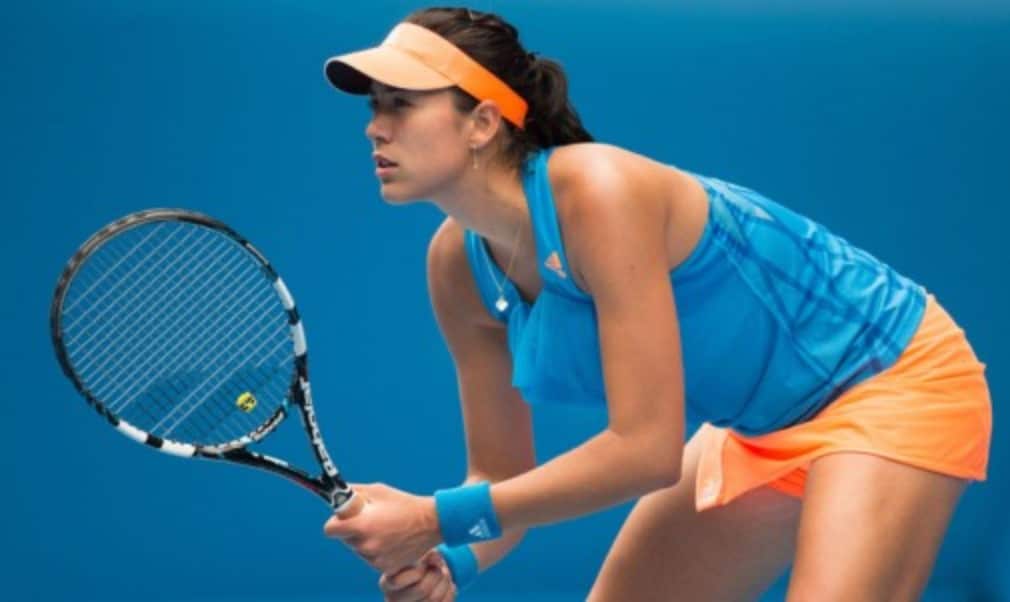 Muguruza to settle Fed Cup fate in November
Originally published on 18/08/14
Garbine Muguruza has played herself into trouble. With every landmark the 20-year-old passes in this breakout season, the decision to represent her adopted nation or the country of her birth in the Fed Cup draws ever nearer. It's a choice she dreads having to make.
But it's coming. Her 6-2 3-6 6-1 victory over No.7 seed Sara Errani in the first round of the Connecticut Open was Muguruza's fifth against top-20 opposition this season, after earlier wins against Kirsten Flipkens, Caroline Wozniacki, Dominika Cibulkova and that blistering display against Serena Williams at the French Open. No player beyond the top 20 can lay claim to a better tally in 2014.
That stat may soon need an asterisk. All being well, with no points to defend until the end of the season after missing the second half of 2013 following foot surgery, her own ascent to the top 20 is a matter of weeks away. Ranked a career-high No.26 at the start of the week in New Haven, she will be seeded at a Grand Slam for the first time at the US Open, a far cry from the frustrations of 12 months ago.
If last year I wasn't injured, this year would not be the same," believes Muguruza, who faces qualifier Peng Shuai in the second round in New Haven. "I would not be the same person. I've improved a lot, but last year I realised I was lucky to play tennis. Instead I was sitting in front of the TV, I could not move… It motivates you."
The rise has also put her second among the Spaniards on the WTA tour, behind world No.16 Carla Suarez Navarro. But Muguruza doesn't know if she is truly Spanish, having moved to Barcelona at the age of six, or Venezuelan. All she knows is she now has to make the call – and, whatever her decision, she can't win.
"I think I'm going to do it in November, in the off-season," she said. "It's difficult. My family, half is in Spain and half is in Venezuela. My father and my brothers are in Venezuela. I'm only in Spain for tennis.
"Someone's going to hate me, so I don't want to choose," she admitted.
It's part of the reason she has left it so long. Born to a Venezuelan mother and Spanish father, she has dual citizenship either side of the Atlantic. Her elder brothers Asier and Igor, rather than her parents, gave her the tennis bug. Both earned ATP tennis rankings during their fleeting time on the tour; both represented Venezuela.
Garbine, a decade younger than her brothers, had a very different tennis experience. As a child she played at Sergi Brugera's tennis academy in Barcelona, showing enough power and maturity for her coaches to push her at ITF and Futures tournaments instead of the junior scene. At 17 she was part of Spain's player-driven Elitia Project, an off-season commune where the players and coaches trained together.
Of the dozen that started together in 2011 – 11 Spaniards and Russia's Anastasia Pavlyuchenkova – only Muguruza and Spanish No.1 Carla Suarez Navarro continue to work together under the banner. They have also been something of a sensation in tandem on the doubles tour this year, reaching the semi-finals at Roland Garros, winning their first title in Stanford and playing themselves into contention for a place in Singapore.
It hardly makes the decision any easier. Spain, five-time winners of the Fed Cup in the 1990s, dropped out of the World Group I this year at the hands of Poland. Venezuela, who have twice reached the World Group playoffs, avoided relegation from Americans Zone Group I by beating the Bahamas.
On a tour with little room for friendship, Muguruza enjoys being around Suarez Navarro, both on court and off, and in 2014 they began playing doubles. "We are good because she has what I don't have. She's older than me, more experienced, more calm, and has a totally different style of play. I hit strong, I serve big. Together we're a good couple.
"Now I go more to the net," she jokes when asked what she has learnt from the 25-year-old. "But you learn to play with more pressure. Every time we play now, because we are so motivated to go to Singapore, we feel a lot of pressure."
With Muguruza and Suarez Navarro, Spain could once more be a force to be reckoned with – or Venezuela, with Muguruza, would have a player capable of helping them reach new heights. Little wonder the overtures from both federations grow louder by the week.
Either way, one nation is set to receive a welcome boost in 2015. They'll find out at season's end.