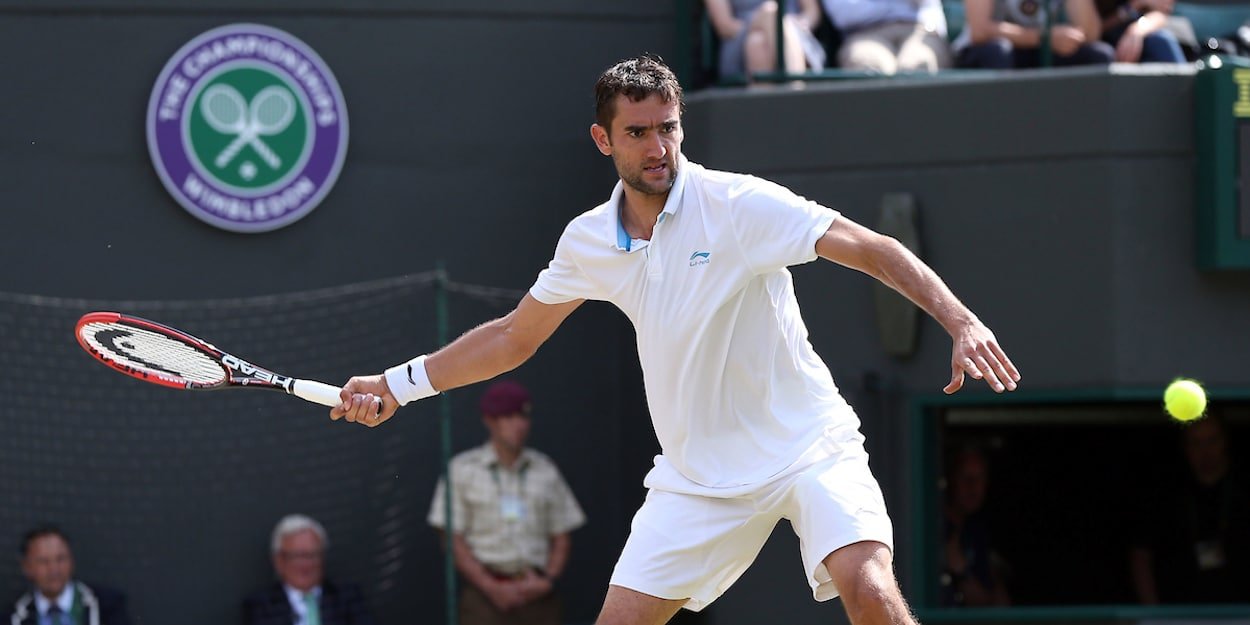 Marin Cilic: "I like grass a lot"
Marin Cilic says he likes playing on grass as it suits his game. Coming off the back off a run to the semi-finals at the Queen's Club, last year's Wimbledon quarter finalist is unsurprisingly being asked a lot about where he feels his game is at the moment.
"Hopefully it's going to be at the top for Wimbledon," he said after his semi final defeat to Andy Murray. "We'll see. I'm playing well. That's most important. I feel good on the court".
He is injury free, having had problems with his knees in recent months.
"A couple weeks ago it was still a little bit in back of my head, you know, if it's going to hurt or not going to hurt when I wake up in the morning or before the match or during the match" he said. "But this week was very good and last week, as well. That's good".
He has already had some good results this year, reaching the quarterfinals at Indian Wells and in May he reached the final of the ATP 250 in Geneva when Stan Wawrinka defeated him in the final. His world ranking is now 13.
With the appointment of Goran Ivanisevic as coach in 2013, Cilic has seen a rise in form.  A year after they started working together he won the US Open and got his ranking up to World No. 8
"He helped me with my serve and with my game, so definitely that was a major, major part" he said of the US Open win. "I improved a lot in that first nine months that we were working together"
Ivanisevic who is now 44 years old famously won Wimbledon back in 2001, defeating Pat Rafter in five sets, and so has plenty of experience to help his charge.
Cilic has a good record at Wimbledon. He has played nine times since 2007. On the first occasion Frenchman Gilles Simon beat him in the first round.  On the last two occasions Novak Djokovic has defeated him in the quarterfinals.
"For me and Goran, I think it's working well. Obviously these last couple of years have shown that I improved my game" he said,  "And definitely it was great to have him here today, and, you know, just in preparation for Wimbledon he was able to see definitely a bit more than me from inside the court, what are we gonna work on, what are the areas I have to improve".
The 27 year old says he doesn't have to change his game too much for the surface
"You have to adapt in different situations concerning the movement. But, you know, grass today is not as fast as, you know, in the past. So you can't really serve and volley most of the time. You have to stay back and play the points from the back. So you just have to adapt. Obviously you have to be a bit closer to the baseline and try to control the points. If you are in the position to control the points and to, you know, have a shot where you can play offensively, you have to use that".
Cilic says he never found grass difficult as a surface, even when he was young, but because nobody ever practices on grass he can understand why some younger players find it difficult.
"Over the years obviously you get better at and you use your tennis a bit better".
Cilic will spend the week before Wimbledon practicing on the grass. If he remains injury free and the magic that exists between him and his coach continues then expect to see the 6'6" Croatian around at the end of the second week of Wimbledon.
Despite his semi final loss to Murray he said, "You know, I would say I am still pretty satisfied with the tennis that I'm playing and the way I'm hitting the ball".