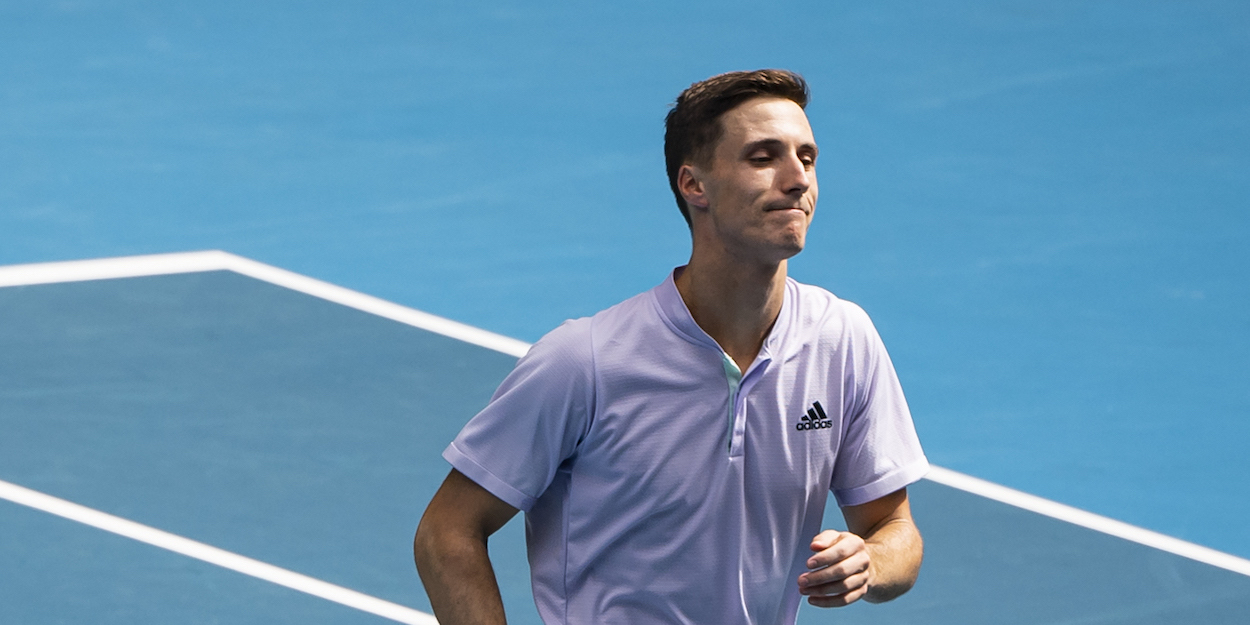 Joe Salisbury exclusive: A triumph for perseverance
Joe Salisbury did not even have a world ranking as a junior, but at the start of 2020 the Londoner became a Grand Slam champion. He talked to Paul Newman
When Roger Federer, Rafael Nadal and Serena Williams were teenagers, you would not have needed a crystal ball to predict their Grand Slam triumphs in years to come. For some future champions, however, it would take remarkable insight to identify such potential.
Joe Salisbury, who won last year's Australian Open men's doubles title alongside Rajeev Ram, would have fallen into the latter category. As a teenager, the now 28-year-old Londoner's tennis development was so hampered by glandular fever and injuries that he was never ranked on the International Tennis Federation's junior circuit. Until he played college tennis at the University of Memphis, he had barely made a mark on the sport.
As a singles player Salisbury never reached the world's top 500 and never played in the main draw of a Challenger tournament. The economics graduate was always a better doubles player, but even after he switched his focus from singles he had to rely on his parents' continuing financial support to keep playing. He did not win his first title on the main tour until 2018, but after teaming up with Ram at the end of that year, steady improvement led to a first appearance in the season-ending Nitto ATP Finals in 2019 before last year's breakthrough at the Australian Open.
Although it was true that the draw opened up for Salisbury and Ram in Melbourne – they faced only one other seeded pair, the No 6 seeds Marcel Granollers and Horacio Zeballos, and met the wild cards Max Purcell and Luke Saville in the final – the emphatic manner of their victories left no doubt that they deserved the title. They dropped only one set, to Alexander Bublik and Mikhail Kukushkin in the semi-finals.
The subsequent tennis shutdown because of the coronavirus pandemic was unfortunate for a team eager to build on their success, but Salisbury insisted: "I don't think it was great timing for anyone. Obviously just after we had won it would have been good to carry that momentum into the upcoming tournaments, but there were definitely a lot of people worse off than us."
---
"We get on well on and off the court. We communicate well. We talk about any issues we have.
---
He added: "I actually enjoyed having a lot of time at home. It was also nice to get out of the same travelling routine that we're used to. Obviously it wasn't ideal staying at home locked up for that long – it had its tough moments – but I didn't mind it too much."
When tournaments resumed in late summer, Salisbury and Ram proved their Melbourne triumph was no flash in the pan by reaching the semi-finals at the US Open (where 36-year-old Ram was playing for the 20th year in a row) and the quarter-finals at Roland Garros.
Being a Grand Slam champion has not weighed heavily on Salisbury's shoulders. "I think it brings a bit more confidence and maybe a little bit more respect from other players," he told tennishead when asked if the Melbourne triumph had changed his life at all. "I guess we're now maybe more one of the teams to beat at some of the tournaments. But apart from that, we just go on as we were before."
Salisbury's initial plan after winning Down Under was to buy a property in London, but that is on hold. "I was having a look and I was close to getting somewhere, but I decided to wait until the end of the year and see what happened, because nobody could be sure whether the tournaments were going to come back and whether I might not be earning money for a long time," he said. "So it's still on the to-do list."
The partnership with Ram, who until this year had never reached a final in 57 previous appearances in men's doubles at Grand Slam tournaments, clearly proved a turning point for both men. They joined forces when Salisbury was ranked nine places lower than Ram at No 30.
---
"He doesn't show it outwardly, but he's incredibly competitive, especially on the tennis court,"
---
"He was at the top of my list of guys that I wanted to discuss potentially playing with," Salisbury recalled. "He serves well, returns well, hits well from the back. He was a good singles player who got to the top 60 in singles. I didn't feel like there were any weaknesses in his game. I just felt he was the best all-round player."
Ram has a similarly high opinion of Salisbury. "He doesn't show it outwardly, but he's incredibly competitive, especially on the tennis court," the American said. "His ability to rise to the occasion is pretty special. Obviously he's an incredible athlete, too. I think those two things for me stick out. One thing that's helped us is we've become really good partners to each other. I think when we're nervous in tough situations, we're not afraid to say what we think. There's a bit of trust there."
Salisbury added: "We get on well on and off the court. We communicate well. We talk about any issues we have. We're very open about things. It definitely helps that we get on well. We like spending time with each other off the court, because we have to do that a lot with all the travelling we do and playing tournaments together. I've definitely had partnerships in the past where maybe we didn't get on so well with each other and that could affect things on the court."
The Londoner's story is one to give encouragement to many players who make little impact on the game before their mid-twenties.  "I guess it shows that even if you're not one of the top juniors winning all the junior Grand Slams or breaking through when you're 19 or 20, you can still have a very good career," he said.