"It was remarkable" History shows that Roger Federer can play even better after break says analyst
When Roger Federer returns to professional tennis after a long injury time out there is evidence to suggest that his form could be stronger than before
"Roger Federer makes his much-anticipated return to the ATP Tour this week in Doha, after being away from tennis for more than a year. Given how well his last injury comeback went, there are reasons to be optimistic.
"Federer's 2016 season ended early after a semi-final loss at Wimbledon. He decided to take a 6-month break from the ATP Tour, to allow his knee and body to fully recover. Few would have expected him to have such immediate success upon returning to the Tour. Yet Federer was able to lift the Australian Open and Wimbledon titles in 2017 and produced one of the greatest comebacks from injury men's tennis has ever seen.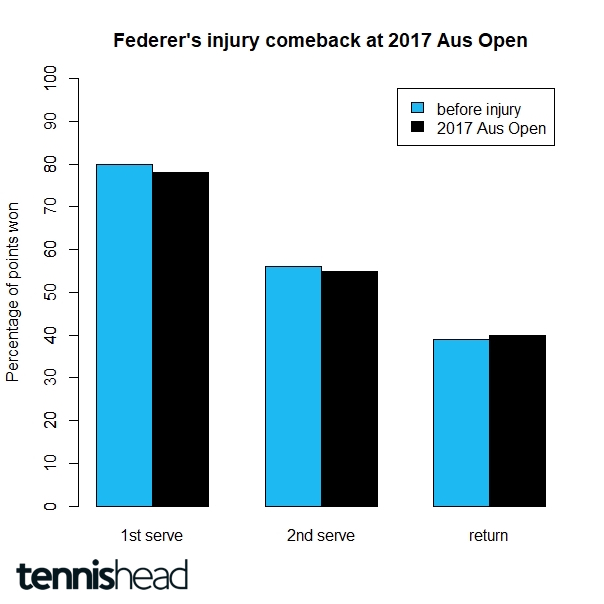 "It was quite remarkable how high Federer's level of play was from the outset of his return to tennis. Most players will experience a dip in form when returning from a long injury. One would expect it to take some time for a player to reach the level they were at prior to the injury. But this was not case for Federer. He won the 2017 Australian Open, winning 78% of points behind his first serve and 55% of points behind his second serve. This is only 2% and 1% less respectively than the percentage he was averaging prior to his injury absence. At the 2017 Australian Open Federer won 40% of points on return, which is 1% higher than what he was winning prior to the injury. This shows that he was able to maintain the level of play he was producing prior to the injury.
"If Federer is playing his best, he will always be in with a shout of winning the big titles in tennis. Upon returning from injury in 2017, he produced close to his best tennis and had a very successful season. Should he be able to produce a similarly high level upon his return this time around, he has a chance to compete for tennis' major titles once again."
Luka Elliott has a B Com in Economics and Statistics from the University of Cape Town. His thesis was titled "Engineering Features for Tennis Match Outcome Prediction in a Statistical Learning Framework". He now writes for Tennishead focussing on how statistics effect the outcome of ATP matches