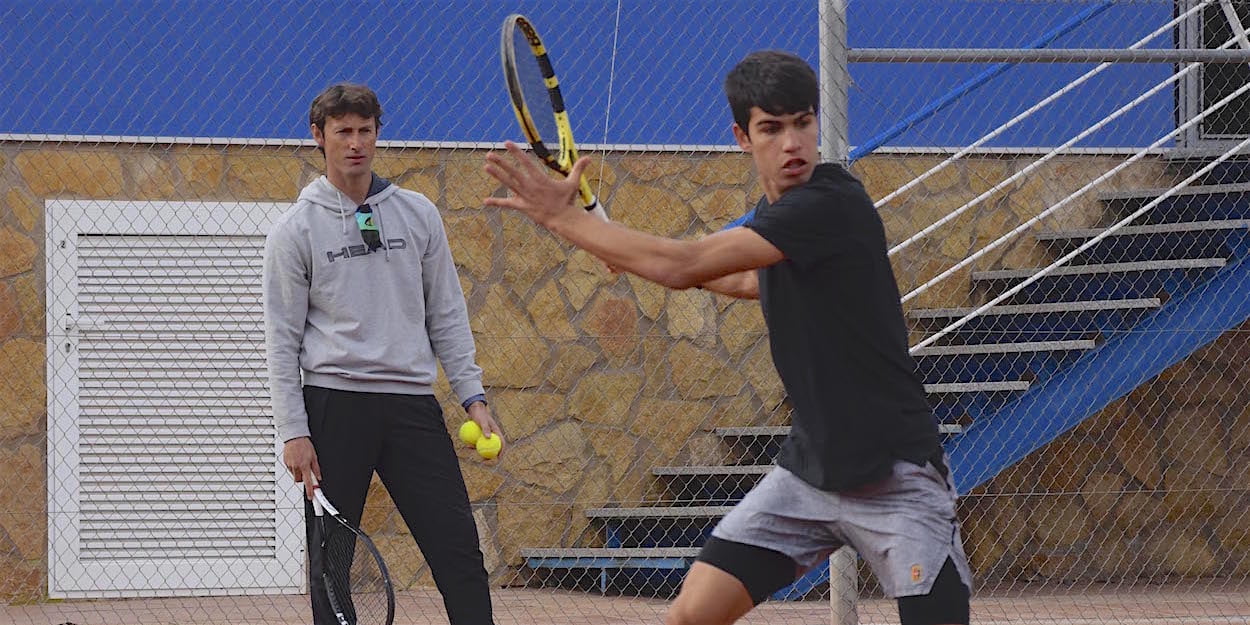 "I think Novak Djokovic will have the most" Juan Carlos Ferrero backs Serb to overtake Federer and Nadal
Former world No.1 Juan Carlos Ferrero is focussed on helping produce the stars of tomorrow but when it comes to discussions over the greatest of all time he is in no doubt that Novak Djokovic will prevail 
Juan Carlos Ferrero spends most of his time these days at his eponymous tennis academy in Spain or travelling the world as a coach helping guide the careers of exciting young players like Carlos Alcaraz. Since retiring from the professional game in 2012 he has discovered a passion for helping young players not only get the best out of their game but also to be the best people then can.
tennishead spoke exclusively to Juan Carlos…
tennishead (TH): Do you think Rafael Nadal or Novak Djokovic will overtake Roger Federer in the list of most Grand Slams won by a male player?
Juan Carlos Ferrero (JCF): I truly think both have the possibility to reach it. But because of his age and the Grand Slam surfaces, I think Novak will win the most.
TH: For how much longer do you think the 'big three' will continue to dominate the sport?
JCF: I see the younger players becoming more and more capable and their level is getting closer to the Big 3, but Federer, Nadal and Djokovic will keep making great news for a few years more.
TH: Who do you think will be the next player outside the 'big three' to win a Grand Slam?
JCF: This is tough to say. In the last year, from the Top 10, just Dominic Thiem and Stefanos Tsitsipas have been able to beat any of the big three in Grand Slams so I would say either of those two. Dominic´s level at the most recent Australian Open was amazing. He was really close to winning it.
TH: Your player, Carlos Alcaraz, has had an excellent start to the season, what are his goals for this year?
JCF: Our main goals at our Academy are to keep growing and improving the player. He´s too young to focus on specific ranking goals, although they´re important of course. We hope he'll be close to ATP top 100 by the end of the 2020 season. If he keeps working as he is, he will reach it.
TH: How far can he go in the future?
JCF: He´s young yet but we´re working for him to be able to compete for everything in the future. He can be one of the best. I see him in a few years at the very top.
TH: You have coached Alexander Zverev, what was that experience like?
JCF: Being able to come back to the circuit as a coach and work with a top player was a great experience. It helped me to update my knowledge about the circuit and to keep understanding what it takes to win, from a coaching point of view.
TH: Do you think Zverev can win Grand Slams after his performance at the Australian Open?
JCF: Winning a Grand Slam is pretty hard and he needs to keep working and improving. I think he will reach it sometime. He´s still young and totally capable of beating the best.
TH: Do you think Dominic Thiem can use his momentum from the Australian Open to challenge Nadal at the French Open?
JCF: At the moment I think Dominic is, together with Novak, the only one that can beat Nadal at Roland Garros at this moment.
TH: You have a tennis academy, how do you attract the top players to train there?
JCF: Some we invite them to come and visit us. Others ask us directly. We have great experience with professional players through myself and  Pablo (Carreño-Busta, who also practice in Ferrero´s Academy) so we arrange to meet and practice with them. Others meet us when they come to play some of our tournaments and after they come back to the Academy.
TH: What are your main goals when coaching players at your academy? Because not everyone can be the next World No.1!
JCF: We try to help them to reach their best. Not just in tennis but also as a person. It´s especially hard to make them understand that professional tennis players don't just work hard on the court but also off it. Practically all our students want to be professional but many aren´t ready to make the sacrifice of commitment that fighting for that requires.
Find more details on the Juan Carlos Ferrero Equelite Academy here