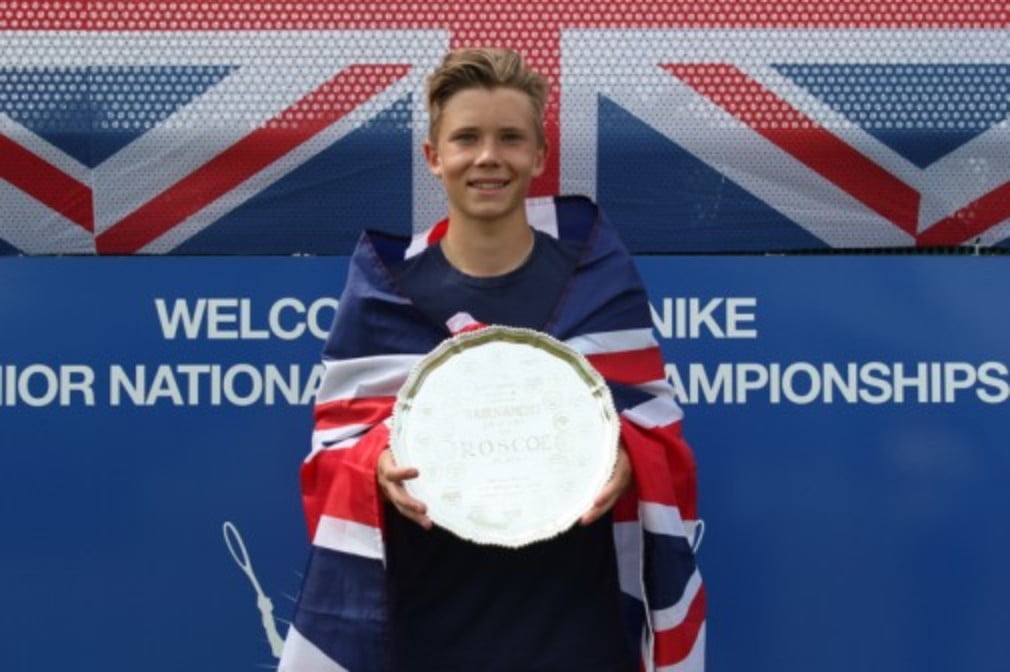 HEAD for the top
Originally published on 31/05/18 00:00
Manufacturer HEAD sponsors around 4,000 junior players worldwide. Players like Novak Djokovic, Andy Murray and Alex Zverev are all former members of the Team HEAD junior program. Harry Wendelken, a 16-year-old Briton, is one of those players currently making waves at junior level
Like thousands of other 16-year-olds Harry Wendelken will be sitting his GCSEs this summer. Like many youngsters who are also talented tennis players he hopes to get good grades behind him so that he can go overseas and focus on developing his tennis.
Wendelken is already one of the world's 100 best junior tennis players. He lives in Horseheath, a village about 17 miles south-east of Cambridge with his parents and older brother and sister. When he was four or five, Harry, who does not come from a tennis-playing family, attended a summer camp at his local tennis club, was spotted by the coach and got sucked into the sport.
Three years ago Harry was awarded a scholarship to Culford School, an independent boarding and day school. Harry has spent the last three years as a weekday boarder at the school in Bury St Edmunds, balancing his education and his tennis.
"Culford have been very supportive in my tennis," Harry said. "I have had to keep up with a lot of schooling alongside my tennis."
Once he has completed his GCSEs he is going to Sweden to train at the Good to Great Academy near Stockholm. Founded by Magnus Norman, a former world No 2, winner of 12 ATP Tour titles and former coach of Stan Wawrinka, the Academy has seven indoor clay courts and seven outdoor clay courts.
Harry is excited at the prospect of training on clay as at the moment he feels that indoor hardcourts are his best surface. His 2018 results show that is his best surface. He started the year with wins at an ITF Grade 4 event on hard courts in Stockholm, Malmo and Copenhagen. He also got to the final of an ITF Grade 2 event in Lithuania.
Those results enabled him to be counted among the best 100 junior players in the world, a fact of which he is proud. He said his win-loss match record of 19-2 was "something I was aware of and I am very happy with it".
It is coincidence that he is going to an academy in Sweden having notched some of his best results in the country. He says that when he looked around the Good to Great Academy he liked it straight away. "The facilities and the coaches and players felt like it was right for me." he said
Wendelken says he has a big game. "I like to use my forehand and dominate with it," he said, "I don't really like to defend as much."
Unsurprisingly, perhaps, he nominates Nick Kyrgios as his favourite professional player. "I like his game a lot. He's got a big forehand, he's aggressive, and he uses his strengths well."
Wendelken's coach is Chris Johnson, who has worked with him since he was about 10 years old and travels with him to the bigger tournaments. Mum Kim is taking more of a backseat these days. When she spoke to tennisheadshe said that Harry was due to play in qualifying for a Grade 1 ITF event in Belgium, but since he had an exam on the day of tournament sign-in she said he might have to miss it.
"I would love to become a professional tennis player and make a good living out of it," Harry said. "Potentially I'd like to be the world's best, winning Grand Slams. Obviously you cannot do that overnight. You've got to work hard at it."
HEAD has sponsored Harry Wendelken for several years. He currently plays with a HEAD Graphene Touch Prestige Pro