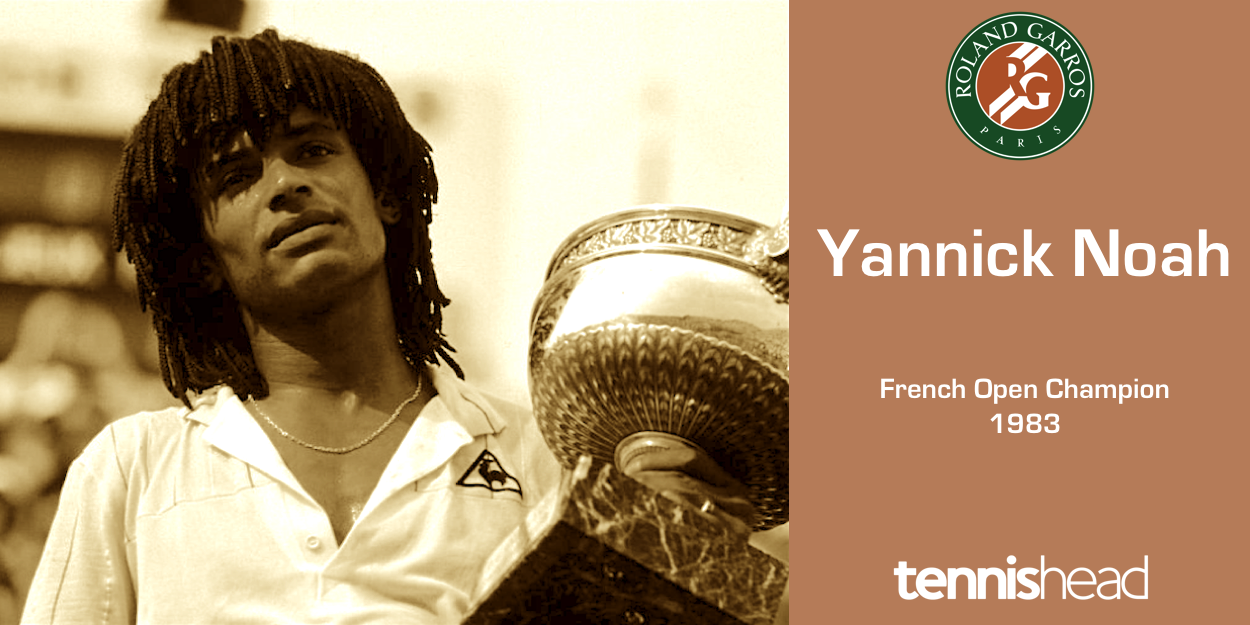 Roland Garros Royalty: Yannick Noah, 1983 French Open champion
On June 5 1983, Yannick Noah sent fans into a frenzy as he became the first Frenchman to win the French Open title in the Open Era.  
Noah turned professional in 1977, though few would have predicted his meteoric rise at Roland Garros, which ended almost four decades of hurt for French players dating back to Marcel Bernard's victory in 1946.
At the 1981 French Open, 11th-seeded Noah fell in the quarter-final at the hands of Paraguay's Victor Pecci before returning 12 months later and faltering at the same stage, this time to Guillermo Vilas.
Heading into 1983, Noah emerged as a real contender having won two clay tournaments in Hamburg and Madrid, which left French fans harbouring their hopes on the 23-year-old's shoulders.
However, doubts still lingered as to whether Noah could go the distance, having failed to advance past the quarter-finals at any major.
"Some days he played as if he were the best in the world," Jane Gross wrote of Noah in the New York Times.
"Other days it looked as if he would be happier sitting in a café reading his favourite romantic philosophy."
Entering the tournament as the sixth seed, Noah began his 1983 Roland Garros campaign in excellent fashion, brushing aside his first four opponents in straight sets to set up a quarter-final meeting with Ivan Lendl.
Third seed Lendl, who went on to win three of four French Open titles between 1984 and 1987, stood in the way of Noah's best ever result at a Grand Slam.
The Frenchman raced into a two set lead before the Czech threatened a late revival in the third. Though Noah was determined to break his quarter-final duck, thrashing the third seed with a 6-0 final set to book a semi-final spot. French fans were starting to dream.
In the semi-final, Noah humiliated compatriot Cristophe Roger-Vasselin in one of his most convincing wins of the tournament 6-3 6-0 6-0. Noah was almost there.
Swedish star and reigning French Open champion Mats Wilander was the only remaining barrier for Noah to make history.  The Frenchman was the huge underdog, with his 18-year-old opponent possessing a 13-0 record at Roland Garros.
Noah refused to be phased by the occasion or his opponent. The Frenchman traded stroke for stroke with Wilander, executing his looping forehand with pace and displaying incredible patience for a player who loved to keep points short with his serve and volley style.
Noah asserted his authority from the net, limiting the angles that the Swede could work with and producing an array of volleys and overheads, each of which were met with fist pumps as his dreadlocks flew through the Parisian air.
After Wilander's final return sailed long, Noah fell to his knees and reached for the sky. He cupped his hands around his head in sheer disbelief before being embraced by fans in Stade Roland Garros.
The 23-year-old, starting to come to terms with his achievement, lowered his head and covered his face as he sobbed in his chair. Yannick Noah was a history maker.