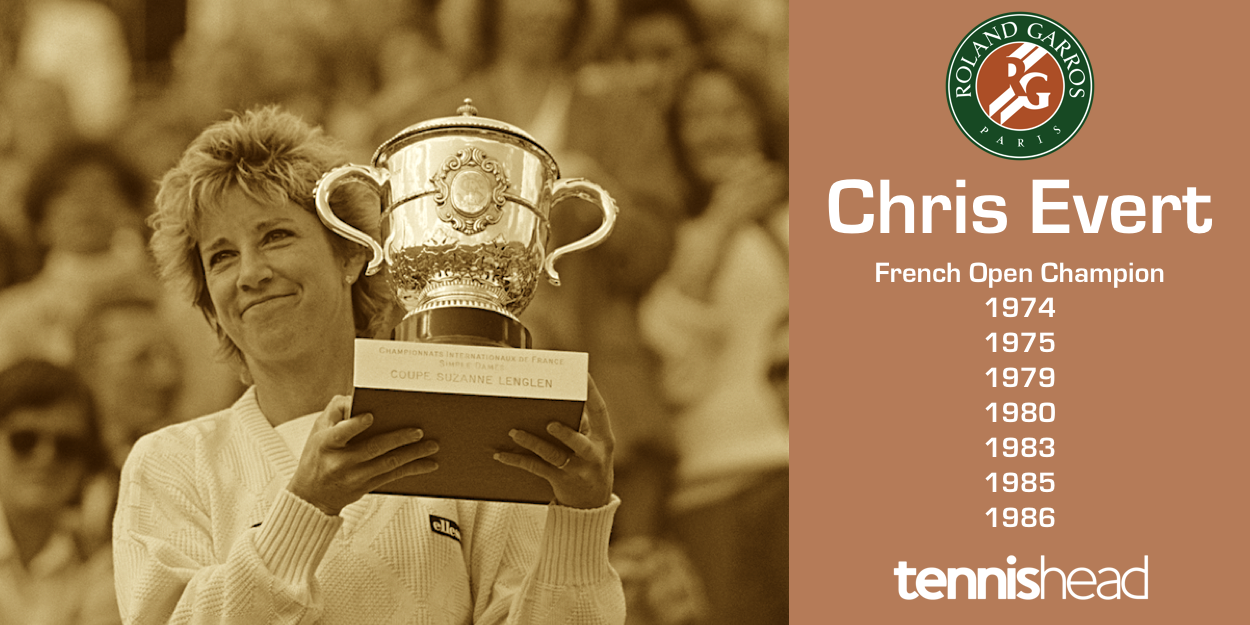 Chris Evert, 7-time French Open Champion – Roland Garros Royalty
Recognised as one of the greatest ever women's tennis players, Chris Evert was without doubt a clay court specialist, too. The American won seven of her 18 Grand Slam titles at Roland Garros.
Evert won two Australian Open's, three Wimbledon titles, lifted the US Open winners trophy six times and was champion on seven occasions in Paris. What a career. She was renowned for revolutionising the women's game with her aggressive, baseline style. The 'Ice Princess' fully deserves her place in the 'Roland Garros Royalty'.
Wins maiden French Open title in 1974
Chris Evert made her Grand Slam debut at the 1971 US Open aged just 16. Evert reached the semi-finals after producing some remarkable comebacks, but lost in the final four against Billie Jean King 4-6 7-6 6-1. King said to Evert: "Don't let it bother you Chris. You've got your whole life ahead of you."
In 1973, Evert reached the final at French Open and Wimbledon, but lost both to Billie Jean King and Margaret Court, respectively.
The American entered the 1974 French Open as number one in the world, having lost in a third Grand Slam final at her maiden Australian Open. Evert cruised through the opening four rounds without dropping a set, using all of her variations, mental toughness and speed. When the 19-year-old eased past former French Open finalist, Helga Mastoff, in the semi-finals, Evart met Olga Morozova in the final. It was fourth time lucky for Evert. The teenager sealed the final 6-1 6-2. Throughout the match, Morozova's net approaches were nullified by Evert's accurate passing shots and lobs. Morozova was also Evert's doubles partner at the event, which they won against Gail Lovera and Katja Ebbinghaus 6-4, 2-6, 6-1.
Wins third French Open title in 1979
Evert was the world's number one player in 1975 she won her second French Open and the first of four straight US Open titles by defeating Evonne Goolagong in a three-set final. From 1976 – 1978, Evert skipped the Australian Open and French Open to compete in the King's World Team Tennis events.
Although Evert was successful on all surfaces, it was on clay courts where she was most dominant. Beginning in August 1973, Evert won 125 consecutive matches on clay, losing only eight sets throughout, a run which still stands as the benchmark among both men and women players.
In May 1979, Evert came back to the French Open after a three year absence. She reached the final with relative ease, defeating the third seed Australian, Dianne Fromholtz, 6-1 6-3 in the last four. Playing in 90-degree weather, Evert dispatched fourth seed Wendy Turnbull 6-2, 6-0 in the final in just 63 minutes.
Evert said of winning her third French title that "this is a good tournament for me to win because I haven't done anything spectacular this year… it should help to build my confidence before Wimbledon although playing on grass will be completely different."
Wins 1985 French Open title – Martina Navratilova rivalry
At the French Open, Evert defeated rising stars Steffi Graf in the fourth round and Gabriela Sabatini in the semi-finals. Onto the final, Martina Navratilova awaited, a rematch of the previous year's final which the American won 6-1 6-3. In what is often considered the greatest match of their rivalry and one of the greatest women's matches of all time, Evert edged past Navratilova 6-3 6-7 7-5 in two hours and 52 minutes to win her sixth French Open title and reclaim the number one world ranking for the first time since June 1982. Evert's victory came after four consecutive major final losses against Navratilova. Earlier in the year, Evert had broken a 13-match losing streak against her fierce rival at the Virginia Slims of Florida.
After the match, Chris Evert said "When I hit the last winner down the line I was really proud of myself. I never gave up and when I finally got to match point I went for a winner and I hit it. I had held my emotions in for so long that I really kind of let go." Evert still regards this match as the "most satisfying" win of her career.
Wins seventh French Open title in 1986 
Chris Evert entered the 1986 French Open as defending champion after defeating Navratilova in that memorable, marathon final. Other than a brief scare against Sabatini in round four, which saw the Argentine win the opening set 6-1, Evart cruised to a third consecutive French Open final to face Navratilova.
Navratilova dominated the opening set 6-2 with controlled aggression and a real fire to avenge the 1985 final defeat. Although, 31-year-old Evert fought back with a quality all-round game to take the final 2-6 6-3 6-3, winning her seventh French Open title and 18th Grand Slam.
This win meant that Evert won a Grand Slam title for a 13th consecutive year, an Open Era record. That win in Paris turned out to be her final Grand Slam win, she retired in 1989 after a quarter-final defeat at the US Open.
Evert finished with a 72-6 record at Roland Garros, her seven titles in Paris has only been surpassed by Rafael Nadal. She will always be remembered as a great champion that performed her truly best tennis at the French Open.