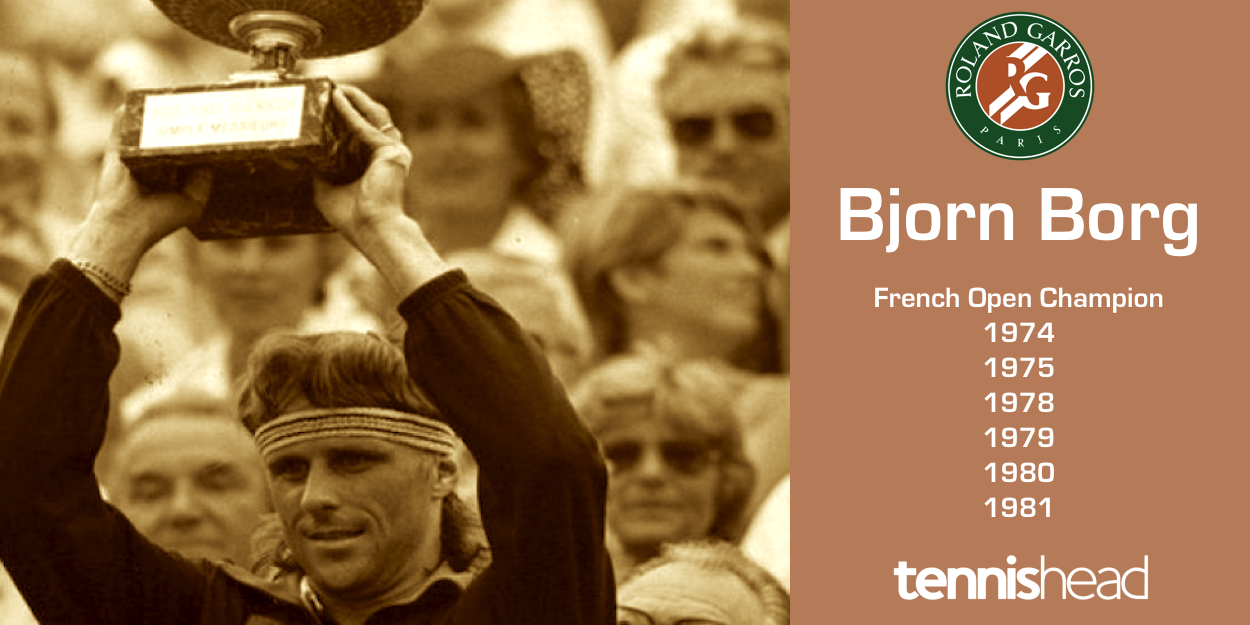 Roland Garros Royalty: Bjorn Borg, six-time French Open champion
Regarded by many as one of the greatest tennis players ever, Bjorn Borg is undoubtedly a French Open legend – having won six of his 11 Grand Slam titles at Roland Garros. 
The Swede – who spent a total of 109 weeks on top of the ATP rankings – won his other five majors at Wimbledon consecutively from 1976-1980. Borg is the only player to have achieved three 'Channel Slams' – winning the French Open and Wimbledon in the same year.
In addition to holding a record Wimbledon winning streak of 41 matches, Borg's even greater dominance at the French Open makes him fully deserving of his place in our 'Tennishead Roland Garros Royalty' roster.
Wins 1974 French Open as an 18-year-old
A year after reaching the fourth round in his first Roland Garros appearance in 1973, Borg was seeded third in 1974. The week before the French Open, the Swede won the Italian Open after beating top seed Ilie Nastase in the final.
Borg – who turned 18 during the event (10 days before the final) – progressed to the fourth round in Paris for the loss of a single set. In the last 16, he edged through against unseeded American Erik van Dillen 0-6, 6-3, 6-3, 5-7, 6-3.
The Swede was then pushed to the brink again in the quarter-finals by ninth seed Raul Ramirez. Borg battled past the Mexican 6-2, 5-7, 4-6, 6-2, 6-3 to set up a semi-final against Harold Solomon. Solomon had upset top seed and defending champion Nastase in five sets in the last eight, but the third seed was too strong for the American – winning 6-4, 2-6, 6-2, 6-1.
Borg met Manuel Orantes – who beat Patricio Cornejo and Francois Jauffret without losing a set in the previous two rounds – in the final. The 14th-seeded Spaniard had also defeated Guillermo Vilas and fourth seed Arthur Ashe in the third and fourth rounds.
Orantes – a future US Open winner – took the first two sets by 6-2, 7-6 (7-4). The Swede, though, staged a remarkable fightback – losing just two more games as he raced through the final three sets 6-0, 6-1, 6-1 to win his maiden Grand Slam title. He had become the youngest ever male Roland Garros champion – a record later broken by Mats Wilander and Michael Chang.
Defends Roland Garros title in 1975
In 1975, Borg was the top seed – with the opening two rounds of the French Open still then contested over best-of-three sets. The second-seeded Orantes and third-seeded Nastase both fell early. The Swede dismantled Norman Holmes, Peter Szoke, Jiri Hrebec and Stan Smith for the loss of only 15 games to reach the quarter-finals.
There, he met his 1974 semi-final opponent Solomon once again. This time, Borg prevailed 6-1, 7-5, 6-4 against the eighth seed to set up a last four clash with Adriano Panatta – who beat him in Paris in 1973. The unseeded Italian had upset Nastase in four sets in the third round and beaten John Andrews in four in the last eight.
Panatta would win Roland Garros the following year, but the Swede stopped his run with a hard-fought 6-4, 1-6, 7-5, 6-4 semi-final win. Borg's friend – the fourth seed Guillermo Vilas – was his opponent in the championship match. Like Borg, the Argentine had dropped a single set en route to the final – in his semi-final victory against Eddie Dibbs.
A great clay-court player, Vilas went on to win the 1977 French Open. Like against Panatta, though, Borg proved too strong for the future champion – triumphing 6-2, 6-3, 6-4 in a comfortable final to retain his title.
Wins third French Open title – dropping just 32 games
After losing to Panatta in the quarter-finals at the 1976 French Open, and skipping the 1977 event, the Swede was top seed in Paris again in 1978. Borg dropped just eight games in the first three rounds as he steamrolled Eric Deblicker, Rick Fagel and Paolo Bertolucci.
He then met ninth seed Roscoe Tanner in the fourth round in what proved to be his toughest test of the fortnight. The Swede defeated the American 6-2, 6-4, 7-6 (7-5) to set up a quarter-final with sixth seed Ramirez. Having needed five sets to overcome the Mexican at the same stage in 1974, Borg cruised through 6-3, 6-3, 6-0 this time.
The top seed continued his unstoppable progress in the last four, as he blew away the seventh-seeded Italian Corrado Barazzutti 6-0, 6-1, 6-0. As in 1975, Borg faced Vilas in the final. The world No. 1 had lost only 27 games on his way to the title match, while his Argentine rival had survived two five-setters and a four-setter.
Borg crushed the second seed 6-1, 6-1, 6-3 to complete a staggeringly dominant run to his third French Open title. The 32 games he dropped in winning the tournament remains the all-time men's record for fewest games lost in a Grand Slam title run.
Continued dominance with 1979 and 1980 triumphs
Following his ruthless efficiency throughout the previous year, Borg had a tougher start at Roland Garros in 1979. He came through in tough four-setters against Tomas Smid and Tom Gullikson in the first two rounds.
Normal service then resumed, as the top seed navigated his way past Raymond Moore, Gilles Moretton and Hans Gildemeister without losing a set to make the semi-finals. The Swede then sailed past the fourth-seeded American Vitas Gerulaitas – an Australian Open winner – 6-2, 6-1, 6-0.
The unseeded Paraguayan Victor Pecci – who defeated second seed Jimmy Connors in a four-set semi-final – was Borg's final opponent. The world No. 1 prevailed in a tough battle 6-3, 6-1, 6-7 (6-8), 6-4 after failing to serve the match out in the third set.
The Swede said: "I thought I had the match in my hand at 5-2 in the third, but then he started playing better. Suddenly it was 5-all. I got to be a little scared. I wasn't hitting through my shots and started hitting short, and then he was coming in on every point. He made this the toughest final I have played here."
At the 1980 French Open, Borg maintained his clay-court mastery and even came close to the level of dominance he showcased in 1978. He lost just 21 games in dismantling his first four opponents – Alvaro Fillol, future winner Andres Gomes, Pascal Portes and Balazs Taroczy.
The top seed then outclassed Barazzutti – as he had in the semi-finals two years prior – 6-0, 6-3, 6-3 in the last eight. The Swede followed that with an even more comfortable 6-2, 6-2, 6-0 win in the semi-finals over another past opponent – the sixth seed Solomon.
A rematch with 1979 semi-final adversary – the fifth seed Gerulaitis – stood between Borg and a fifth Roland Garros title. The world No. 1 was too good for the American once again as he earned a third straight crown with a commanding 6-4, 6-1, 6-2 final triumph.
Borg dropped only 38 games en route to this title – the third fewest total lost to win a men's major. The most games he lost in a match was eight, while he dropped no more than four games in a set.
Wins sixth and final French Open title in 1981
Borg resumed his imperious form in Paris a year later – where he was the No. 1 seed again. He cut through the draw in familiar fashion – losing 18 games in his first four wins against Jose Lopez-Maeso, Cassio Motta, Paul Torre and Terry Moor.
The Swede then beat Taroczy 6-3, 6-3, 6-2 in the quarter-finals to set up a last four clash with 1979 final opponent Pecci. Borg defeated the unseeded Paraguayan 6-4, 6-4, 7-5 in a competitive semi-final. The top seed's opponent in the championship match was Ivan Lendl – who would later win three Roland Garros titles.
The fifth-seeded Czech had ousted third seed John McEnroe in a straight-set quarter-final, and seventh seed Jose Luis Clerc in a five-set last four contest. Borg went into the match on a run of 40 consecutive sets won at the French Open, but was given arguably his sternest ever test in a Roland Garros final.
The world No. 1 prevailed 6-1, 4-6, 6-2, 3-6, 6-1 in a fluctuating battle to claim his fourth consecutive French Open title, and sixth in total. He had turned 25 the day before the final, and few would have believed it would have been his last Roland Garros appearance, and final major triumph. The great Swede finished his French Open career on a 28-match winning run, and with an astonishing overall record of 49-2 (96.08% win rate).