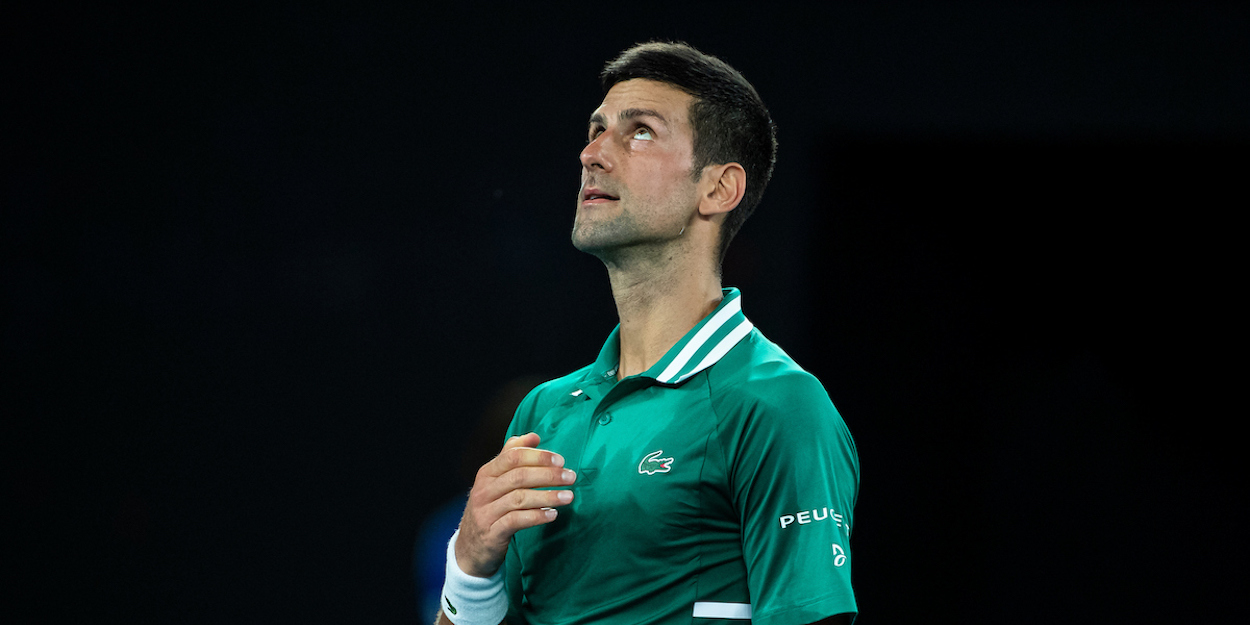 Expert identifies "surprising" record that could lead to shock Djokovic loss
Many would have expected Novak Djokovic to face Dominic Thiem in the semifinals, giving us a repeat of last year's final. Yet he is coming up against Russian qualifier Aslan Karatsev, who has been the story of this year's Australian Open.
Djokovic has admitted that he has not seen Karatsev play prior to this year's Australian Open. This means he will not know much about his next opponent. But, he will surely have seen enough of Karatsev at this year's first Grand Slam, to know he does prove a significant threat. Karatsev hits heavy groundstrokes while also possessing a powerful serve. In fact, of the eight players that made it to the quarterfinals he has the highest average forehand and backhand speed at 132.8 km/h and 122.3 km/h respectively. He is also able to minimise the attacks on his second serve, with the second-fastest average second-serve speed at 168 km/h.
He has performed well behind his own serve at the 2021 Australian Open, winning 68% of points on his serve. This is only slightly less than Djokovic who has won 70% of points on his serve. What is quite surprising is that he significantly outperforms Djokovic on return of serve. So far Karatsev has averaged 46% of return points won and converted 54% of break points opportunities he has created. Djokovic on the other hand has only managed to win 37% of return points and converted 43% of break points.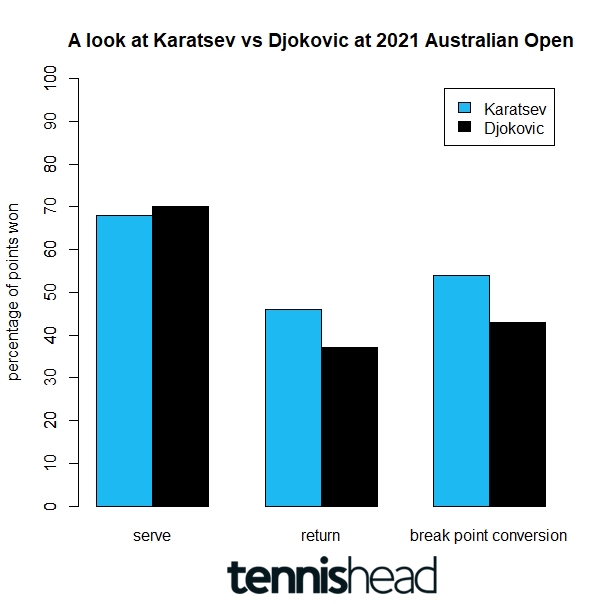 It is worth mentioning that Djokovic is nursing an abdominal injury and has faced big servers in Zverev and Raonic, meaning one might think his low return numbers are slightly misleading. But, this should not take away from the fact that Karatsev has been able to put his opponents under significantly more pressure on their serve.
Djokovic has never lost at the semi-final stage of this event. Therefore, few will give Aslan Karatsev a chance of beating Novak Djokovic in tomorrow's 2021 Australian Open semifinal. Yet we can't ignore the danger Karatsev poses. Can he do the unthinkable?
Luka Elliott has a B Com in Economics and Statistics from the University of Cape Town. His thesis was titled "Engineering Features for Tennis Match Outcome Prediction in a Statistical Learning Framework". He now writes for Tennishead focussing on how statistics effect the outcome of ATP matches