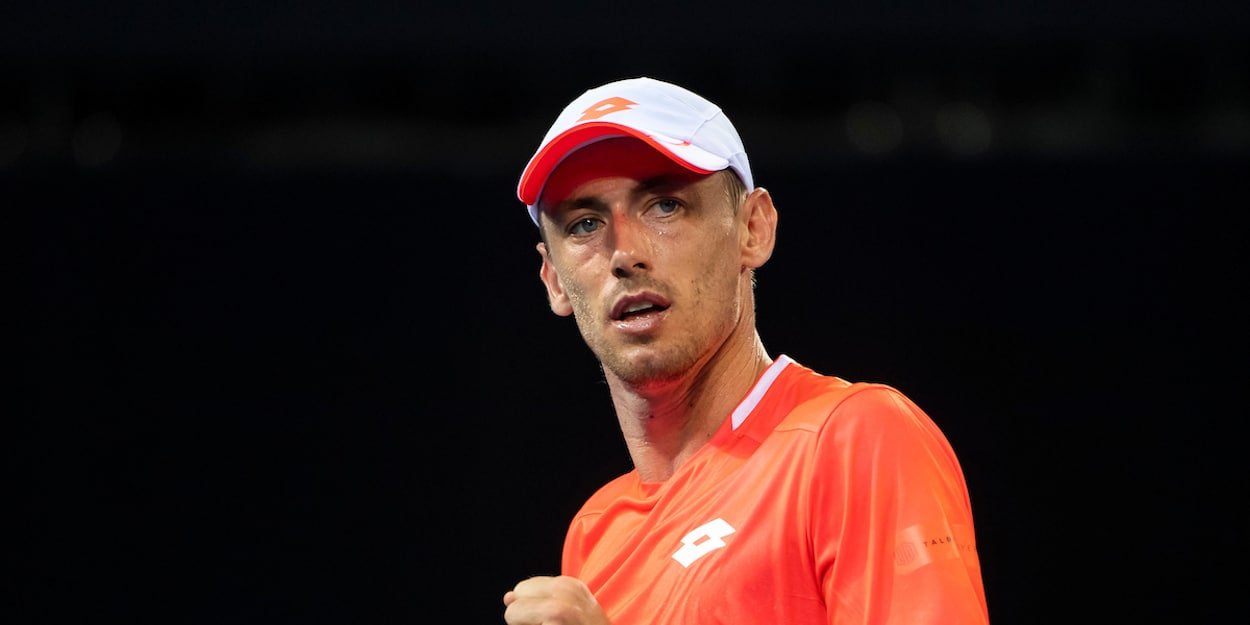 Exclusive John Millman interview: "I don't think all of them are as actively involved in tennis"
John Millman is one of the most vocal ATP tennis players on a wide range of topics so we decided to put him through the intense pressure of our famous tennishead five-minute interview!
What are your first memories of playing tennis?
"I grew up in a big family. My four sisters would have a six o'clock lesson at the tennis centre down the road and I would get the first 15 minutes before it started. My first real proper tennis memory, when I thought I wanted to be a tennis player, was a Davis Cup semi-final, Australia versus Russia [in 1999] on grass courts at ANZ Stadium in Brisbane. I remember Yevgeny Kafelnikov complaining about the state of the court. Wayne Arthurs, who now works at the National Academy in Brisbane where I was, played a great match and beat Yevgeny."
Who were your tennis idols?
"Coming from Queensland, it was all about Patty Rafter. He was a Mount Isa boy who moved to the Brisbane northern suburbs. If you ask any Queenslander of around my age, Patty Rafter was someone we all looked up to."
Is your country's great tennis history an inspiration or a burden for modern-day Australian players?
"A bit of both. We hear about the tennis history and we understand what comes with that. We get compared to them a lot – and obviously we haven't reached their heights. But the tennis environment has changed a lot since then too. I don't think we'll ever see a country dominate again to the extent that the Australians or the Americans did. There were a few countries that really dominated then. In Australia we have a small population and many talented athletes divided over a number of sports.
"There's also maybe a slight disconnect between the previous generation and the one now, though there are a few special characters who have really taken it upon themselves to help us out. Tony Roche is one of those guys. He really makes an effort. He loves the game. He loves Australians representing their country. He's one of the few former Australian players who don't make you feel the pressures of what he and his generation achieved."
When you talk about those pressures are you thinking of the criticism that Nick Kyrgios and Bernard Tomic regularly get from the older generation?
"Yes, I would say so. This generation get reminded – and quite rightly so – about how successful we once were as a tennis country. I totally understand that. I have total respect for the previous players that have played the game and complete admiration for anyone who has represented Australia, because in my opinion that's the pinnacle of sport. But at the same time I don't think all of them are as actively involved in tennis these days as they were in the past."
If you could win one tennis tournament what would it be?
"One of my most special tennis moments was qualifying for Wimbledon the first time and playing on those courts. I managed to make the third round and play Andy Murray there. So it would probably have to be Wimbledon – but followed very closely by the Australian Open, which is such a special tournament. The home crowd really get behind us there. That's from an individual perspective. Being involved in the Davis Cup, I'm quite a fan of the old format. That was pretty special too. So it would be those three."
Do you have any superstitions before a match?
"Back in the day I was probably OCD to an extent. I'd be touching things. I stamped that out because it was kind of destroying you a little bit. I'd have a lucky number and I'd have to touch things a certain number of times.
"Now I just stick to my routines. You warm up in the same fashion and at a certain time, but I just think that's being professional. I've always got something written on my racket, a personal message to myself. It might be something like not having any excuses out there if the body's not feeling great. It's not really a superstition. Tennis is a lonely sport sometimes. When you walk on court, it's you against one other person. Sometimes you need to just give yourself that self-motivation to get you over the line."
When you travel around the world is there one luxury you take with you?
"I'm embarrassed to admit it, but it's actually my PlayStation. I'm an avid reader and I love reading political books and autobiographies, but sometimes you need to completely switch off from tennis and stop your brain thinking. I bring my PlayStation with me.
"I wouldn't even be on it every day, but as an Australian tennis player you're away from home for a long time. When I first started travelling I would be going away for six months because I couldn't afford the plane ticket home unless I was winning matches. I'd keep playing until I'd won enough matches to afford to get a plane ticket home. You're away for a while and mentally you need a little bit of a release. That's the PlayStation for me."
How do you pass the time on long flights?
"The long flights are brutal. I still fly the majority of mine at the back of the plane. I'll always buy a book before I leave on a long trip. I like any type of political book. 'Credlin & Co' was one that I read not long ago. It was based on when Tony Abbott was in power [as Australia's prime minister]."
John Millman fact file
Age: 30
Born: Brisbane
Lives: Brisbane
Height: 6ft 0in
Weight: 12st 6lb (79kg)
Tour-level debut: Brisbane 2010
Highest world ranking: No 33 (October 2018)
Best Grand Slam performance: US Open quarter-finals 2018
Best performance on ATP tour: runner-up to Novak Djokovic at Tokyo 2019