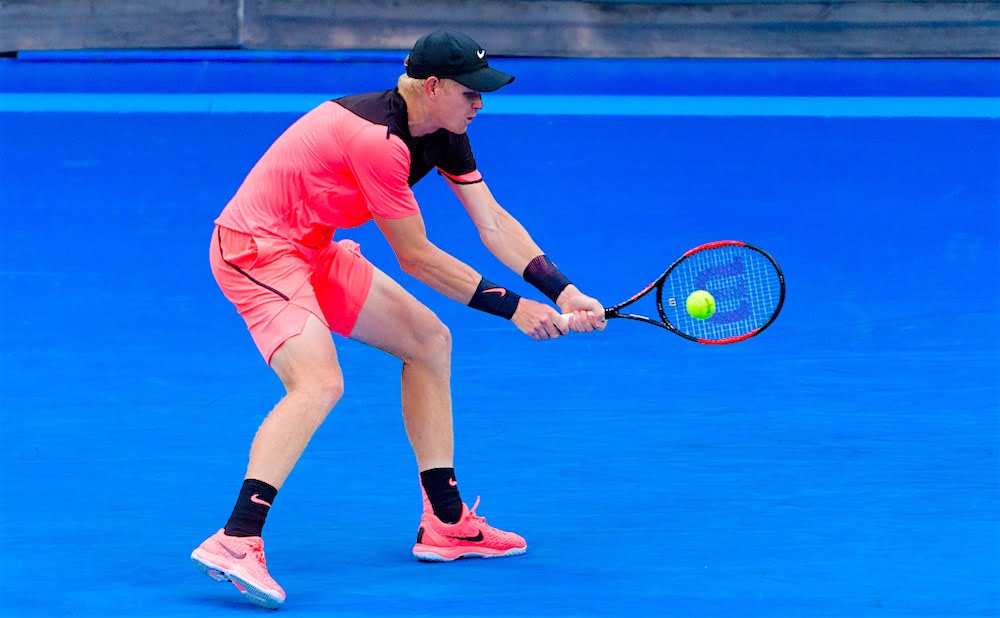 Edmund makes Davis Cup debut
Originally published on 26/11/15
World No.100 Edmund, 20, was named as the second singles player and will open Britain's campaign on Friday when he faces Belgian No.1 David Goffin, ranked No.16 in the world.
"I think that it was always going to be a difficult decision who started the weekend," said Smith. "I think where Kyle's ranking sits now, and he's very comfortable on this surface, is why we're starting that way.
"There was no way that Andy and Jamie wouldn't be playing [the doubles] rubber. They've played with such quality in the last two ties. So as soon as we made that decision, it's much better to have more singles options because who knows what happens over the next couple of days. It's good to have options for Sunday."
Edmund broke into the World's top 100 this year, having recently won a Challenger event on clay in Argentina.
"It's just exciting really," Edmund said. "My job is to give my best and give my all. The ultimate goal is to obviously put the point on the board for Great Britain."
The Belgian captain Van Herck said of Edmund: "I think he's a talented player. We're sure he's ready to go to play, and will rise to the occasion, if I can say. So are we. We expect a difficult match. I think he's a very good, talented player. We'll talk about it later on with David and the coaches to see which game plan and tactic we're going to put in for this match."
Edmund becomes only the sixth man in the 115-year history of the Davis Cup to make his debut in a final, following in the footsteps of former world No.1s John McEnroe and Pete Sampras.
The Belgians announced that Ruben Bemelmans was their second player behind David Goffin. The 27-year-old, who was selected for the singles over team mate Steve Darcis, has not won a singles rubber in over two years, but is relishing the prospect of taking on the world No.2 for the first time.
"The first confrontation I have with him, match or practice," said Bemelmans of Murray. "It's going to be new for him, as well. I think I probably know him better, how he plays, than him me. Maybe I have a slight advantage there."
Bemelmans has had more success in the doubles in his Davis Cup career, winning in Belgium's first round tie against Switzerland with Neils Desein and in the quarter-finals against Canada with Kimmer Coppejans.
Andy Murray said of this choice: "We're not that surprised. The last couple days have been watching their practices. That was kind of what we thought was going to happen. So that's good that we were prepared for that.
"I don't know him extremely well, but I've watched some of his matches this year. I saw him play at the US Open a bit. I saw some of his match against Wawrinka. I watched some videos of him playing in the Davis Cup before. I know his game a bit, but actually I don't know the Belgian players that well."
Asked how he was going to win his rubber against Andy Murray, Bemelmans said: "By winning the last point".