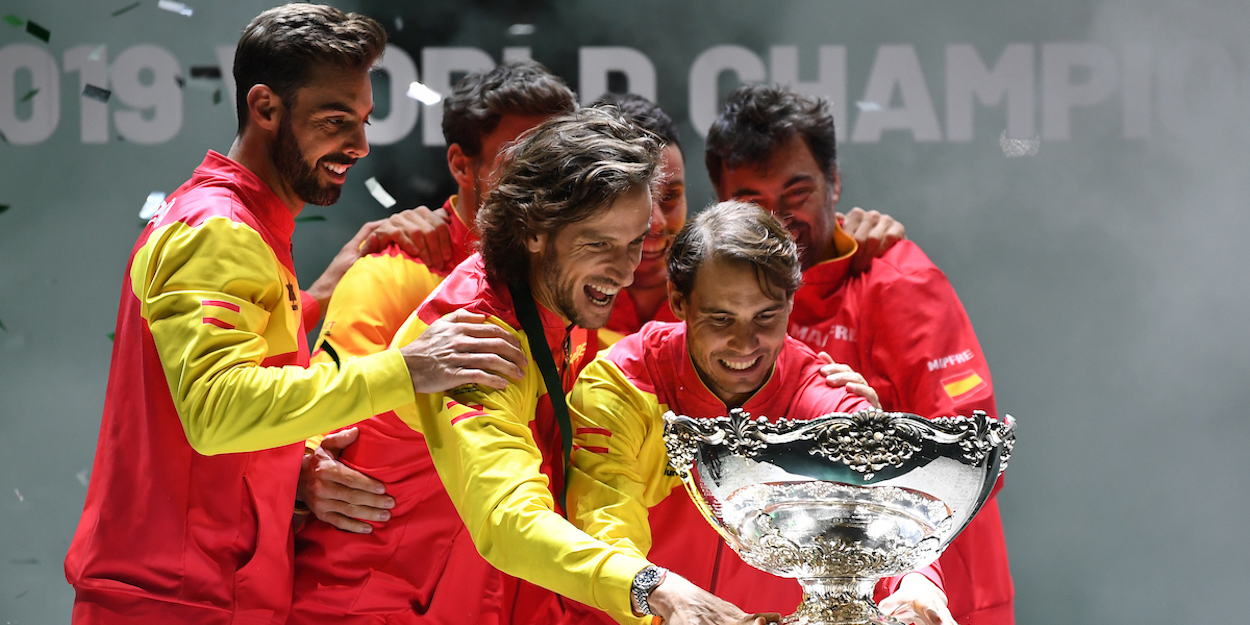 Davis Cup: Argentina lead GB 2-0
It is more than four years since Great Britain's Davis Cup team suffered a defeat on home soil, against Belgium at the Braehead Arena in Glasgow in 2012, but Leon Smith's men will need a remarkable comeback on the last two days of their semi-final against Argentina across the city at the Emirates Arena if they are to extend that record.
Argentina take a 2-0 lead into the second day of the Davis Cup after Juan Martin del Potro showed his fellow countrymen the way with a stunning 6-4, 5-7, 6-7(5), 6-3, 6-4 victory over Britain's talisman, Andy Murray. At five hours and seven minutes it was the longest match of both men's careers as Del Potro avenged his four-heat defeat by the Scot in the Olympic final little more than a month ago.
Kyle Edmund proceeded to revive home hopes by taking the first set against Guido Pella, but the hero of the defending champions' quarter-final victory over Serbia was unable to sustain his momentum and was beaten 6-7(5), 6-4, 6-3, 6-2.
Given the gruelling summers that both Del Potro and Murray have endured, the quality of their tennis was sensational. The Scot has won Wimbledon and the Olympic gold medal in the last two months, while the Argentinian has continued his remarkable recovery from his third wrist operation. Since the start of Wimbledon the former world No 4 has claimed victories over Murray, Novak Djokovic, Rafael Nadal and Stan Wawrinka.
Murray was not sure whether tiredness had been a factor in his first defeat in his last 15 Davis Cup rubbers. "It was tough," he said afterwards. "Both of us were pretty tired at the end."
The world No 2's previous longest matches, at four hours and 54 minutes, were his 2012 US Open final triumph over Novak Djokovic and his Davis Cup victory over Kei Nishikori in Birmingham earlier this year. Del Potro's previous longest match, at four hours and 43 minutes, was his 2013 Wimbledon semi-final defeat to Djokovic.
"I'm so tired and I've got cramps everywhere," Del Potro said afterwards. "It was very special for me."
Murray, too, was justifiably proud of his performance. "I did great today," he said. "I thought I did fantastic. I fought for every point, tried as best as I could. That's all you can do."
The Scot's mind has understandably been on other matters this week following the death of his paternal grandfather. "It's been hard," he admitted, though he insisted that he had never thought of pulling out of the tie.
It was Murray's first Davis Cup defeat in singles on home soil and only his third in the 32 singles rubbers he has played, his other reverses having been against Stan Wawrinka in 2005 and Fabio Fognini in 2014.
Murray said he did not know whether he could recover in time for Saturday's doubles, in which he is due to partner his brother Jamie.
"We'll have to see how I am tomorrow when I wake up," he said. "I will probably make a decision then, but I've never played a match that long. I've played matches close to that length – but none after an extremely long stretch of playing."
The last time Britain won a tie after trailing 2-0 was against Russia in Coventry three years ago, when Colin Fleming and Jonny Marray won the doubles before James Ward and Dan Evans won their reverse singles.
With a sizeable group of Argentinian supporters in the 8,000-strong crowd and the Scottish contingent in full voice, the atmosphere in the Emirates Arena was electric from the start.
On a fast court and in the perfect indoor conditions, both men served especially well. Murray hit 35 aces, bettering his previous best of 26, which he hit against Arnaud Clement in the US Open in 2005.
The very first game was an indication of what was in store as Murray took nine minutes to win it. The two men exchanged breaks in the next two games before Del Potro broke again to lead 4-3 and then served out for the opening set.
Murray was already looking weary at this stage, but saving a break point at 4-4 in the second set seemed to revive the Scot. In the following game he played two of the best shots of the match. After hitting a wonderfully improvised half-volley lob winner, he chased down a lob on the next point, turned and cracked an extraordinary forehand down the line past a disbelieving Del Potro. With the wind in his sails, Murray went on to level the match by breaking when Del Potro served at 5-6.
Del Potro got the better of three successive breaks of serve in the middle of the third set, but after the match passed the three-hour mark Murray held on when the Argentinian served at 5-4. Murray saved a set point with a superb winning lob and then broke back with a backhand winner after chasing down a stop volley.
When the world No 2 went on to win the tie-break 7-5 most of the crowd might have expected him to go on and clinch victory, but nobody should doubt Del Potro's tenacity and fighting spirit.
The only break of the fourth set came when Murray dropped serve in the fourth game, which featured another wonderful point. Chasing back to retrieve a lob, Del Potro played a stunning "tweener" lob, upon which Murray netted a backhand.
In the fifth set both men sent for the trainer to have their legs massaged. After one thrilling rally in the fourth game Murray bent over, looking utterly exhausted, but summoned up the energy to save a break point at 2-2.
Two games later, however, Del Potro broke with a shot worthy of the occasion. Chasing down a Murray volley into the corner, the former world No 4 hit a lovely forehand pass winner down the line.
At 3-5 Murray saved a match point with his final ace, but Del Potro was not to be denied. As he served at 5-4 the Argentinian went to match point again when a smash ended some thrilling defence by Murray and on the next point the Argentinian secured victory with an ace.
After Murray had left the arena to resounding acclaim, the crowd warmly applauded Del Potro in his on-court interview. Even after the defeat of the local hero, the spectators were happy to acknowledge the remarkable feats of a player whose comeback this summer has thrilled fans around the world.
Although Pella, the world No 49, is ranked six places higher than Edmund, the 21-year-old Briton was seen as the favourite by many given his recent form, including his run to the fourth round of the US Open.
He made a fine start, winning the first three games and winning the tie-break at the end of the first set, but Pella worked his way back into the match, with his break of serve in the last game of the second set proving a turning point. Edmund's 50 unforced errors, compared to 20 by Pella, were decisive.
In the final in November the winners here will meet Croatia or France, who were tied at 1-1 after the first day of the other semi-final in Zadar.
Davis Cup semi-final
Great Britain v Argentina
Emirates Arena, Glasgow
R1 A Murray lost to J Del Potro 4-6 7-5 7-6(5) 3-6 3-6
R2 K Edmund lost to  G Pella 7-6(5) 4-6 3-6 2-6
R3 Murray/Murray v Delbonis/Mayer
R4 Murray v G Pella
R5 K Edmund v J Del Potro