Casper Ruud Monte Carlo victory wouldn't necessarily be a shock, says analyst
Casper Ruud may not be favourite to win the Monte Carlo Masters but his form at the 2021 tournament has taken a step up from his previous Masters semi final run, as Tennishead's resident analyst explains
"Much of this week's focus in Monte Carlo has been on Dan Evans' surprise run and victory over Djokovic, as well as Rublev's shock win over Nadal. Casper Ruud's performances on the other hand have gone under the radar. He has quietly recorded 3 Top 20 wins, including a victory over the defending champion Fabio Fognini, on his way to the semi-finals. He is someone who is clearly quite comfortable on clay, having also made the semi-finals of the 2020 Rome Masters. As the stats show, Ruud has been playing even better than he did in Rome.
"So far at the 2021 Monte Carlo Masters Casper Ruud has won 69% of service points, which is 4% higher than what he managed last year in Rome. He has also been better on return by 4%, winning 42% of return points in Monte Carlo. When facing a break point on his serve he has saved 64% of break points, 3% more than he did in Rome. But the biggest improvement has been in conversion of break point chances. He has converted 50% of break point chances, a massive 23% increase on his conversion rate in Rome. His poor conversion of break points is what cost him in the Rome semi-final against Novak Djokovic. In that match he converted only 1 out of 8 break point chances and was duly punished by Djokovic. Most tennis matches are decided by who plays these break points better and their importance seems only heightened during the latter stages of tournaments.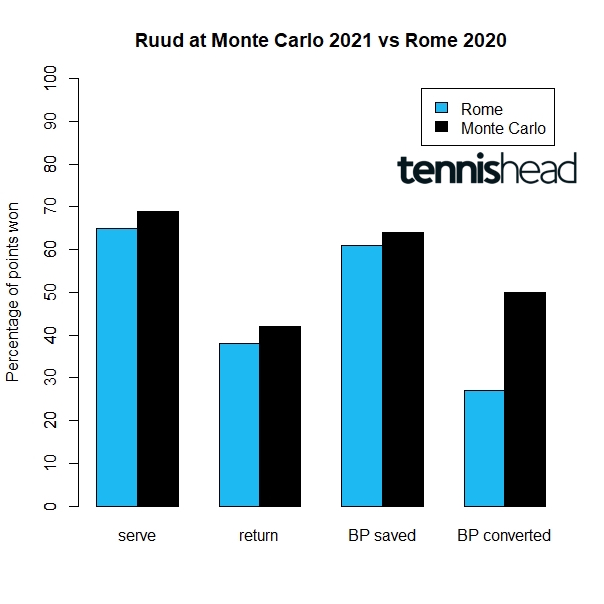 "In the semi-finals Casper Ruud faces Andrey Rublev, who is arguably the ATP Tour's most in-form player. Rublev leads the ATP Tour for match wins and is fresh off defeating the King of Clay in the quarter-finals. Ruud has also lost their previous 2 meetings on clay. But he will still be confident of another upset given how well he has been playing in Monte Carlo. If Ruud is as clinical as he has been this week, he has every chance to topple the formidable Russian.
Luka Elliott has a B Com in Economics & Statistics from the University of Cape Town where his thesis was titled "Engineering Features for Tennis Match Outcome Prediction in a Statistical Learning Framework". He now writes for Tennishead focussing on how statistics effect the outcome of ATP matches
(Photo credit Ray Giubilo)