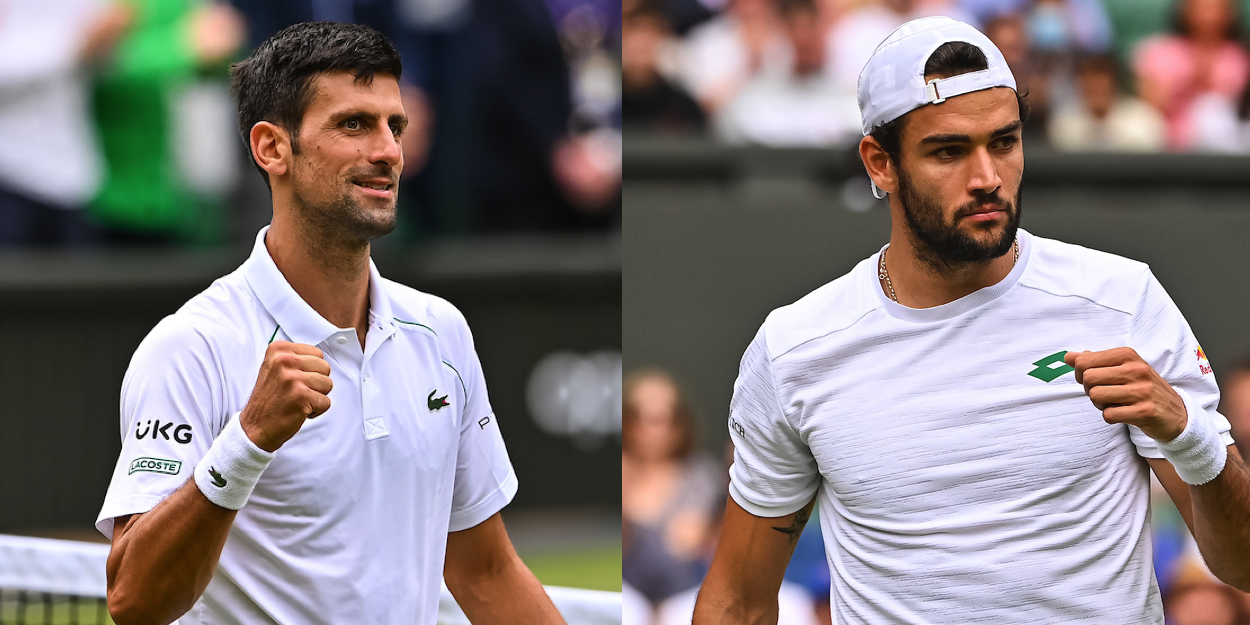 Matteo Berrettini holds "an edge' over Novak Djokovic in key Wimbledon stat
Novak Djokovic will be the favourite heading into the 2021 Wimbledon men's singles final but Matteo Berrettini has an opportunity to upset the record books thanks to his dominance in a key part of the game as highlighted by Tennishead's in house statistical expert
"Matteo Berrettini and Novak Djokovic face off in a fitting 2021 Wimbledon Gentlemen's Singles final. Djokovic is the world's best player and has looked for the most part unstoppable at Wimbledon. Berrettini is arguably the most in form grass court player. He won at Queen's Club and has clearly continued his momentum at SW 19. While Djokovic is the clear favourite, both players seem quite evenly matched. If Berrettini can play his best tennis this could be a thrilling finale.
"Heading into the final Berrettini and Djokovic look evenly matched, with both producing a high level of tennis so far. At the 2021 Wimbledon Championships both players have been supreme on serve. Djokovic has won 75% of serve points, while Berrettini has won 74% of serve points. Both players have also been difficult to break. They have each saved 81% of break points faced throughout the past two weeks. Even on return Berrettini's numbers are not far off those of Djokovic. So far Djokovic has won 42% of return points, which is 3% more than Berrettini's 39% of return points won. But where Berretini has the edge is on break point chances. He has converted an impressive 47% of his break point chances, while Djokovic has only managed to convert 37% of his break point chances.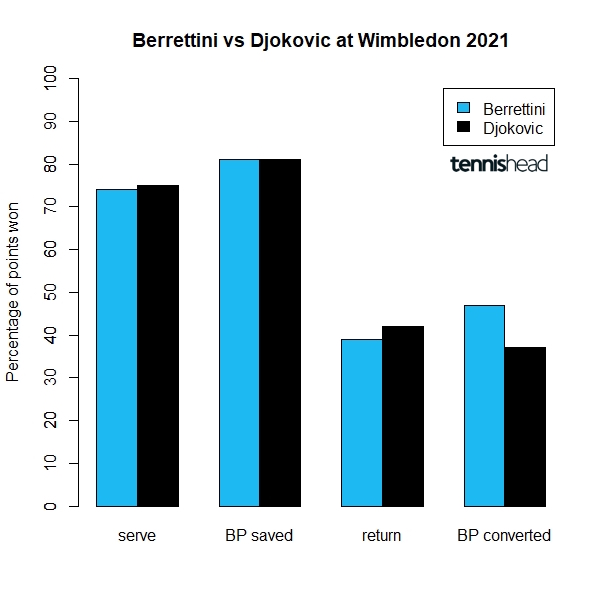 "With regards to match strategy, Berretini needs to play first-strike tennis. It is unlikely that he will be able to match Djokovic from the back of the court in extended rallies. So he needs to go for his shots, even if that means he misses a few more balls. So far at Wimbledon Berrettini has played in exactly this way, hitting a whopping 254 winners but also making 167 unforced errors. The difficulty of his task is that Djokovic can also hit winners, but his main strength is that he gets so many balls back into play and misses less than his opponents. Djokovic has hit 190 winners, but made only 126 unforced errors. While Berrettini has a clear game plan, it remains to be seen whether he can keep it up for long enough to get the victory.
"It has been wonderful to have the Wimbledon Championships back this year. Over the past two weeks we have been treated to some enthralling tennis, high quality shot-making and surprise packages aplenty. Hopefully Djokovic and Berrettini can deliver on the promise of a gripping tennis battle. That would be a fitting way to end a memorable fortnight."
Luka Elliott has a B Com in Economics & Statistics from the University of Cape Town where his thesis was titled "Engineering Features for Tennis Match Outcome Prediction in a Statistical Learning Framework". He now writes for Tennishead focussing on how statistics effect the outcome of ATP matches