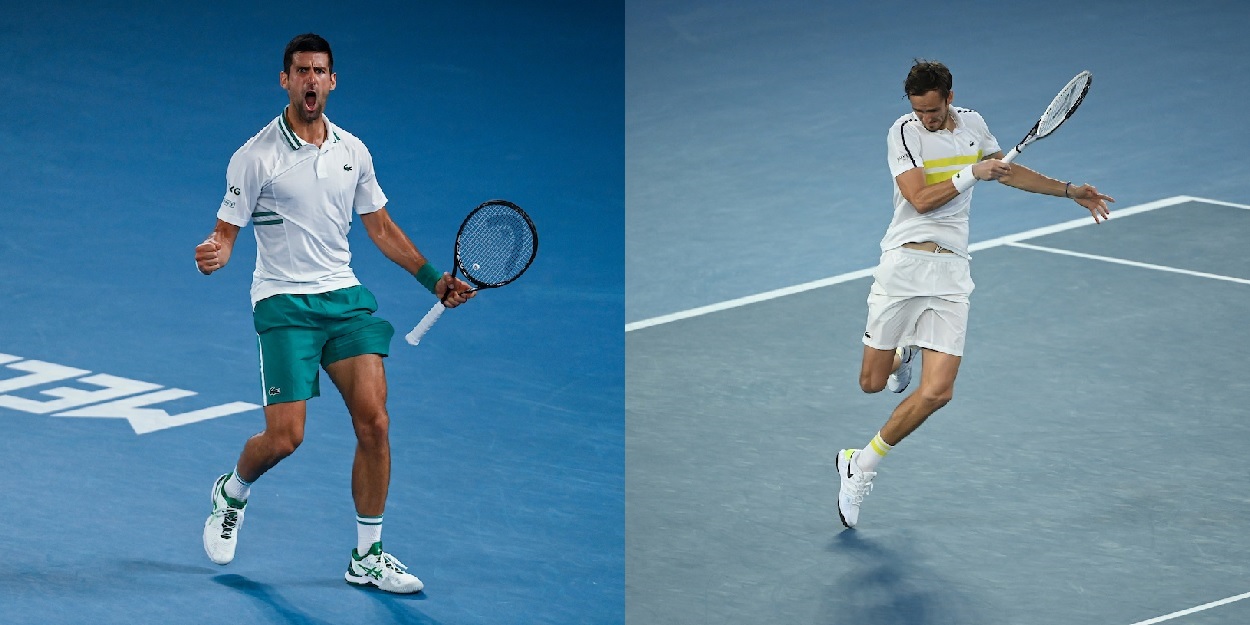 Australian Open men's singles final preview: Novak Djokovic v Daniil Medvedev
On Sunday evening, Novak Djokovic and Daniil Medvedev will meet in the Australian Open men's singles final. Djokovic will be playing for his 18th Grand Slam title overall, and a record extending ninth in Melbourne. Medvedev, on a 20-match winning streak, 12 of which have come against top ten ranked opponents, is still looking for his maiden Grand Slam title.
Novak Djokovic (1) v Daniil Medvedev (4)
Novak Djokovic's route to the semi-finals:
R1: d. Jeremy Chardy, 6-3 6-1 6-2
R2: d. Frances Tiafoe, 6-3 6-7(3) 7-6(2) 6-3
R3: d. Taylor Fritz (27), 7-6(1) 6-4 3-6 4-6 6-2
R4: d. Milos Raonic (14), 7-6(4) 4-6 6-1 6-4
QF: d. Alexander Zverev (6), 6-7(6) 6-2 6-4 7-6(6)
SF: d. Aslan Karatsev (Q), 6-3 6-4 6-2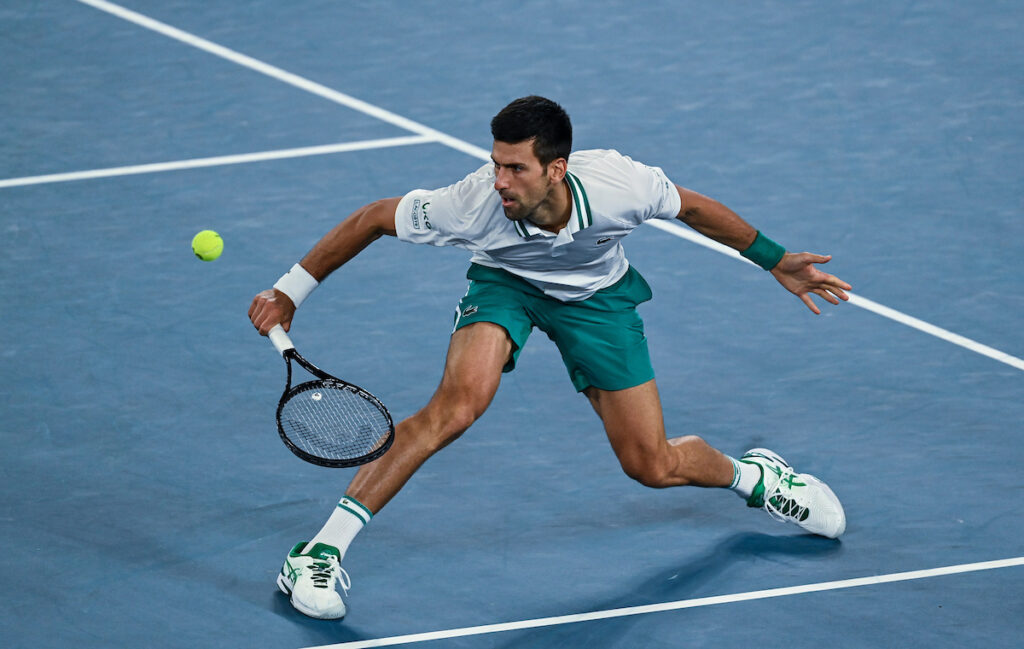 Daniil Medvedev's route to the semi-finals:
R1: d. Vasek Pospisil, 6-2 6-2 6-4
R2: d. Roberto Caraballes Baena, 6-2 7-5 6-1
R3: d. Filip Krajinovic (28), 6-3 6-3 4-6 3-6 6-0
R4: d. Mackenzie McDonald, 6-4 6-2 6-3
QF: d. Andrey Rublev (7), 7-5 6-3 6-2
SF: d. Stefanos Tsitsipas (5), 6-4 6-2 7-5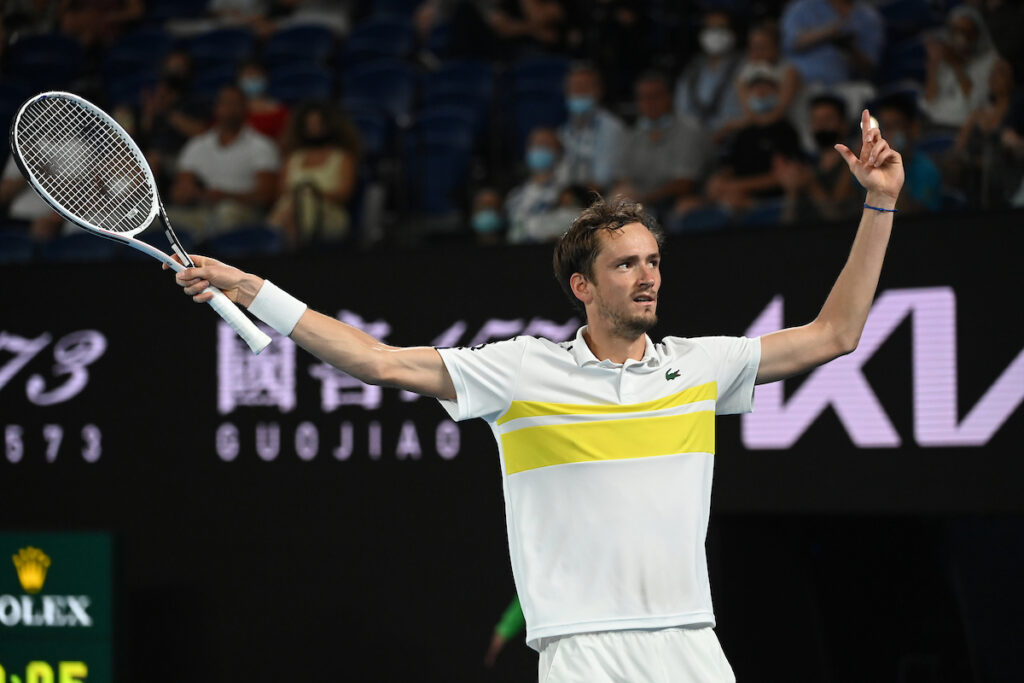 Djokovic, the world No 1 and the two-time defending champion, entered the tournament as a heavy favourite to lift the title yet again in 2021. After being pushed by Frances Tiafoe in round two, and then suffering an injury in his match against Taylor Fritz in round three, the Serb's odds began to fall. As he so often does, however, Djokovic has found his way back into the final, even if it has not come with the customary ease of previous years.
After the match against Fritz, Djokovic hinted that he may not be fit enough to play his fourth-round match against Milos Raonic. Perhaps spurred on by his perfect 11-0 record against the Canadian, Djokovic did play and he came out the winner, relatively comfortably in the end, after four sets.
In the quarter-finals, Alexander Zverev provided a stern test, taking the first set in a tiebreak, and pushing Djokovic to another tiebreak in the fourth, but, once again, the Serb prevailed, earning a semi-final spot against Aslan Karatsev, the Russian qualifier who was on the run of his career.
Karatsev put in a solid display but it was not enough to topple, or even really trouble, the world No 1. For the first time since round one, Djokovic won a match at this year's Australian Open without dropping a set, and he moves into the championship for a ninth time, with an 8-0 record.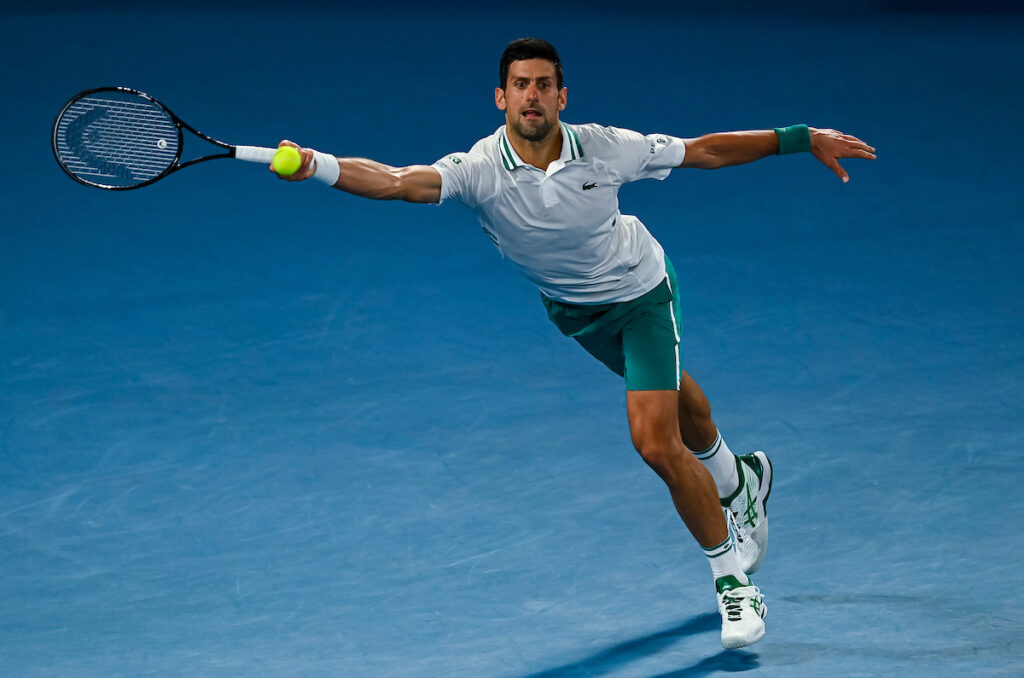 Medvedev came into the tournament on hot streak, having won back-to-back-to-back tournament at the Paris Masters, the ATP Finals, and the ATP Cup. He had 14 matches in a row, ten of which had come against players ranked inside the world's top ten.
That form continued at the Australian Open with the world No 4 cruising past a potentially tricky first-round opponent in Vasek Pospisil. Medvedev has won five of his six matches in straight sets, including encounters against the 7th and 5th seeds, Andrey Rublev and Stefanos Tsitsipas. The only slight blemish on his near perfect run so far was being taken to five sets by Filip Krajinovic in round three.
In that match, Medvedev was ahead by two sets to love and appeared to be on his way to another simple, straight sets victory. Then the fight back began and all of a sudden, the 16-match win streak appeared to be hanging by a thread. Medvedev had a 0-6 record in fifth sets prior to this match and with the way he appeared to be letting his emotions get the better of him, 0-7 seemed likely.
Against the flow, however, Medvedev summoned his winning form and dominated in the final set, winning it 6-0. During the fourth set, his coach, Gilles Cervara, had picked up his bag and left the stadium. Afterwards, Medvedev said, "[Cervara] said just before leaving that he's sure I'm going to win the match, but he's going to leave me alone to be more calm." Seemingly, it worked.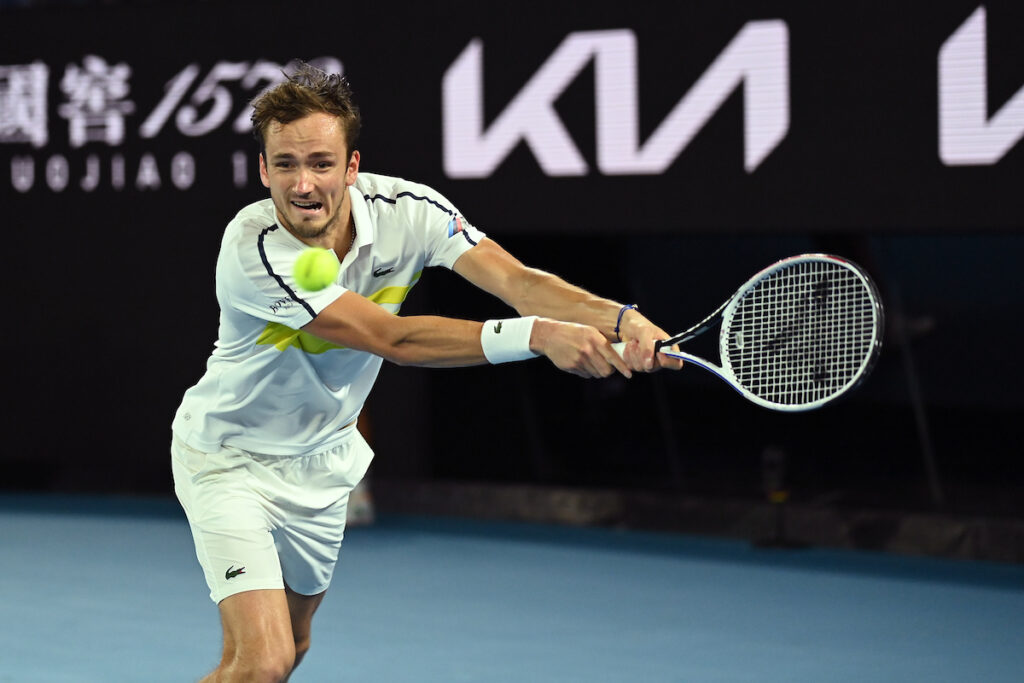 Djokovic and Medvedev have met seven times before, with the Serb holding a meagre 4-3 lead. Medvedev has won three of their past four meetings, including a 6-3 6-3 triumph at last November's ATP Finals.
However, Djokovic is a different beast at the majors. He has won eight of his last ten Grand Slam finals, he has played and won eight finals at the Australian Open, and he will be playing for his 18th Grand Slam title overall. Medvedev has played in just one previous Grand Slam final, losing to Rafael Nadal over five sets at the 2019 US Open.
So what hope is there for Medvedev? Well, Djokovic's last Grand Slam final was a humbling experience for the Serb as he won just seven games against Nadal at Roland-Garros last October, and those wounds may still not be fully healed. There is also Djokovic's injury situation, which is still not fully clear. Five sets against a man who can make him run around the court may prove to be too big an ask if he is not 100% fit.
Then there is Medvedev's incredible win streak. He has now gone 20 matches unbeaten, 12 of which (60%), have been against top ten ranked opposition. During the run, he has beaten every man currently ranked inside the top ten at least once, apart from himself, of course, and Roger Federer, who has been out of action. The 25-year-old is in the form of his life, and if he is ever going to break through and win a major title then now is as likely as ever. Having played a final before in New York, he is unlikely to be overawed, and he finally has a fifth set win on his resumé too.
Whilst Medvedev may never have been better primed, no one has been more clutch than Novak Djokovic in recent years, and whatever happens, it's hard to bet against the veteran 33-year-old adding to his legacy and closing that gap on Nadal and Federer to just two.
Prediction: Djokovic