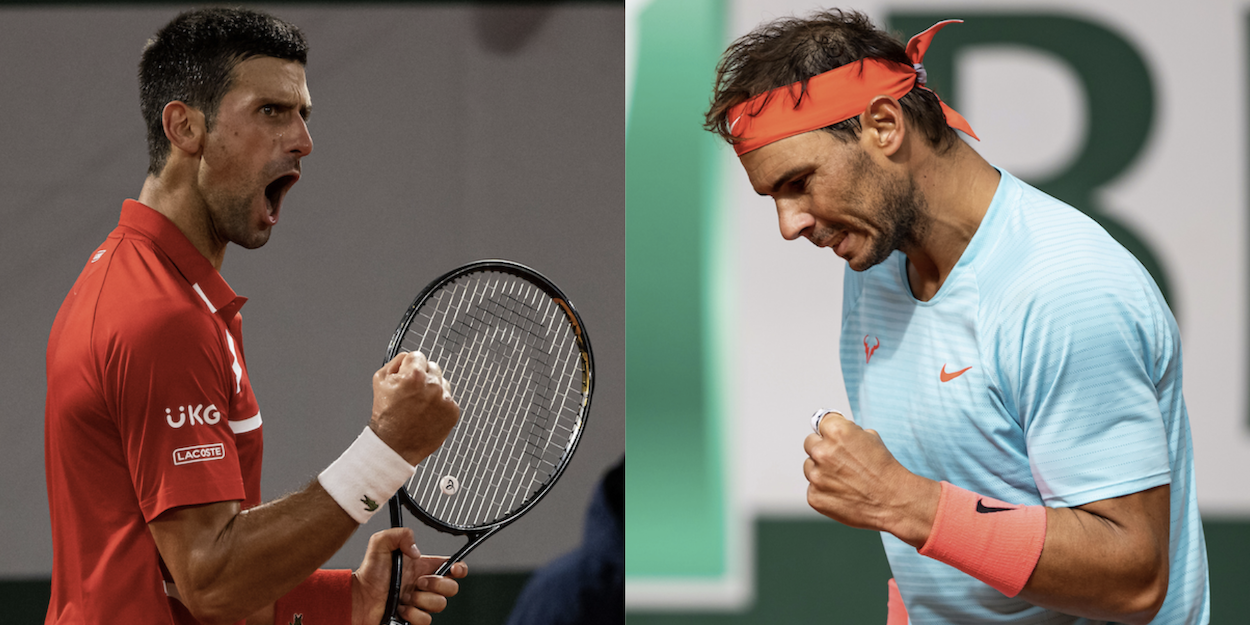 Analysts uncovers 'surprising strategy' that has enabled Rafa Nadal to beat Novak Djokovic in previous two encounters
Rafa Nadal may well use the same strategy again as he attempts to conquer Novak Djokovic in the Italian Open 2021 final.
"The 2021 Italian Open final between Rafael Nadal and Novak Djokovic is set to be another titanic battle. The two players who have produced some great clashes at the Foro Italico, face off for the ninth time in Rome. The last 4 meetings have been split 2 apiece, with Nadal taking the last two encounters. It is quite surprising what strategy has contributed to Nadal winning the last two meetings.
"In the 2018 and 2019 wins Nadal played 62% and 57% of forehands crosscourt. In the previous two matches, that he lost, he played only 45% of his forehands crosscourt. This strategic tweak seems counter-intuitive. Djokovic has the best two-handed backhand in men's tennis, and it is arguably just as good if not better than his forehand. So why would Nadal target the backhand so heavily and be successful with this strategy?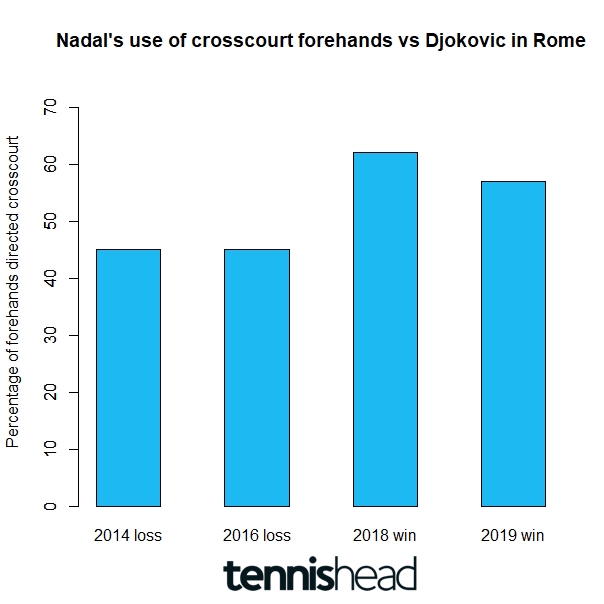 "Hitting the forehand crosscourt so regularly sets up Nadal's two signature shots. When Nadal is on form he regularly thunders forehand winners down-the-line or hits ferocious inside-out forehands. The benefit of moving Djokovic into the backhand corner first is that there is then more space to hit these shots into. If Nadal wants to finish a point with a shot into the forehand corner, he needs to make sure Djokovic is as far away as possible before he pulls the trigger. Otherwise Djokovic, probably the best mover on tour, will chase the shot down.
Taking tennis to new heights 🤩

Djokovic vs Nadal is a rivalry like no other!@DjokerNole @RafaelNadal #IBI21 pic.twitter.com/JNAv1KYdGF

— Tennis TV (@TennisTV) May 15, 2021

"Another reason for this strategy is that it prevents Djokovic from dictating with his backhand. One of Djokovic's favourite shots is the down-the-line backhand. This shot is more difficult to hit when he is forced off court or has to hit his backhand on the run.
"To most tennis fans it might seem counter-intuitive for Nadal to hit so many forehands crosscourt into Djokovic's backhand. But there are clear reasons why it might be a good idea and has brought him success in their recent Rome encounters. It allows Nadal's down-the-line and inside-out forehands to be more effective and somewhat neutralizes Djokovic's ability to dictate on his backhand. It will be interesting to see if Nadal again decides to employ this strategy."
The data used in this article was sourced from The Tennis Abstract Match Charting Project, which is based on the work of Jeff Sackmann. The project is licensed under a Creative Commons Attribution-NonCommercial-ShareAlike 4.0 International License. No changes were made to the original data.  
Luka Elliott has a B Com in Economics & Statistics from the University of Cape Town where his thesis was titled "Engineering Features for Tennis Match Outcome Prediction in a Statistical Learning Framework". He now writes for Tennishead focussing on how statistics effect the outcome of ATP matches