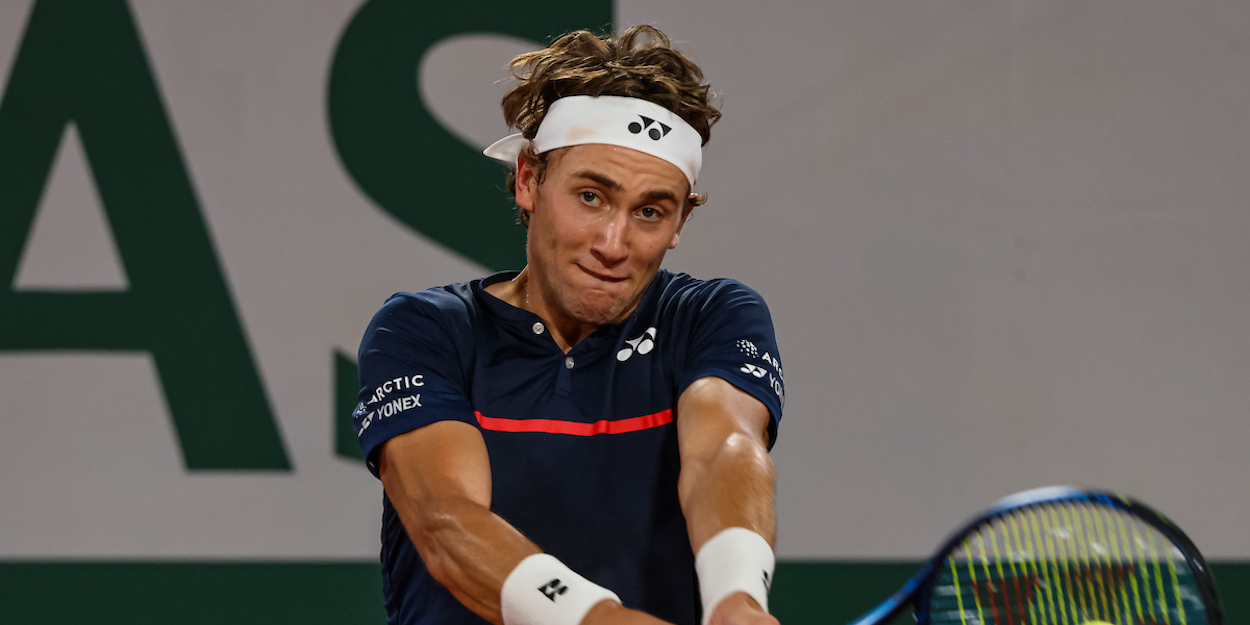 Analyst reveals stats that place Casper Ruud as dark horse in French Open
The bottom half of the men's singles draw at the French Open features just one player who has one Grand Slam to his name, which means youngsters like Casper Ruud have a real chance to go deep according to Tennishead's analyst
"The 2021 Roland Garros draw gave us a few surprises, most notably that the Big 3 are in the same half for the first time ever at a Grand Slam. This presents an opportunity for players to possibly make it into the second week of the French major for the first time. One player who could take advantage of this unique situation is Casper Ruud. He has been handed a decent draw and has been one of the form players of the clay season, playing the best clay court tennis of his career.
"Casper Ruud has always felt quite comfortable on clay. But what has held him back until recently is his serve. Since his first tour-level match on clay in 2017, we can see that his first serve points won has been quite constant until this season. The most noticeable improvement this season is his second serve. While his percentage of points won on second serves has been increasing steadily the last few years, he has been particularly impressive behind his second delivery in 2021. He has won 59% of second serve points this year. This is 5% more than Nadal and Djokovic and the same as Tsitsipas. His return points won has been quite constant over the last couple of years. This is definitely an area of his game he will need to develop even further. It is a necessary step if he wants to regularly go deep at Roland Garros.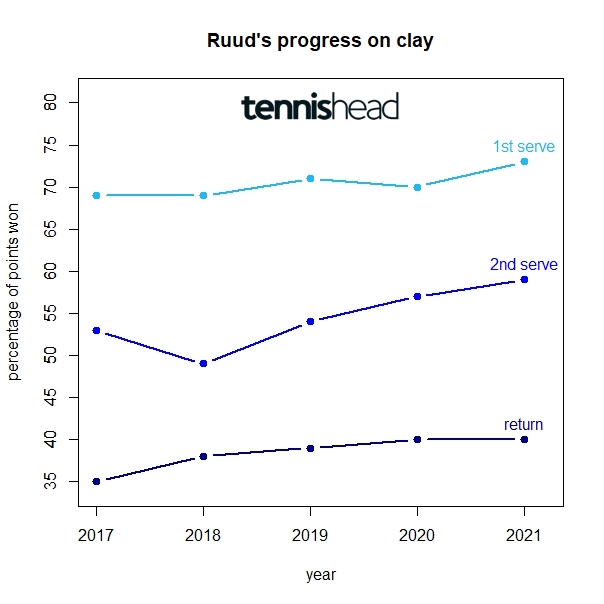 "Not only is he in great form, but he also has a somewhat favourable draw. In the third round he is projected to face Hubert Hurkacz. Although Hurkacz has had a successful season on hard courts, he has struggled to translate this form on to the clay. Should he make it to third round and overcome Hurkacz, he could set up a round-of-16 clash with Dominic Thiem. Thiem was quite impressive in Madrid but struggled in Rome and Lyon. So he is not in the best form, and this gives an opportunity to Ruud.
"Ruud is in great form this year, having made two Masters 1000 semi-finals and winning the title in Geneva. He has also been handed a decent draw. If he can bring his best tennis to Roland Garros, serving as well as he has been this clay-court season, he could make a deep run."
Luka Elliott has a B Com in Economics & Statistics from the University of Cape Town where his thesis was titled "Engineering Features for Tennis Match Outcome Prediction in a Statistical Learning Framework". He now writes for Tennishead focussing on how statistics effect the outcome of ATP matches