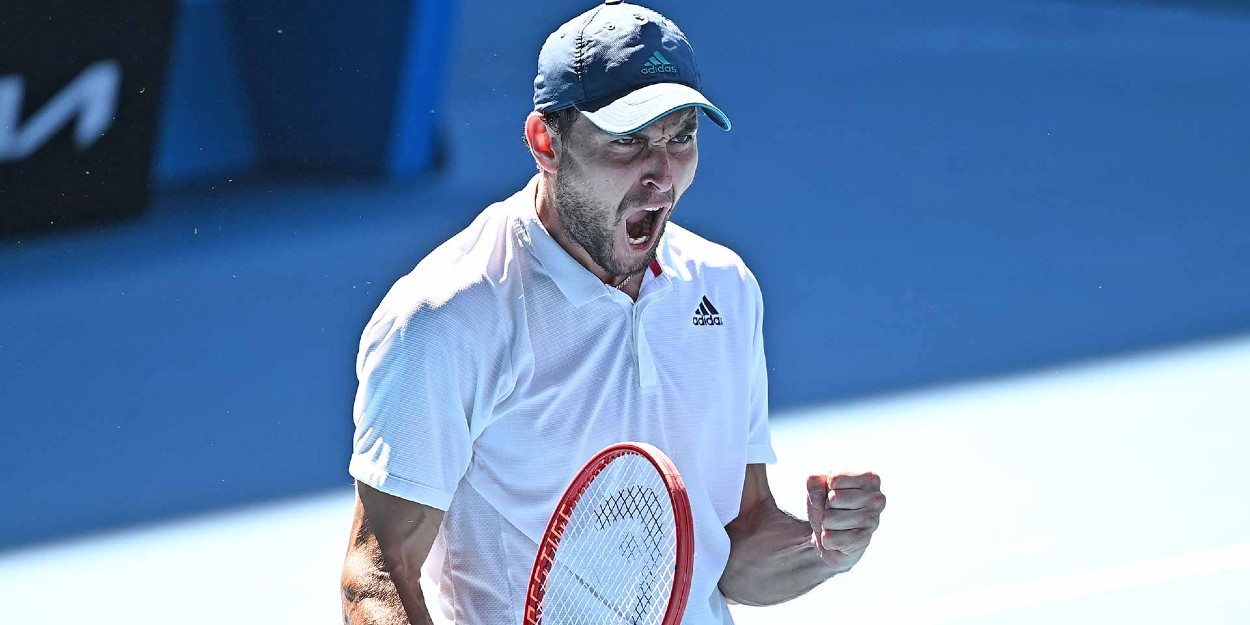 Analyst reveals secret behind surprise success of Australian Open semi-finalist Aslan Karatsev
Aslan Karatsev has been making waves at this year's Australian Open. He is only the fifth qualifier to make the men's singles semifinals of a Grand Slam in the Open Era.
This is also his Grand Slam debut, having failed to qualify on 9 occasions. Karatsev's previous record at the ATP Tour level does not make for great reading either at 3 wins and 10 losses. Few would have seen this run coming, with Karatsev himself saying that his aim was to break the top 100 this year. So how to explain his remarkable run to the semifinals of the Australian Open?
He almost exclusively plays on the Challenger Tour, where his record last year was strong. He won 28 of his 34 matches in 2020. After tennis's five-month suspension due to Covid-19 ended, Karatsev also won 18 of his last 20 matches. While his opponents on the Challenger Tour are not on the level of players he has faced at the Australian Open, he probably gained a lot of confidence from this winning run. He also was part of the winning Russian team at the 2021 ATP Cup and has himself admitted he learnt a lot from top players Medvedev and Rublev.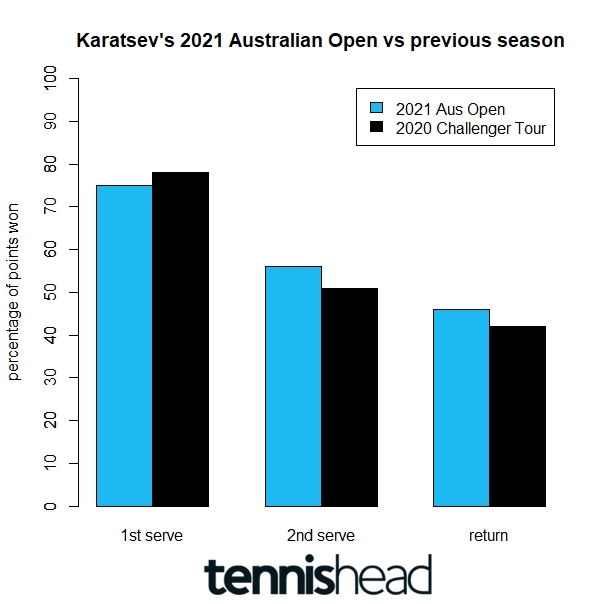 There has also been an improvement in his serve and return statistics. At the 2021 Australian Open he has won 56% of points behind his second serve, compared to 51% on the Challenger Tour last year. At his first Grand Slam he is winning 46% of points on return, which is 4% more than he was winning in 2020. He is winning slightly less points behind his first serve (down from 78% to 75%), but a winning percentage of 75% is still very positive when you consider he has played and beaten top opposition such as Schwartzman, Dimitrov and Auger Aliassime. Followers could have expected his numbers to all be significantly lower given the higher standard of opposition. It is therefore revealing that he has been able improve or in the case of his first serve reasonably maintain his level of performance.
Luka Elliott has a B Com in Economics and Statistics from the University of Cape Town. His thesis was titled "Engineering Features for Tennis Match Outcome Prediction in a Statistical Learning Framework". He now writes for Tennishead focussing on how statistics effect the outcome of ATP matches