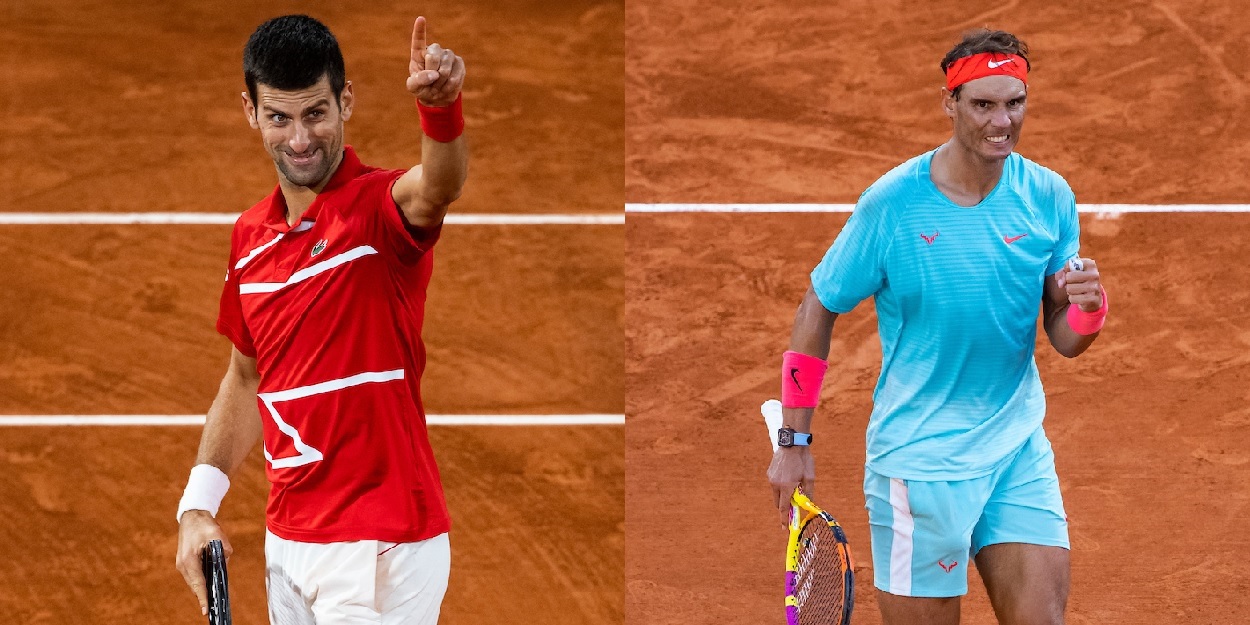 Analyst identifies tactic that could help Djokovic overcome Nadal in Roland Garros semi final
As they prepare to meet for the 9th time at the French Open, Tennishead's own statistics expert has revealed a surprising style of play that has worked for Novak Djokovic in his only previous victory over Rafa Nadal on the clay of Paris.
"Novak Djokovic and Rafael Nadal face off in a blockbuster 2021 Roland Garros men's singles semi-final. Most people will give Djokovic little chance of overcoming Nadal. This is understandable given the Spaniard has an astonishing French Open record. But we must not forget that Djokovic is one of only 2 players to have achieved the near impossible, beating Nadal on the tennis court he feels most at home. One facet of his game that was particularly effective in that 2015 win was his net play. This could again be a key tactic if he wants to overcome Nadal this time around.
"In Djokovic's sole French Open win over Nadal, in 2015, he won a very impressive 85% of his net points. This is the most across all 8 of his Roland Garros clashes against Nadal. Djokovic was not only effective when forced to come to the net via for example a drop shot. If we only look at points where he hit an approach shot, which is on 17 of a total 27 net points, he won 88% of these points. This shows Djokovic used offensive shots to transition to the net with great effect. What are possible reasons for him being so successful at the net?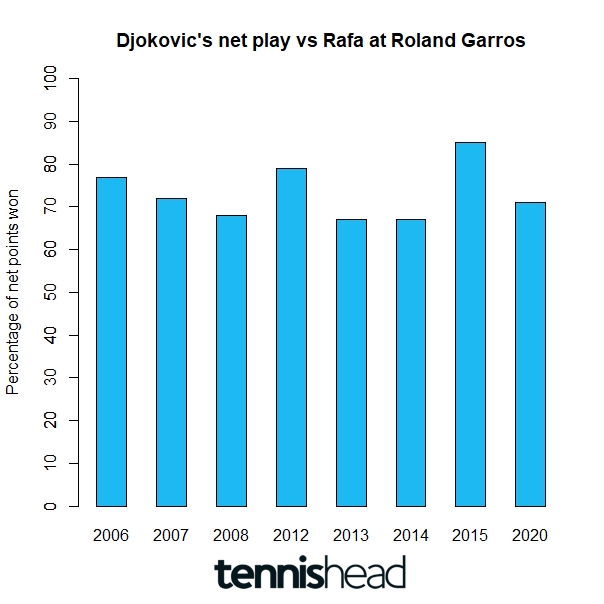 "To be effective at the net you need to get Nadal out of position first. Otherwise he will just easily pick you off with a passing shot. Getting him on the run might induce a short reply or defensive shot, which will allow Djokovic to ghost into the net to finish off the point. It also seems a good idea to approach into Nadal's backhand via a forehand crosscourt or down-the-line backhand. Nadal's weapon is his forehand, so it would make sense to keep the ball away from his favourite shot.
"No doubt being successful at the net is not going to guarantee a win for Djokovic. But it can still help him be competitive and gives a general idea of the strategy he can employ. Rather be aggressive and put Nadal under pressure, than look to extend rallies. Otherwise Nadal will wear you down with his heavy forehand."
(The data used in this article was sourced from The Tennis Abstract Match Charting Project, which is based on the work of Jeff Sackmann. The project is licensed under a Creative Commons Attribution-NonCommercial-ShareAlike 4.0 International License. No changes were made to the original data.)
Luka Elliott has a B Com in Economics & Statistics from the University of Cape Town where his thesis was titled "Engineering Features for Tennis Match Outcome Prediction in a Statistical Learning Framework". He now writes for Tennishead focussing on how statistics effect the outcome of ATP matches