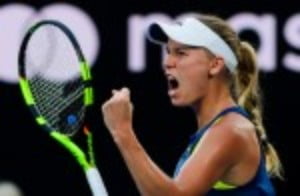 Wozniacki shakes off THAT question
Originally published on 28/01/18 00:00
Sitting in her post match press conference looking repeatedly at the Daphne Akhurst Memorial Cup, the 2018 Australian Open Champion joked, that it may have been a long time in coming but at least no one was ever going to ask her about being World No1 without having won a slam.
"I think that's one of the most positive things about all of this. I'm never going to get that question again."
Wozniacki reclaims the World No 1 spot, a position she last held six years ago in January 2012 but had never won a major title. Following her victory over Simona Halep she has both.
"I think being a new Grand Slam champion and world No 1 sounds pretty good. I'm very excited for that. It's a dream come true."
The 27- year- old was making her 43rd Grand Slam appearance. Only three players have played more Grand Slam events before winning – Flavia Pennetta (49), Marion Bartoli (47) and Jana Novotna (45) and having played in two major finals before, at the US Open in 2009 and 2014, it might have seemed like the Slam was never going to come.
"I don't know. I think you always, at certain points, especially when you start having injuries and stuff, you start maybe doubting if you're ever going to be 100% healthy for longer periods of time. But I think last year, already for a year and a half, I've proved that I can beat anyone out there on court."
Since the start of the 2017 season the 27 year-old has won 71 matches, more than any other player. She won the WTA Tour Finals at the end of 2017. In so doing she also achieved another career milestone, defeating Venus Williams. The Dane had not beaten Williams in their seven previous matches.
So she came into the Australian Open in great form and she worked hard to make it to the final. In her second round match against Jana Fett she won six straight games and saved two match points after being 1-5 down in the third set.
"From being almost out of the tournament to sitting here with the Australian Open trophy, it's amazing. It's been quite a turnaround, something I'm very proud of. At the same time, I think it really was a great momentum shift for me going further into the tournament after that."
The final lasted 2 hours and 49 minutes and despite the 7.30pm start, it was a hot and humid night in Melbourne. The heat rule that allows for a ten-minute break before the third set was activated. The final set lasted and hour and 11 minutes.
"Every time I was like, Oh, I can't do this anymore, I'm exhausted, and we were playing all these crazy long rallies, I was thinking, Okay, I'm looking over there, she looks a little tired, she must be feeling the exact same way or maybe more tired than me."
Halep has also been runner up at two Grand Slams, and Wozniacki apologized to her opponent after the match
"I knew going into the match that one of us is going to be extremely excited and very happy, and the other one is going to be very disappointed, very sad."
"I obviously feel very sad for her, but at the same time, you know, I'm very happy for myself. I can only imagine. I didn't want to think too much about how it would feel to win before the match because that's like in case I don't, it's going to hurt even more"