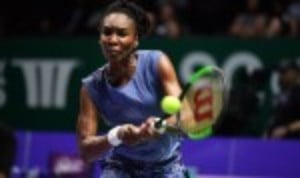 Venus rolls on
Originally published on 26/10/17 00:00
The 37-year-old American, the third oldest player to ever compete at the season-finale, gained revenge for her Wimbledon final defeat to the Spaniard.
Williams, who will take on Caroline Garcia or Caroline Wozniacki in the last four on Saturday, is attempting to win the WTA Finals for the first time in nine years.
Muguruza performed poorly in her second match against Karolina Pliskova – and there was only a slight improvement today. It was a must win for both players, yet the Spaniard was subdued throughout.
The Wimbledon champion committed 32 unforced-errors and lost her serve six times. Her hopes of finishing the year as world No.1 are over and she looks ready for a well-earned rest.
Williams recovered well form her marathon duel with Jelena Ostapenko on Tuesday, and fatigue was not an issue in her third group match in five days.
"I played an amazing opponent, and she has had an amazing year," said the thrilled American after her latest victory.
"I was so happy to win that last point. It's not easy out here, you have to play every point well or you find yourself losing the game. I had some great coaching going into the match, so thanks to my team. Hopefully we can win some more."
In the first match of the day in the White Group, Ostapenko strolled to a 6-3 6-1 win over Pliskova.
With the Czech already secured of top spot and the Latvian already facing elimination, there was little on the line for both players. It was, though, a nice way for Ostapenko to end a remarkable campaign
"I lost my first two matches here, but it's my first time here," said the 20-year-old. "I'm really happy to be here and to finish the season in this way is great. Today I had nothing to lose, and I just tried to enjoy every moment."