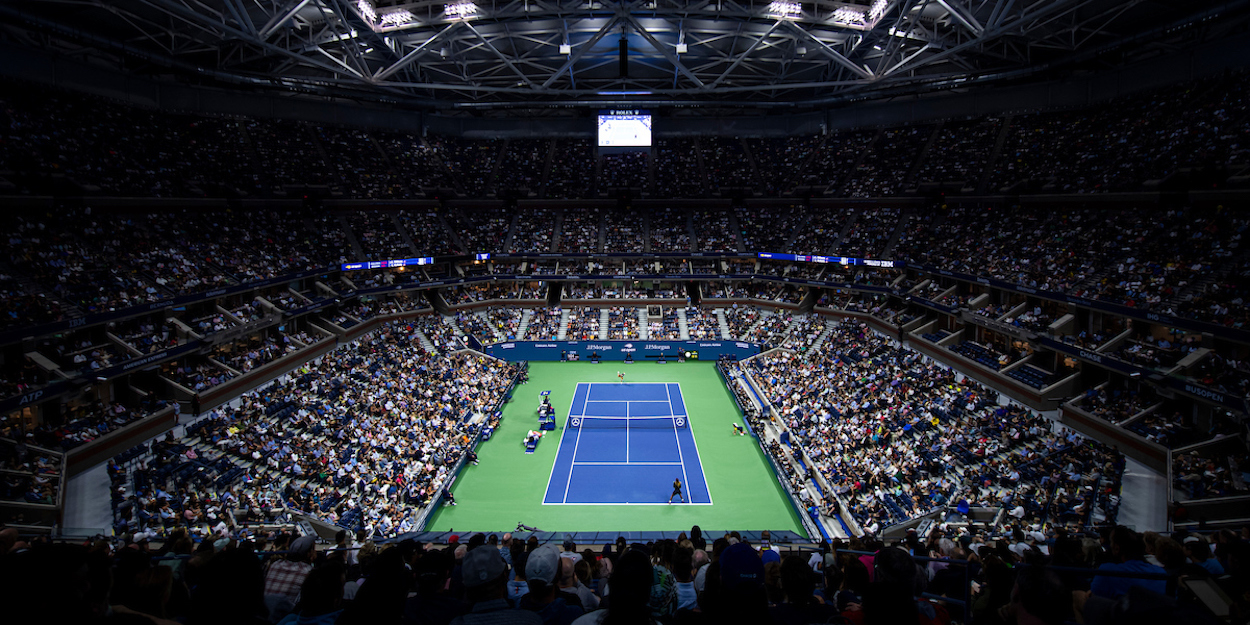 Day Nine: Retirements and Frenchmen
Novak Djokovic will play Gael Monfils in the US Open semi-finals as Jo-Wilfried Tsonga retires. Caroline Wozniacki and Angelique Kerber also advance.
Lucas Pouille vs. Gael Monfils
Gael Monfils beat fellow Frenchman Lucas Pouille 6-4 6-3 6-3 in just over two hours. For Monfils this is the first time he has made the semi-finals of a Grand Slam since he reached the last four in Roland Garros in 2008.
"I'm happy with my performance," he said. "I think it is never easy to play quarter-final against a French guy, you know. I think I handled it pretty well. I have two days to recover to play my first semis here. I'm more than happy. I'm happy where I am now, so I am going to prepare great for my match."
Pouille, 22, leaves New York with a heap of confidence, having beaten Rafael Nadal in a four-hour match en route to the quarter-finals. We can expect to see a lot more of him. His run here at the US Open will ensure he breaks into the world's Top 20 when the rankings are released on Monday.
"Now the next one is going to be in Australia. It's going to be a new year," he said. "But I won't go there to win only one match. I want to do second week and more. That is going to be my goal next year."
Novak Djokovic vs. Jo Wilfried Tsonga
In what was a disappointing match for the New York night crowd, Novak Djokovic made his way to the semi-finals when Jo Wilfried Tsonga retired, at 6-3 6-2 with a left knee problem.
Djokovic has now won five matches having played only nine full sets. The world No.1 has spent six hours and 26 minutes on court of which two hours and 37 minutes were during his first match against Jerzy Janowicz. His second round opponent, Jiri Vesely, awarded Djokovic a walkover, while in the third round Mikhail Youzhny retired midway through the opening set.
Monfils will hope the same fate does not befall him when he steps on court against the defending champion on Friday.
Roberta Vinci vs. Angelique Kerber
In the women's' draw, Roberta Vinci and Angelique Kerber squared off in the first of the women's quarter-finals and despite a close first set, the Australian Open champion took the second set without dropping a game, beating last year's US Open finalist 7-5 6-0.
"I think the key of the match was the first set," said Kerber. "It was really close and tough. It's always difficult to play against Roberta. She's a tough opponent with her slice. I was trying to stay in the match and not thinking that I'm a break down. Just going for it."
Kerber has a new found confidence.  She said: "I know that I can beat everybody, and this is what gives me also a lot of confidence and motivation for going out there and playing with a lot of emotion."
While Kerber keeps up her chase for the world No. 1 ranking, the Italian, who was nursing a foot injury, will drop out of the Top 10 in next week's rankings. Vinci gave much credit to her opponent for today's victory.
"She's on fire," said Vinci. "She has won a lot of matches. She's in confidence. When the moment is tough and both are so close, she's focused. She's in good shape. She's No.2."
Caroline Wozniacki vs Anastasija Sevastova
Kerber will meet Caroline Wozniacki in the semi-finals on Thursday after the Dane defeated surprise quarter-finalist Anastasija Sevastova 6-0 6-2. Sevastova beat French Open champion Garbine Muguruza in the second round and Britain's Johanna Konta in the fourth, but her run came to an end at the hands of two-time US Open runner-up Wozniacki.
Unfortunately for the 23-year-old Latvian, she took a tumble on the first point of the second game, twisting her right ankle. Having called for the trainer to have it strapped up, her movement was impaired and it was left to the former world No.1 to patiently work through the match.
Sevastova's career has been dogged by injury and was the reason she retired from the game in 2013. "I fell over," said. "And, yeah, I heard some sounds there, but it happened to me couple of months ago as well on clay.  So it's pretty much the same injury, same ankle, twice in six months.
"I tried my best. I don't like to retire but Caroline played great tennis. I think she made no mistakes. She did what she could best. She was a better player anyway. Yeah, even I think if I had no injury it would tough to beat her."
Wozniacki said: "I kept serving well and made her run. I'm pleased with how I managed to keep composed. I think it's been a good two weeks. Hopefully I can keep it up."
Around the grounds
Bob and Mike Bryan played the last match on Louis Armstrong Stadium on Tuesday.  As part of the ongoing redevelopment of the facilities at Flushing Meadows, the stadium, along with the old Grandstand stadium, will be knocked down after this year's tournament and according the USTA,"a bigger, roof-ready Louis Armstrong Stadium will take its place in 2018″.
Semi-Finals
Men's (top half of the draw)
Gael Monfils vs. Novak Djokovic
Women's (bottom half of the draw)
Angelique Kerber vs. Caroline Wozniacki