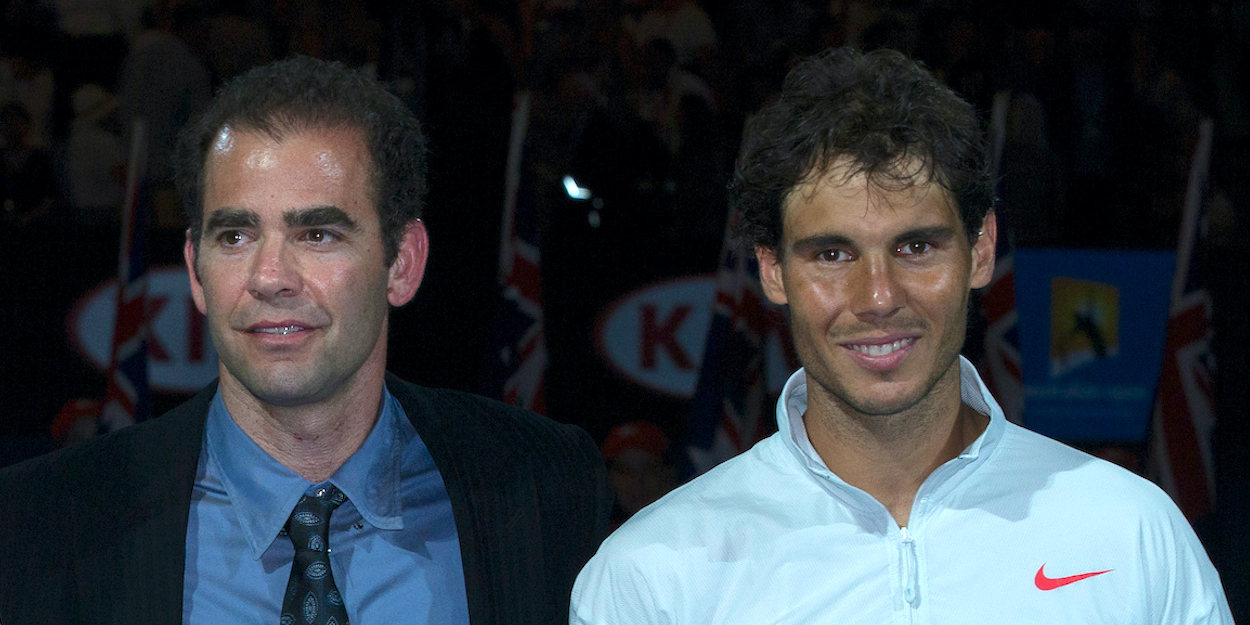 Top 5 longest streaks inside the ATP top-10
The five men with the longest streaks in the ATP top-10 all spent over a full decade there consecutively. Join us for a look at those spells.
5. Pete Sampras – 565 weeks
The 14-time Slam champion first broke into the top-10 alongside clinching his maiden Slam title at the 1990 US Open. After defeating Andre Agassi to win the tournament, Sampras rose from world number 12 to number six on 10th September 1990.
From there, the American superstar spent the rest of the decade within the world's top-10. While he won the 1991 tour finals and the 1992 Davis Cup, Sampras would have to wait nearly three years to win another Slam title. Soon after topping the ATP rankings for the first time in April 1993, that trophy would come at Wimbledon.
At that year's Championships, Sampras won the first of an eventual seven Wimbledon crowns, an Open Era record by the time he retired. After first claiming the number one spot, Sampras went on to enjoy 286 combined weeks in the position over 11 stints. What was also a record when Sampras retired now places the American third in all-time weeks spent at world number one. He sits behind Roger Federer and Novak Djokovic.
Over the course of the 1990s while ranked in the top-10, Sampras won a further 11 Slam titles to add to his first US Open and Wimbledon titles. He further won the ATP tour finals four more times, placing him joint second all-time.
Entering 2000, Sampras was ranked third in the world, and would remain in the top-10 until 9th July 2001. In that time the American added his seventh and final Wimbledon title to his tally for 13 Major trophies. Sampras had spent nearly 11 consecutive years inside the ATP top-10.
Sampras would spend a further 20 weeks inside the top-10 over two runs in 2001 and 2002. Finally, he would cap his career with a 14th Slam title, defeating Agassi at the 2002 US Open, the same as he did 12 years earlier for his firs Major triumph.
4. Ivan Lendl – 619 weeks
Like Sampras, Lendl first broke the top-10 near the start of a decade, on 7th July 1980. This immediately followed a third round appearance at that year's Wimbledon, the Czech's second time competing at the Slam. Also like Sampras, Lendl would spend the rest of said decade inside the world's top-10.
After first breaking the top-10, Lendl went on to win the 1980 Davis Cup with Czechoslovakia, the tour finals in 1981 and 1982, plus the World Championship Tennis finals in 1982. In February 1983, Lendl became the first player ever to top the ATP rankings before winning a Slam title. Marcelo Rios has since become the only man to replicate the feat. Lendl would go on to hold world number for 270 total weeks, fourth all-time.
Lendl claimed his first Slam title at the 1984 French Open, defeating John McEnroe in a five-set epic of a final. The Czech went on to win all eight of his Slam titles while ranked within the world's top-10, as well as making all 19 of his career Major final appearances as a top-10 player.
In fact, Lendl reached at least one Slam final every year from his first in 1981 (French Open) until his last in 1991 (Australian Open). In the lead-up to Roland Garros 1992, Lendl fell out of the world's top-10 on 18th May. He returned that same August, spending a further 51 weeks there before dropping out again in August 1993. This was the last time Lendl would be in the world's top-10. All told, The Czech-American spent nearly 12 consecutive years inside the world's top-10.
3. Roger Federer – 734 weeks
Federer first cracked the ATP rankings group following his run to the title at the 2002 Hamburg Masters in May. After spending seven weeks there, Federer dropped back to 11th for a week, then back up to 10th for three. He once again broke the top-10 on 14th October that year after a title in Vienna, Austria.
From that point, Federer spent the next 14 years inside the ATP top-10. In that time, the Swiss won 17 of his 20 Slam titles from 27 Slam finals reached. He further claimed six ATP Finals crowns, 23 Masters 1000 titles, and spent 302 weeks at world number one. 237 of those weeks were consecutive between June 2004 and August 2008, an ATP record streak.
Federer eventually fell out of the top-10 on 7th November 2016, having ended his season early at Wimbledon in July due to injury. He would return in 2017, winning his 18th Slam title at that year's Australian Open and re-entering the top-10 on 30th January.
The legend added two more Majors at Wimbledon 2017 and in defending his Australian Open title in 2018. He set the current record for oldest ever ATP world number one on 24th June 2018, at the age of 36 years and 10 months. Moreover, Federer set the record for most weeks at number one at 310. Novak Djokovic overtook that record in March 2021. Federer once again fell out of the top-10 on 18th October 2021 after another streak of over four and a half years there.
2. Jimmy Connors – 789 weeks
Connors holds the honour of being among the inaugural ATP top-10 when rankings were introduced in August 1973. In fact, he rounded out the group, starting at 10th in the world.
After securing his first two Slam singles titles at the 1974 Australian Open and Wimbledon, Connors captured world number one on 29th July 1974. The American then stayed there for 160 weeks until 22nd August 1977. In that time he claimed the 1974 and 1976 US Opens.
Bjorn Borg disrupted the number one dominance of Connors for a weeks before another streak of 84 weeks followed for the American. After nine runs and 268 total weeks at world number one, Connors would eventually drop out of the world's top-10 for a week on 3rd October 1988. The 36-year-old had spent over 15 years consecutively there, the entirety of the ranking system's lifespan to that point.
He won all eight of his Slam titles while ranked in the world's top-10, plus the 1977 tour finals and 1977 and 1980 World Championship Tennis finals. Connors would spend another 29 weeks there between 10th October 1988 and 1st May 1989 before falling outside 10th position for good.
1. Rafael Nadal – 839 weeks (ongoing)
At the age of 18, Nadal broke the top-10 on 25th April 2005. He had just won his first Barcelona title, his fifth on the ATP tour and fourth of 2005. The victory took him from 11th to seventh in the world. As of October 2021, the Spaniard has not dropped out of the top-10 since.
Nadal has spent 16 and a half years and counting consecutively within the top-10 players on the ATP tour. That's over 6000 days straight. In that time, the 35-year-old has won all 20 of his Slam titles from 28 contested.
Furthermore, he has claimed 35 of his 36 Masters 1000 crowns as a top-10 player. In 2015, Nadal spent seven precarious weeks ranked 10th in the world. But he never fell lower, recording 68 of his 209 weeks at world number one since then.