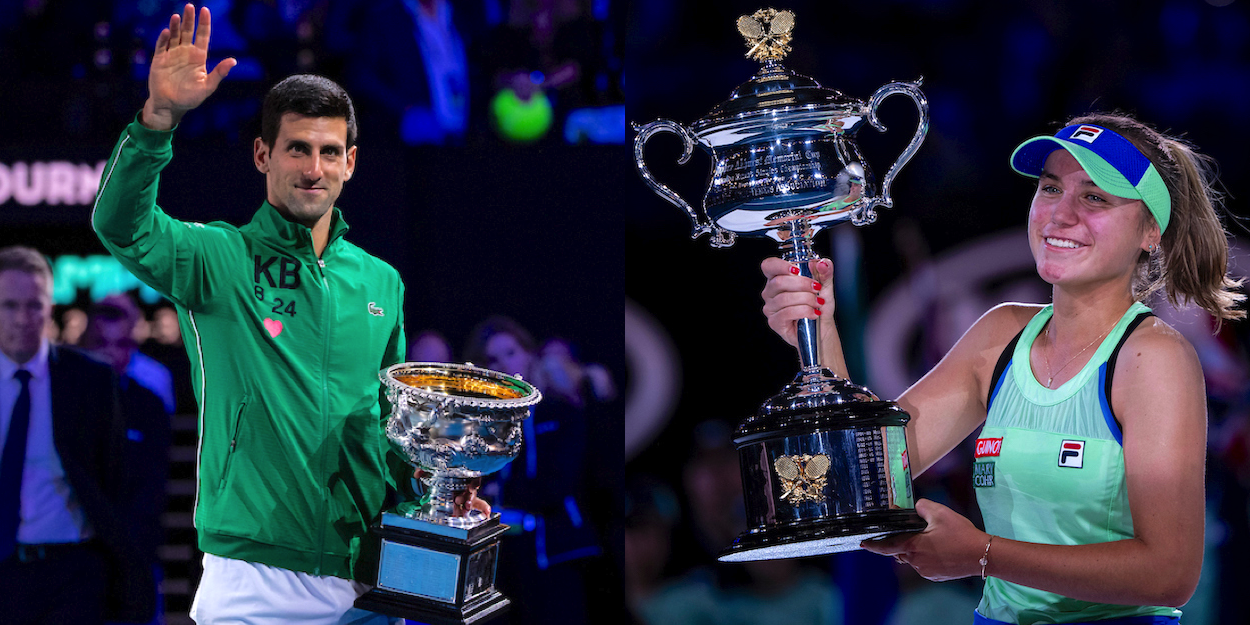 Tennishead's guide to the 2021 Australian Open
On February 8, 2021, the 109th edition of the Australian Open, the youngest Grand Slam tournament, will begin. Novak Djokovic and Sofia Kenin will be attempting to defend their titles as the tennis world approaches near normality Down Under with up to 30,000 fans allowed into the grounds each day.
History of the Australian Open
The tournament was first held at  the Warehouseman's Cricket Ground in 1905. Only men's singles and doubles were held, and in the men's singles there were 17 entrants, 16 of whom were Australian or New Zealanders. The lone outsider was Britain's Randolph Lycett, who reached the semi-finals before losing in four sets to the eventual champion, Rodney Heath.
Heath would again win the title in 1910, as well as the doubles in 1906 and 1911. The latter was alongside Lycett, who also won the inaugural doubles event in 1905, then partnered by another Australian, Tom Tachell.
American doubles specialist, Fred Alexander, became the first man from beyond Australasia to win the singles title in 1908, when he was again the only outsider in the draw. In the final, he came back from two sets to love down to win in five. 1912 saw the first final without an Australian participant, and in an all-British affair, James Cecil Parkes beat Alfred Beamish in five sets. It would be another 65 years until the next time that the men's singles final would be played without any home interest.
Meanwhile, the women's singles and doubles were introduced in 1922. The first singles event, comprised of just 14 women (all Australasian) was won by Margaret Molesworth, who beat compatriot Edna Boyd in the final. Boyd was the runner-up in each of the first five editions of the tournament before finally lifting the trophy at her sixth attempt in 1927.
As with the men's event, the tournament was largely dominated by Australian players. This was because getting there was a long and arduous journey for American and European players back then, so very few chose to enter prior to the late 1970s, and even then, many would not travel annually. It was also generally held in December and so travelling would mean missing Christmas and New Year, making it an unattractive proposition for most.
On the women's side, Margaret Court holds the record for most titles with eleven, although seven of those came in the Amateur Era. In the Open Era, Serena Williams holds the record with seven, and no other woman has more than four. The last Australian finalist was Wendy Turnbull in 1980 and the last winner was the unseeded Chris O'Neil in 1978.
For the men, Novak Djokovic lead the way on eight, with Roy Emerson and Roger Federer tied for second place on six apiece. The last Australian man to reach the final was Lleyton Hewitt in 2005, and the last to win was Mark Edmondson in 1976, making the Australian Open the Grand Slam that has currently been waiting the longest for a home male champion. Wimbledon just pips Australia for the women, with Virginia Wade's 1977 win edging out O'Neil by one year.
Melbourne and the Tennis Centre
Melbourne has not always been the home of the Australian Open, and six other cities have played host throughout the tournament's history. It was decided in 1972 to make Melbourne the permanent host due to the city generally attracting the largest crowds.
From 1972-1987, the Australian Open was held at the Kooyong Lawn Tennis Club, and then in 1988 it moved to its current home of Melbourne Park. This also marked the move from grass to hardcourts. The move to the new facilities proved to be an instant success with the attendance figures rising 90% from 1987 to 1988 and it has seen an average growth of over 7% since then, reaching a record high of 812,174 in 2020.
The main show court at Melbourne Park is Rod Laver Arena. Named after the Australian legend who remains to this day the only man to have achieved the Calendar Grand Slam, the arena can seat up to 14,820 spectators and it was the first tennis venue in the world to be fitted with a retractable roof.
There are, in fact, three arenas at the park with retractable roofs; the most of any of the Grand Slams. John Cain Arena (formerly Hisense Arena) seats 10,500 and Margaret Court Arena seats 7,500. There is a 5,000-seat court under construction, due for completion next year, which will become the largest capacity court at the venue without a roof.
Melbourne is the second most populous city in Australia, located in the southernmost part of the country. During January, the average temperature is 27 °C, with record highs of 46.6 °C. Because of this, the Australian Open has an Extreme Heat Policy (EHP) which can bring about the suspension of play or the closing of rooves if the conditions are deemed to be unplayable.
Review of the 2020 Australian Open
Last year, Novak Djokovic and Naomi Osaka entered the tournament as the defending champions. One of them would go on to succeed with their defence whilst the other would crash out in the first week.
For the men, Rafael Nadal was the number one seed. Ten years after winning his only title Down Under, the Spaniard was seeking to become the first player in the Open Era to win each Grand Slam tournament at least twice. He raced through the first three rounds before Nick Kyrgios provided a sterner test in the fourth-round. In front of a raucous crowd, Nadal fought past the home-hope, 6-3 3-6 7-6(6) 7-6(4), to set up a quarter-final date with the fifth seed, Dominic Thiem.
In the second-round, Thiem found himself in a hole against wild card Australian Alex Bolt, but he battled back from two sets to love down to progress, and then put in a dominant performance to beat Gael Monfils in the round of 16.
Heading into the quarter-finals, Nadal had a 9-4 head-to-head lead over the Austrian, with their last meeting being a four-set victory for Nadal in the previous year's French Open final. Another four-setter was on the cards but this time much tighter, with the younger man squeezing through 7-6(3) 7-6(4) 4-6 7-6(8) in a 4h 10m classic. Thiem went on to beat Alexander Zverev in the next round, winning another two tiebreaks along the way, to book his place in the final.
On the other side of the draw, second seed Djokovic lost a set in his opening match against Jan-Lennard Struff, but then raced through the rest of the draw to reach an eighth Australian Open final. Along the way he beat Diego Schwartzman, Milos Raonic, and Roger Federer, all in straight sets. Federer's semi-final appearance was a record-extending 46th at the Slams, and with his victory in the third-round, which went to 7-6(8) in the fifth, the Swiss became the first man to post 100 wins at the AO and the first to have 100+ wins at two different majors (also Wimbledon).
Heading into the final, Thiem had won the last two meetings between himself and Djokovic, although both had been incredibly tight. They had played in a rain-delayed five-set epic in the 2019 French Open semi-finals and they had also met at that year's ATP Finals, with Thiem winning the deciding sets 7-5 and 7-6(5) respectively. Another tight match was expected in Melbourne and that's exactly what happened.
The defending champion took the opening set but Thiem, with an 0-2 record in Grand Slam finals, fought back valiantly to lead 4-6 6-4 6-2. Djokovic appeared to be on the ropes and this looked as if it may prove to be the 26-year-old's major breakthrough, but Djokovic, as he has so often done, found another gear and won the last two sets to claim a record eighth Australian Open crown and a 17th Grand Slam title overall.
In the women's singles, Ashleigh Barty was the home favourite and the top seed. She made her way through to the semi-finals, becoming the first Australian woman to do so since Wendy Turnbull in 1984, but her journey ended there at the hands of Sofia Kenin, who won a tight match, 7-6(6) 7-5. Barty's win over Petra Kvitova in the quarter-finals was her first against a top ten ranked opponent at a Grand Slam.
Kenin, meanwhile, had fought her way out of the defending champion, Naomi Osaka's, section of the draw. Osaka fell 6-3 6-4 in the third-round to 15-year-old Cori Gauff, but then Gauff lost at the next hurdle to Kenin, 6-7(5) 6-3 6-0. Gauff had also beaten Venus Williams in round one. Kenin, the 14th seed, beat Ons Jabeur, who retired Caroline Wozniacki in the third-round, in the quarter-finals.
In the bottom half of the draw, second seed Karoline Pliskova led the way but she was beaten in the third round by Anastasia Pavlyuchenkova. The Russian went on the reach the quarter-finals before being beaten by two-time former Grand Slam champion, Garbine Muguruza. The Spaniard had also beaten ninth seed Kiki Bertens and fifth seed Elina Svitolina in the previous two rounds.
In the semi-finals, Muguruza came up against Simon Halep, a fellow one-time winner of both the French Open and Wimbledon. This was a tournament defined by tight matches and another one was produced here, with Muguruza triumphing 7-6(8) 7-5 to reach her first major final in almost four years.
Elsewhere in the draw, Maria Sharapova played her final professional match, losing 6-3 6-4 to Donna Vekic, and Serena Williams suffered a shock third-round defeat to Wang Qiang of China. Iga Swiatek also showed some early signs of what was to come later in the year, reaching the fourth-round and losing just 6-7(4) 7-5 7-5 to 30th seed Anett Kontaveit.
Heading into the final, Kenin and Muguruza had played once before, with the young American winning a few months earlier, in Beijing, 6-0 2-6 6-2. History was to repeat itself with the 21-year-old powering through in three more largely one-sided set, 4-6 6-2 6-2. Kenin would go on to reach the French Open final later in the year and was crowned the 2020 WTA Player of the Year.
In the other events, Rajeev Ram and Joe Salisbury won the men's doubles, Timea Babos and Kristina Mladenovic won the women's doubles (for the second time), and Barbora Krejcikova partnered Nikola Mektic to win the mixed doubles, besting Bethanie Mattek-Sands and Jamie Murray in the final. Krejcikova was defending the title that she won alongside Ram the previous year.
Classic matches
The Australian Open has played host to a number of unforgettable matches over the years. We cannot possibly look at them all so here is a quick look back at three of the very best Melbourne has had to offer.
1988 – Wilander d. Cash – Final – 6-3 6-7(3) 3-6 6-1 8-6
World No 1 Ivan Lendl and two-time reigning champion Stefan Edberg were the favourites heading into the 1988 Australian Open; the first to be held at Flinders Park (later renamed Melbourne Park). It was the third and fourth seeds, however, who made it through to the inaugural final in the new stadium.
Mats Wilander, by this point, was already a four-time Grand Slam champion, including two wins in Australia, but it had been almost three years since his last major triumph. Pat Cash, meanwhile, had reached his maiden Grand Slam final at the previous year's Australian Open (l. Edberg) and then gone on to win Wimbledon and reach a career high ranking of No 4.
Both men eased their way through to the semi-finals without dropping a set and there set up two blockbuster encounters against the top two seeds. Cash, for the second year in a row, faced off against Lendl. In the 1987 semi-finals, Cash beat the Czech in four sets but this time around it went to five, albeit in largely one-sided sets, 6-4 2-6 6-2 4-6 6-2.
Standing in Wilander's way was his countryman, Edberg. The younger Swede had won the last two Australian Opens, the first of which he picked up by breaking Wilander's own two-time streak, in straight sets in the 1985 final. This time around, Wilander got his revenge, winning in five sets, running away 6-1 in the fifth.
The final was set and the possibility of a fairytale baptism for the new facilities, with the crowning of a Melbournian champion, the first homegrown winner in 12 years, looked to be a distinct possibility. Wilander may have been the higher ranked man, but Cash was a reigning Grand Slam champion, and had beaten Wilander in straight sets en route to that SW19 victory.
Wilander won the first set 6-3 and then led 4-0 in the second before the rain came down, forcing a break of just over half an hour. When the players came back out, a rejuvenated Cash fought back to force a tiebreak, which he won, and he then backed that up by claiming the third set too. In the fourth, however, the Australian appeared to tire and Wilander roared back into the match by winning eight of the next nine games.
Wilander led 6-3 6-7(3) 3-6 6-1 2-0, but Cash was not done yet. He found a second wind and Rex Bellamy, writing for The Times, said, "the players produced a set gloriously dominated by dazzling, hard-won points – rather than errors." At 6-6, it was Wilander who found the decisive break and then served out the match to love, after four hours and twenty-eight minutes. Asked afterward if he felt he had ruined the Australian party, the Swede said, "Such a great match couldn't ruin anything."
Wilander would go on to have the best year of his career, also winning the French Open and US Open titles, as well as claiming the No. 1 ranking for the first time. Cash would never reach another Grand Slam final and Australia has now been waiting 45 years for a homegrown male singles champion.
2007 – Williams d. Pe'er – Quarter-Final – 3-6 6-2 8-6
Serena Williams began the 2007 season ranked a lowly 95th. She had dominated the tour through 2002-03 but since Wimbledon 2003 the 25-year-old had added just one more major to her haul; the 2005 Australian Open. 2006 had proved to be an especially difficult year, with Williams missing six months of the calendar, which she has since revealed was due to depression. Heading into the new season, Serena told the press she had high ambitions but few believed she was capable of regaining her earlier form.
A quarter-final showing in Hobart boosted her ranking to 81st in time for the Australian Open but, of course, she was still unseeded. Leading into the tournament, there was speculation that her main sponsor, Nike, would drop her if she did not produce a long-awaited deep run: it had been two years since she had last made it past the fourth-round of a major.
In the first round, Serena drew 27th seed Maria Santangelo, who she dispatched with ease, 6-2 6-1. She then beat qualifier Anne Kremer in round two, before coming from behind to beat fifth seed, Nadia Petrova, in round three. She beat another big name, Jelena Jankovic, in round four.
Williams was through to her first Grand Slam quarter-final since winning the title in Australia in 2005. On paper, the last-eight match against Israel's Shahar Pe'er should have been an easier task but Pe'er was in top form and took the opened 6-3. Williams battled back with a vengeance to take the second 6-2. Undeterred, Pe'er looked to be in control through the third and led 6-5 with victory in sight. Williams, however, would not be denied, and won the next three games to take the match. She went on to beat 10th seed Nicole Vaidisova in the semi-finals before crushing World No 1 Maria Sharapova, 6-1 6-2, in the final.
The performance against Sharapova may have been more impressively dominant, but it is the clutch win against Pe'er, playing in her first Grand Slam quarter-final in 24 months, that really highlighted the title run, and propelled Williams towards becoming the first unseeded winner of the event since Christine O'Neill in 1978.
2009 – Nadal d. Verdasco – Semi-Final – 6-7(4) 6-4 7-6(2) 6-7(1) 6-4
The 2009 Australian Open produced an incredible 23 matches that went to five sets. Among those was an epic final between two of the game's all-time greats, and yet still this semi-final stands out.
Rafael Nadal had finished 2008 as the World No 1 for the first time in his career. At 22 years old he was already a five-time Grand Slam champion, having won the French Open four times on the bounce, and winning Wimbledon in that final against Federer. The top seed at the Australian Open for the first time, the Spaniard rose to the occasion and powered through to the semi-finals without dropping a set.
Verdasco, the 14th seed, won his first three matches with the loss of just 12 games. Things would change in the fourth-round when he came up against fourth seed, Andy Murray. The Scot had reached his maiden Gran Slam final just four months earlier in New York (l. Federer) but that breakthrough was not enough to propel him past an inspired Verdasco. The Spaniard prevailed in a topsy-turvy match, 2-6 6-1 1-6 6-3 6-4. In the fourth-round, Verdasco beat the previous year's runner-up, Jo-Wilfried Tsonga, and then came Nadal.
The first set went to a tiebreak. Nadal led 4-3 but from there Verdasco hit a smash winner, an ace, and a backhand down the line (aided by a favourable net cord) to bring up set point. Nadal played a dropshot, Verdasco chased it down, and then volleyed Nadal's response into the open court to take the set.
The second set was just as tight but with Verdasco serving at 4-5 40-40, one of the best rallies of the match ensued, with both players producing heavy spin on all their groundstrokes. The point was decided when Nadal hit an outrageous curving forehand down, or around, the line to bring up set point. An error from Verdasco on the next point levelled the match.
The third set went to another tiebreak but this time Nadal came out on top, winning it 7-2. From here, one may have expected Verdasco to fold, but, just as he did when down two sets to one against Murray in round four, the Spaniard, playing in his debut Grand Slam semi-final, found some of his best tennis.
Once more, the players were headed for a tiebreak. Nadal dominated the third set breaker but Verdasco flipped the script this time around and won it 7-1. For the fourth set, his winner to unforced error ratio was 21-9. He was playing an attacking game and, for the most part, it was working.
The fifth set was, understandably, a little more error-strewn from both. In spite of this, a decisive breakthrough did not come until the very end when, much like the second set, Verdasco was serving to stay alive. This time, however, he was beaten less by Nadal's brilliance and more by his own fatigue. Nadal, after five hours, fourteen minutes and 385 points, won the match, 6-7(4) 6-4 7-6(2) 6-7(1) 6-4.
In spite of this mammoth effort, Nadal recovered in time to beat Federer in the final, in another match that went the distance. Nadal has since reached the Australian Open final on four further occasions, including a near 6-hour epic against Djokovic in 2012, but 2009 remains his lone run to the title.
2021 Men's Singles preview & draw
Projected last-16:
Djokovic (1) v Raonic (14)
Monfils (10) v Zverev (6)
Thiem (3) v Carreno Busta (15)
Shapovalov (11) v Schwartzman (8)
Rubev (7) v Bautista Agut (12)
Goffin (13) v Medvedev (4)
Tsitsipas (5) v Berrettini (9)
Fognini (16) v Nadal (2)
The men's draw is perhaps a little more evenly spread but no less lacking in potential pitfalls. Novak Djokovic will begin his campaign against French veteran Jeremy Chardy, and after that he could face rising American star Frances Tiafoe. Things do not get much easier after that with Taylor Fritz likely to be waiting in round three, and then if Milos Raonic does not make it through to the last-16, Stan Wawrinka is lurking in that section too.
Third seed Dominic Thiem opens against Mikhail Kukushkin, but could find himself facing Nick Kyrgios in round three. The stand-out round one tie in this section is perhaps Grigor Dimitrov v Marin Cilic, although Kei Nishikori v Pablo Carreno Busta could also make a claim for that crown.
A little further down, Jannik Sinner is rewarded for reaching a career high ranking of No 36 by starting his tournament against 11th seed Denis Shapovalov, with another Canadian, Felix Auger-Aliassime, potentially waiting in round three.
The bottom half of the draw does not have quite so many opening round highlights, but Daniil Medvedev and Stefanos Tsitsipas have both been handed tough tests with Vasek Pospisil and Gilles Simon their respective opponents. The only British men in the draw, Dan Evans and Cameron Norrie, will also face off in round one and winner could go on to play Rafael Nadal in round three. Nadal, seeking to become the first man in the Open Era to win each Grand Slam title at least twice, will kick off against Laslo Djere, and the winner will face a qualifier in round two.
Djokovic, the heavy tournament favourite, could meet Raonic in round four. The Serb has an 11-0 head-to-head record against the 6'5" Canadian. Next could be Alexander Zverev, who he beat in a tight match at the ATP Cup in the build up to the Australian Open, but the match that everyone will be hoping for is a semi-final against last year's runner-up, Dominic Thiem.
The Austrian could not quite get the better of Djokovic in last year's final, even after leading two sets to one, but he got a slither of revenge at the ATP Finals where he beat the world No 1 for the second year running. Thiem's overall record against Djokovic is an impressive 5-7, and he is 5-2 since Roland Garros 2017.
Nadal would likely feel confident through to the semi-finals, but there he could meet Daniil Medvedev, who, as with Thiem to Djokovic, beat his more decorated opponent at last year's ATP Finals. Medvedev was the ATP's star player at the end of last year, winning both the Paris Masters and the Finals, and beating a slew of top players along the way. If anyone can cause the upset, it's him.
The dream final for most fans is, of course, Djokovic v Nadal LVII. Few would dare bet against it, but Thiem and Medvedev did both beat Djokovic and Nadal at the O2. That was over three sets and doing the same over five at a Grand Slam is a far tougher ask. However, Thiem had his big breakthrough in New York, and Medvedev beat all three of the men ranked above him to end last season, so maybe, just maybe, February 21st could see a new champion being crowned.
Link to updated men's singles draw
2021 Women's Singles preview & draw
Projected last-16:
Barty (1) v Martic (16)
Bencic (11) v Pliskova (6)
Kenin (4) v Konta (13)
Azarenka (12) v Svitolina (5)
Andreescu (8) v Kvitova (9)
Muguruza (14) v Osaka (3)
Sabalenka (7) v Williams (10)
Swiatek (15) v Halep (2)
At a glance, the women's draw is distinctly bottom heavy. The majority of the WTA's marquee names can be found there, and all of the projected last-16 ties there would hold up as attractive tournament finals. That is, if everyone makes it that far.
The past couple of Grand Slam tournaments have seen many of the women's seeds fall at the first few hurdles and there are a number of potential stumbling blocks for the big names to avoid Down Under too.
Serena Williams kicks off her campaign for that elusive 24th major title against former world No 27 Laura Siegemund, who put together a good run to the French open quarter-finals just last October. Naomi Osaka has also been dealt a tough opener as she will be up against Anastasia Pavlyuchenkova, who has reached the quarter-finals in Australia in three of the past four years and is currently ranked inside the top 40.
Venus Williams is also floating dangerously in the bottom half, and could be a third-round opponent for the 2019 US Open champion Bianca Andreescu. 2020 US Open quarter-finalist Tsvetana Pironkova could be waiting for Andreescu before that in round two, if the Bulgarian can get past the current world No 1 in doubles, Hsieh Su-Wei.
Cori Gauff has landed in the top half of the draw and will start against Switzerland's Jil Teichmann. The winner of that match will likely face Elina Svitolina in round two. That mini section of the draw also sees an unseeded Sloane Stephens pitted against Yulia Putintseva in round one. Two-time former Grand Slam champion Svetlana Kuznetsova is also in the top half, and she could be a second-round opponent for the 11th seed, Belinda Bencic.
Of the projected last-16 ties, Swiatek v Halep stands out as a rematch from last year's French Open. There, the 19-year-old Pole thrashed the top seeded Halep on the way to her maiden Grand Slam title. Aryna Sabalenka lost a topsy-turvy match to Kaia Kanepi at the start of this week, but prior to that she was the WTA's most in-form player, having won the last three tournaments that she entered. If the Belarusian can find that form again then she will be a tough test for anyone; even Serena.
Muguruza v Osaka would be a tantalising match-up between a French/Wimbledon champion and a US/Australian champion, whilst the pick of the top-half matches is the possibility of seeing a resurgent Victoria Azarenka up against Svitolina, who has seemingly been on the cusp of a major breakthrough for a long time now.
How the final will shape up is anyone's guess, but the draw does allow for rematches of each of last year's major finals: Kenin v Muguruza, Azarenka v Osaka, or Kenin v Swiatek. No doubt the organisers, and many neutrals, will be hoping for a blockbuster meeting between the home favourite Ashleigh Barty, and the seven-time Australian Open champion, Serena Williams.
Link to updated women's singles draw
History on the line
A number of players will be vying to make history at this year's Australian Open, with some legacy defining possibilities on the cards.
For the men, the GOAT race continues with Djokovic looking to close the gap to just two Slams on Federer and Nadal, whilst Nadal will be looking for a record-breaking 21st major title, putting himself one clear of Federer. Of the two men, Djokovic has had by far the most success in Australia in the past, winning the title on all eight occasions where he has progressed beyond the quarter-finals. Nadal, meanwhile, has hoisted the trophy just once, and that came twelve years ago.
Federer, still recovering from surgery, will not be playing and so his record streak of playing the event 21 years in a row will be snapped. He was last absent in 1999. During that time he had an 11 year stretch (2004-14) where he reached the semi-finals or better, before that run was broken by Andreas Seppi in the 2015 third-round.
Serena Williams will also be looking to add to her packed resume, as she fights for her 24th Grand Slam singles title; an achievement that would tie Margaret Court's all-time record. Williams is already one clear of Steffi Graf's former Open Era record of 22. If she won, the 39-year-old would also become the first player ever to win a Grand Slam singles title in four different decades. Her first came at the 1999 US Open.
Amongst those hoping to stop her will be World No 1 Ashleigh Barty who has the chance to become the first Aussie singles champion, male or female, since Chris O'Neil in 1978. Iga Swiatek will be looking to replicate Naomi Osaka's 2019 AO feat of backing up her first Grand Slam title by winning again at the very next opportunity, and Sofia Kenin will be hoping to join the ranks of players such as Victoria Azarenka and Martina Hingis who successfully defended their first Grand Slam titles.
Young players to watch
Players born this millennium who could cause a stir Down Under.
Jannik Sinner – 19 (b. 16/08/01)
The young Italian has already made a name for himself on tour, winning the Next Gen Finals in 2019 and then picking up his first ATP Tour title at the end of last year in Sofia. He also reached the quarter-finals at the French Open, becoming the youngest man to do so since Novak Djokovic in 2006, and his loss there came at the hands of the eventual champion, Rafael Nadal.
Lorenzo Musetti – 18 (b. 03/03/02)
Another Italian, Musetti made a splash at his home Masters event last year, beating Stan Wawrinka in round one, and then backing that up with a win over Kei Nishikori. The win over Wawrinka made Musetti the first man born in 2002 to win a tour level match. He has also had success in Australia, winning the Boys' Singles title back in 2019.
Sebastian Korda – 20 (b. 05/07/00)
Similar to Sinner, Korda had a breakout run at last year's French Open, and also like Sinner, it came to a crashing halt against Nadal. The American, son of former Australian Open champion Petr, reached the fourth-round in Paris before his idol, Nadal, beat him in straight sets, but Korda showed that he could replicate that form earlier this year when he reached his first ATP Tour final at Delray Beach (l. Hurkacz).
Felix Auger-Aliassime – 20 (b. 08/08/00)
A month younger than Korda, but it feels like the Canadian has been around much longer. He won the US Open Boys' Singles in 2016 and has since reached a career high ranking of No 17 and played in six tour level singles finals, though he is yet to pick up his first piece of silverwear. Auger-Aliassime did, however, finish last season by winning the Paris Masters doubles title alongside Hubert Hurkacz.
Carlos Alcaraz Garfis – 17 (b. 05/05/03)
The Spaniard is set to make his Grand Slam main draw debut at this year's Australian Open. At the back end of last year, Alcaraz reached four Challenger finals and won three of them, with former world No 1, Juan Carlos Ferrero, as his coach. He won his first tour level match aged 16 as a wildcard entrant at last year's Rio Open, beating Albert Ramos Vinolas in a 3 hour 36 minute epic.
Iga Swiatek – 19 (b. 31/05/01)
Only 19 but already a Grand Slam champion, Swiatek shocked everyone with the way she ploughed through the field to win last year's French Open. The win did not just mark her first Grand Slam triumph but also her first WTA title full-stop, and she won it without dropping a set, nor more than five games to any of her opponents. Most notably, she beat top seed Simona Halep, who was on a 17-match winning streak, 6-1 6-2 in the fourth round.
Cori Gauff – 16 (b. 13/03/04)
Gauff made headlines in 2019 when, aged just 15 years and 3 months old, she became the youngest person to qualify for the Wimbledon main draw and then went on to beat Venus Williams in the first round. She backed that up with two more wins before her impressive run came to an end against eventual champion, Simona Halep. Gauff also reached the fourth round at last year's Australian Open, beating Naomi Osaka along the way, and she has one WTA title to her name, winning the Linz Open in 2019 after entering the draw as a Lucky Loser.
Bianca Andreescu – 20 (b. 16/06/00)
Another young Grand Slam champion, Andreescu went on a surprise run to win the 2019 US Open, beating Serena Williams in the final. She had also won the title at that year's Indian Wells and Canadian Open. Andreescu picked up a knee injury at the WTA Finals and that caused her to miss the start of the 2020 season, including the Australian Open, and then the tours were locked down before she could return to action. She chose not to defend her title in New York when the tours resumed and this year's Australian Open is set to be her first tournament after 15 months away.
Leylah Fernandez – 18 (b. 06/09/02)
Another Canadian, Fernandez reached her first WTA ingles final last year, losing to Heather Watson at the Mexican Open. She also notched up her first top ten win last year, beating Belinda Bencic during a Billie Jean King Cup tie. Back in 2019, she reached two Grand Slam girls' singles finals, losing in Australia to Clara Tauson, and winning at the French by beating Emma Navarro in the final.
Australians to watch
It has been a long, long time since Australia last crowned a home-grown singles champion in either the men's or the women's tournaments. Could that change this year?
Ashleigh Barty – Rank: No 1 – Best AO Result: Semi-final
Barty has to be among the favourites for this year's event. In 2019 she won her first Grand Slam titles at the French Open, and then won the WTA Finals later in the year. She began 2020 with a title in Adelaide and then a deep run at Melbourne Park, reaching the semi-finals before losing a tightly contested match against the eventual champion, Sofia Kenin. She then reached the semi-finals in Qatar, but did not play again in 2020.
Alex de Minaur – Rank: No 23 – Best AO Result: Third-round
De Minaur had a disappointing start to 2020 due to an abdominal injury, but at the US Open he reached his first Grand Slam quarter-final, where he lost to Dominic Thiem. The 21-year-old has won four ATP Tour titles from eight finals, including the Antalya Open just last month, where he beat David Goffin in the semi-finals, before benefiting from Alexander Bublik's retirement in the final.
Nick Kyrgios – Rank: No 46 – Best AO Result: Quarter-final
The outspoken Aussie was very active on social media last year, but he did play a lot of tennis. He did, however, play in Australia, and he reached the fourth round after battling past Karen Khachanov, 6-2 7-6(5) 6-7(6) 6-7(7) 7-6(8), in round three. His run came to an end after a spirited four set loss to Rafael Nadal. Kyrigos' best Grand Slam results are two quarter-finals, one at the Australian Open in 2015 and one at Wimbledon in 2015, when he lost to Andy Murray and Milos Raonic respectively.
Ajla Tomljanovic – Rank: No 69 – Best AO Result: Second-round
Ranked 69th in the world, Tomljanovic is the second highest ranked Australian player in the women's draw, after Barty. She is a four times WTA Tour finalist but is yet to pick up her first title, and she has only once made it past the second round at a Grand Slam. That came at the French Open in 2014, where she beat 3rd seed Agnieszka Radwanska in the third-round, before losing to Carla Suarez Navarro.
The bookies favourites
Men's singles
Reigning champion and World no.1 Novak Djokovic is a runaway favourite with the gambling experts. Danill Medvedev, Dominic Thiem and Rafa Nadal are all equal second favourites. The rest of the contenders are quite a way behind these 4.
Novak Djokovic: 6/5
Daniil Medvedev 5-1
Rafael Nadal 5-1
Dominic Thiem 5-1
Stefanos Tsitsipas 12-1
Alexander Zverev 16-1
Andrey Rublev 25-1
Nick Kyrgios 25-1
Jannik Sinner 33-1
Alex De Minaur 40-1
Ladies singles
A really open race this year according to the gambling experts. Naomi Osaka is favourite but she is closely followed by Australian Ash Barty then in-form Aryna Sabalenka & legend Serena Williams both third favourites. Last year's winner Sofia Kenin is equal 5th favourite
Naomi Osaka 5-1
Ashleigh Barty 8-1
Aryna Sabalenka 9-1
Serena Williams 9-1
Simona Halep 10-1
Sofia Kenin 12-1
Iga Swiatek 12-1
Bianca Andreescu 16-1
Garbine Muguruza 16-1
Petra Kvitova 16-1
Latest 2021 Australian Open news