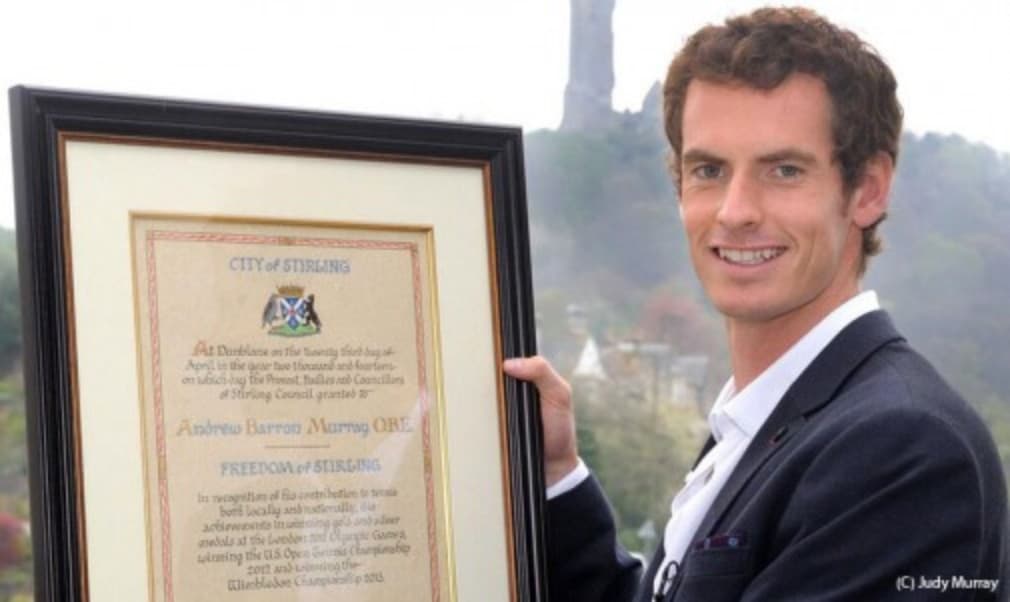 Tearful Murray granted freedom of Stirling
Originally published on 24/04/14
At a ceremony held in his former school, Dunblane High, the Wimbledon champion was also presented with an honorary degree by the University of Stirling.
In front of school pupils and around 200 local residents, Murray struggled to hold back the tears during his speech and was given a standing ovation as he paused to collect himself.
"I'm going to keep this very short because there's a good chance I'll get emotional," he said. "I'd like to thank the council for voting me in – I was expecting a few nos. I was thinking, 'there's got to be one of you who doesn't like me'. I'd like to thank all my family and friends and girlfriend for coming to support me.
"I'm honoured and excited to receive the freedom of Stirling. I don't get the chance to come back that often and I don't get the chance to see my family as much as I would like and I'm very proud of where I come from.
"I don't think anyone would have really expected it – tennis players don't really come from Scotland, so it's a strange story, but proves that anything can happen if you believe and you dream and work hard, then you can achieve whatever you want to, so it's a nice story."
Murray, who became the first British male Wimbledon champion in 77 years last summer, was presented with a framed scroll with his new full title, Andrew Barron Murray OBE, by Stirling provost Mike Robbins.
Stirling council decided to honour the 26-year-old following his victories at the 2012 Olympics and US Open.
But due to his training and competition schedule he has not been able to receive the award until now.
"I think everyone knows I'm extremely proud of where I come from. To get this honour means a lot to me so thanks to everyone for coming along," he said.
"I trained on the courts at the Scottish national tennis centre at the University of Stirling when I was growing up and I remember playing against the students, which was great fun. I know there are many talented junior players practising there every day and I'd encourage them to keep working hard toward their goals."
Murray also took part in a question and answer session with pupils and visited his newly opened hotel, Cromlix House.
He is due to return to action at the Mutua Madrid Open on May 4.