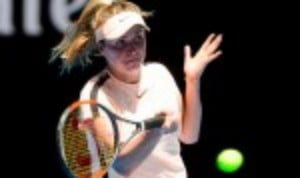 Svitolina to face teenager
Originally published on 17/01/18 00:00
At the start of the tournament you would have expected that player to be world No.4 Elina Svitolina, but it could be a teenager from Kiev instead.
15-year-old Marta Kostyuk made history by becoming the youngest player to reach the third round of a Grand Slam in 21 years.
The teenager was understandably overjoyed after her 6-3 7-5 win over Olga Rogowska and she will now get to test her skills against one of the finest around on Friday.
"I will just enjoy it," said the youngster, when asked about her upcoming clash with Svitolina.
"I think I'm going to play on a big court again, but I will just try to show my best tennis, because I'm pretty sure, like all my opponents, she will struggle a little bit – and I will try to use this."
Kostyuk managed to win the junior girls title iat Melbourne Park 12 months ago, and Svitolina is well aware of her young compatriot.
"The first time I heard about her when she won here," said the 23-year-old, after her hard-fought win over KateÈina Siniaková. "It's pretty cool that I'm playing someone from my country.
"I watched a little bit of her first round match. She has nothing to lose, so that's why I know she goes just for everything. I will try to prepare and be ready for her game.
"For me, it's very important for me to be there with my game and not to really think about who is on the other side."