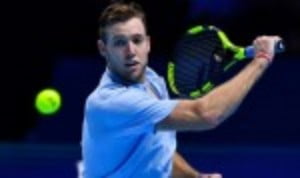 Sock denies Zverev
Originally published on 16/11/17 00:00
The 25-year-old is the first American since Andy Roddick in 2007 to reach the last four at the season-finale and he will encounter Grigor Dimitrov on Saturday evening.
There were momentum swings aplenty as the performance levels of both fluctuated throughout. It was Sock who delivered down the stretch though, as his late season surge continues.
There were no pleasantries in the opening exchanges as both players tried to steal a march on their opponent. The German appeared to be in prime position to nab an early break, however he was denied by the American's brilliance in the forecourt.
Sock had survived an early scare, and his confidence increased as a result. His forehand, one of the greatest weapons around, began to make an impression and his signature shot earned him a break and a 4-3 advantage.
Zverev, who failed to convert any of six break-point opportunities in the opening stanza, was left to rue missed chances. The 20-year-old rectified the situation in the second set though, as his opponent's focus waned.
The higher ranked German put his foot on the accelerator and conceded just one game as he tied the match. Sock's level of play plummeted and he appeared to be feeling the effects of previous exertions.
Prior to the start of the third set, Sock took a lengthy bathroom break, perhaps a tactical move to have an extended breather before the next stage of the battle.
Whatever the plan, it did not work.
Sock dropped serve in the first game of the shootout and he could barely contain his disgust. He thrashed a ball in row Z in act of frustration – for a second time in the match – and was issued with a code violation for ball abuse by the umpire.
He suffered a point-penalty as a result of his actions, but remarkably, it didn't prevent him from retrieving the break immediately. The German committed two double-faults as he assisted his opponent's cause.
Sock was riding the crest of the wave and he went on a tear. He managed to break again to snatch a 4-1 lead, but it was still not enough to pull away from his younger opponent.
Zverev, perhaps unsurprisingly, pulled the score back to 4-4 as the tension began to mount inside the O2 Arena. Sock recorded a comfortable hold to edge 5-4 in front before Zverev collapsed as he attempted to prolong the match.
The German committed an 8th double-fault to gift his opponent match-point, and then lashed a forehand into the sidelines to end a wonderful campaign on a sour note.
There will be many more chances for Zverev to win the Tour Finals in future, but it can't be denied that he has let a glorious opportunity slip by.