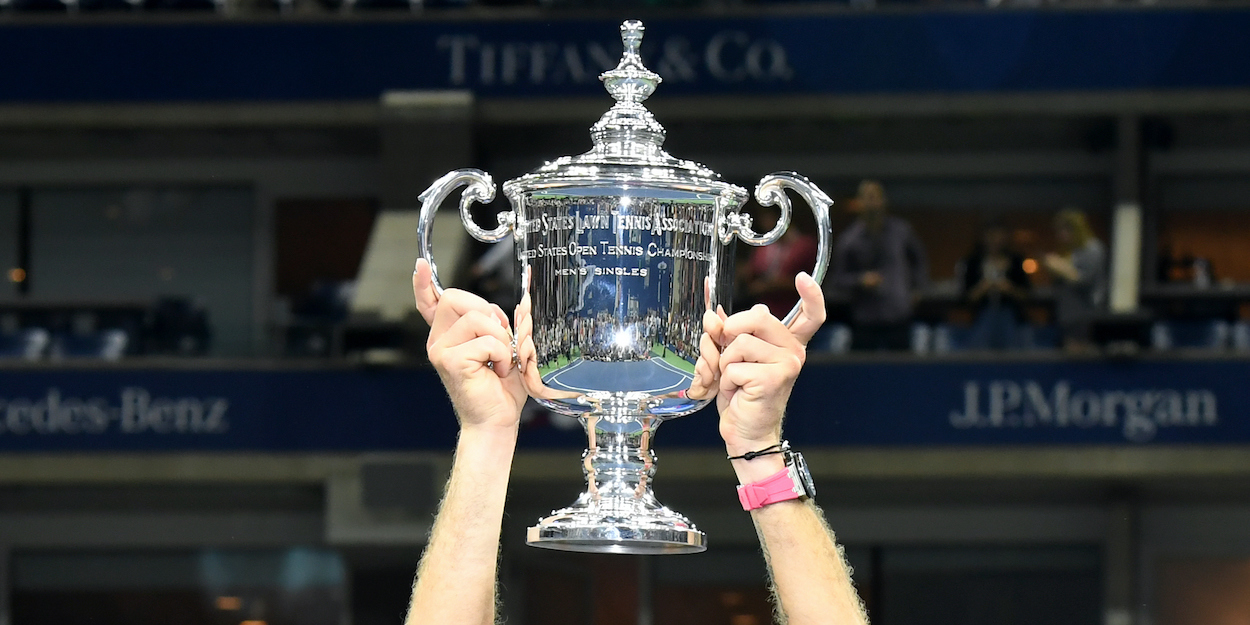 Seven significant US Open finals
1970 US Open Ken Rosewall def. Tony Roche 2-6 6-4 7-6(5-2) 6-3
Not a classic match perhaps given the nature with which Rosewall swept Roche aside to win his second US Open and sixth Slam overall, but a landmark final for the game of tennis as the tiebreaker was used for the first time at a major tournament. Back then the '13th game' decider was contested over nine points and while it wasn't until 1975 that the current first-to-seven format was used, the tiebreak unquestionably changed the nature of matches and today the US Open is the only major championship which employs a tiebreak at the end of the fifth and deciding set in men's singles.
1997 Pat Rafter def. Greg Rusedski 6-3 6-2 4-6 7-5
In the days before Andy Murray, British tennis fans would tune in with hopes of seeing Tim Henman and Greg Rusedski in the latter stages of tournaments. Whilst they were largely disappointed (Henman never made a Grand Slam final) Canadian-born Rusedski was the first British man to make a Slam final since Fred Perry in 1936, but fell in four sets to Australian Rafter, who was also making his first appearance in a major final. The 13th seed had only dropped one set en route to the championship match, and only conceded one more as he picked up the first of his two straight US Open titles.
2002 Pete Sampras def. Andre Agassi 6-3 6-4 5-7 6-4
Sampras rolled back the years in 2002 after going nine Slams without a win following Wimbledon in 2000. Seemingly forgotten in the draw as the 17th seed, the 13-time major winner produced a succession of performances reminiscent of former glories, before defeating compatriot and long-term nemesis Agassi over four sets in an emotionally charged final on Arthur Ashe. Though we didn't know when he walked off court at the time, Sampras never played professionally on the Tour again, officially announcing his retirement from the game a year later.
2003 Andy Roddick def. Juan Carlos Ferrero 6-3 7-6(2) 6-2
At the time this may have appeared the continuation of the host nation's dominance in New York, but going into this year's final we already know Roddick's victory will remain the last time an American lifted the US Open. Perhaps most surprising was that Roddick, who went on to become world No.1 later that year, never won another major crown. He was never going to be denied in New York that September, though, taking apart French Open champion Ferrero with devastating ease. A textbook Ace down the T sealed victory for Roddick, who sank to his knees as Ashe hailed the latest American hero.
2005 Roger Federer def. Andre Agassi 6-3 2-6 7-6(1) 6-1
With Agassi well into the twilight of his career those watching on knew this would be his last chance to add to his major haul. A fairytale swansong had seen him reach a sixth US Open final, but off the back of three consecutive five-setters the championship match was one contest too far for Agassi's 36-year-old body. He rallied superbly to break twice and level the match at one set all but Federer had no time for sentiment, dominating the third set tiebreak and the rest of the match, though a lax game towards the end of the fourth suggested he didn't want Agassi to bow out having been bagelled.
2009 Juan Martin del Potro def. Roger Federer 3-6 7-6(5) 4-6 7-6(4) 6-2
After having hit the famous hot dog 'tweener' in his semi-final win over Djokovic, Federer looked set for a sixth straight US Open title and third consecutive Major title in 2009. No one really gave Del Potro a chance, but the mountain from Tandil produced a big shock on Ashe, humbling the then 14-time major winner from two sets to one down with a brutal display of heavy and consistent hitting. In lifting the crown he became the first man outside of Federer, Djokovic and Nadal to win a Slam since Marat Safin at the 2005 Australian Open.
2012 Andy Murray def. Novak Djokovic 7-6(10) 7-5 2-6 3-6 6-2
The result ended 76 years of hurt for British tennis, as Murray claimed his first Grand Slam victory at his fifth attempt after a strong summer which had included a run to the Wimbledon final and a gold medal at the London Olympics a few weeks later. After a mammoth opening two sets, the Brit seemed to have blown his chance by letting the Serb back in the match at two sets all. The story is Murray gave himself a stern talking to in the bathroom mirror ahead of the final set and the rest, as they say, is history.