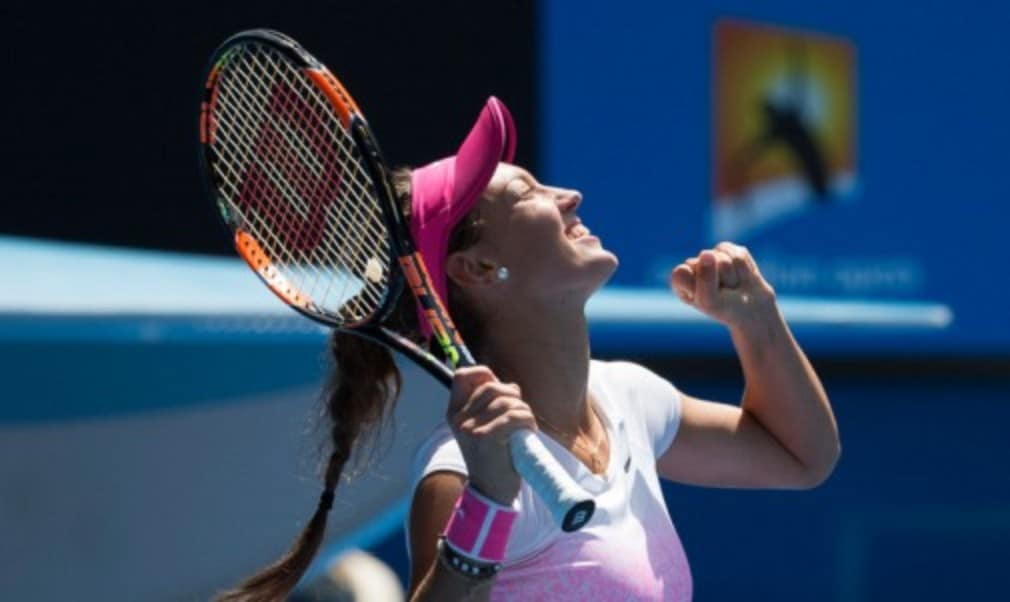 Safiullin and Mihalikova crowned junior champions
Originally published on 31/01/15
Safiullin defeated Korean Hong Seong-Chan 7-5 7-6(2) while Mihalikova overcame Britain's Katie Swan 6-1 6-4.
Safiullin, 17, was the top seed in the boys' event and already has a professional ranking of No.338. The Russian lives in Podolsk near Moscow but trains mostly in Split in Croatia, where he now spends most of his time. His favourite player to watch is Novak Djokovic and when it comes to Russians, probably Marat Safin.
"He was pretty good, he had a big serve and a big forehand, the backhand I don't remember much," Safiullin recalled of the 2005 Australian Open champion. Safiullin had never met Hong before, and both sets were closely contested. The Russian, who was coming off a run of five consecutive futures titles on the ITF pro circuit admitted to nerves before the match.
"I am a little bit scared as I have never played in the final of a Grand Slam," he said. "It is a bit different between the Futures level and junior Grand Slam level."
The final was his last junior match as he now turns his focus to playing in Futures and Challenger events in order to climb his way up the rankings, but he hopes to play on Rod Laver Arena in the future when he returns for the senior competition.
"It was great. It's my first time on Rod Laver Arena and even in the warm-up. I hope in the future I will play again here," he said. "My goal is to improve my ATP ranking as much as possible and to get into the Top 100 as fast as I can. This year I am looking at Top 250 or 200. I will try to do my best and work harder to get to the Top 100."
There was also a first meeting in the girls final where between No.14 seed Swan and the unseeded Mihalikova. Swan had defeated top seed Xu Shilin in the second round and saved three match points and struggled with cramp during her semi-final match against Dalma Galfi. The 17 year-old Slovakian, who defeated No.2 seed Jill Teichman in her second round match and home favourite Sara Tomic in the third, said before today's final: "This is going to be my first final on the centre court so I don't know what to expect but I hope my supporters will be there from Slovakia. I will just enjoy it because I think it will be a great feeling to play on the Rod Laver Arena."
Her supporters were on court for her on Saturday, along with some British fans who were cheering on their player. The Slovakian won the toss and elected to serve and wrapped up the first set 6-1 in 34 minutes. Swan then raced into a 3-0 lead in the second set before going off for a medical time out where she received treatment on her right thigh. Following the resumption of play the Slovakian won the next five games and had two match points at 5-1 up. She finally sealed the match after an hour-and-a-half, taking the third match point, the first on her own serve.
"Today I was kind of nervous because it was the final," she said. "But I got calm. I won the first set really easily. But the second set; at the beginning I made a few mistakes. But I still felt like I can win this thing, and I want to win in two sets, not to go to the third, as in first three rounds. When she went to the medical, I sat to the chair. I said, 'OK, Tereza, come on; win this in two sets'. I started to believe in myself, and I'm happy I did it."
The Slovakian, who trains in Slovakia, said that she draws inspiration from fellow countrywoman Dominika Cibulkova who she is on speaking terms with.
"'I'm practising in my city. I'm from Topolcany," she said. "It's a small city. I also practise in the city of my coach, Netra. I'm also coming to the national centre in Bratislava to spar with other girls".
In terms of where she goes next she said: "I'm trying to get to the top 10 of juniors. Also I will start to play some women's [events].
Mihalikova's favourite player is Serena Williams and Katie Swan's is Maria Sharapova. Both junior champion and runner-up have seats for the women's final, so will be back on Rod Laver Arena in opposing corners, one suspects not for the last time.
Both Roman Safiullin and Tereza Mihalikova play with Wilson rackets.
This story is bought to you by Wilson, official sponsor of Tennis Australia and the Australian Open