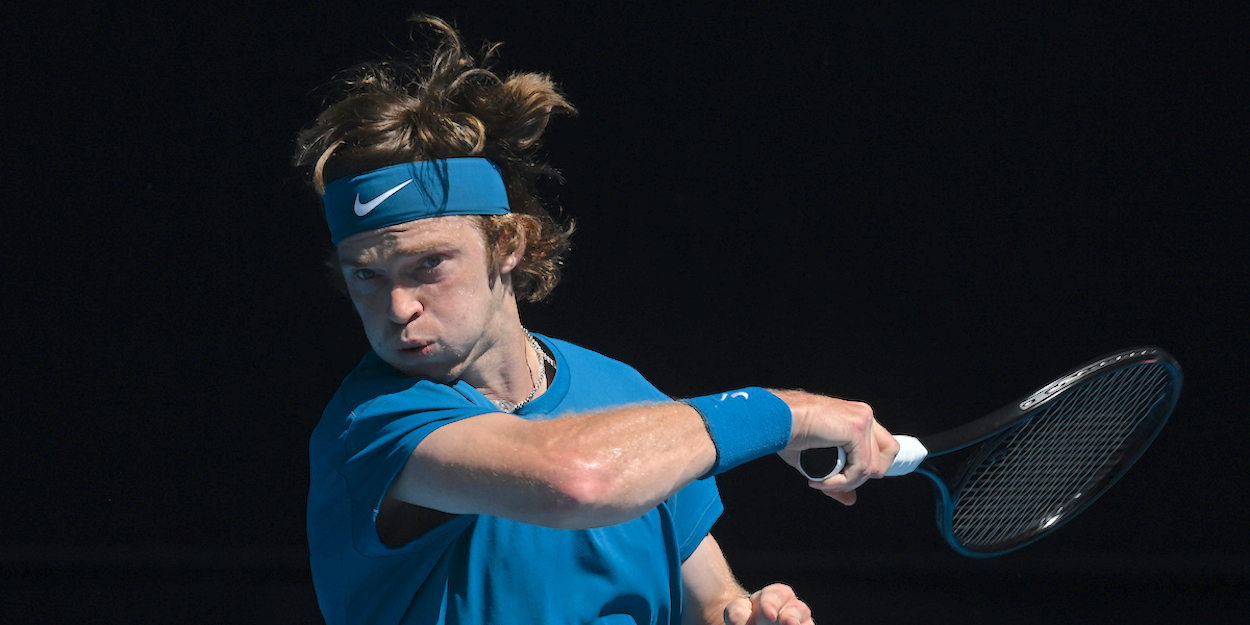 Revealed: The secret behind the rise of Andrey Rublev
Andrey Rublev has been touted as a future star of men's tennis ever since he was the number 1 ranked junior in 2014 and won the inaugural ITF Junior Masters in Chengdu, China, in 2015.
He made his mark on the ATP Tour in 2017, when he reached the quarterfinals of the US Open, getting the notable scalps of seventh seeded Grigor Dimitrov and ninth seeded David Goffin. He also captured his first title, winning the Umag Open.
Rublev has always been known for his booming ground strokes and the high intensity with which he trains and plays every match. What has halted his progress, until recently, is the lack of potency behind his serve.
Serving is potentially the most important part of a professional tennis player's armoury. Being able to hold easily and win free points on serve is crucial. If you are able to use your first serve as a weapon, you can put your opponent under pressure by holding serve effortlessly. This can be enough to win a tennis match and is exemplified by players such as Isner and Karlovic. Both of them are not known for being great returners, but what makes them difficult to beat, is their dominant serves.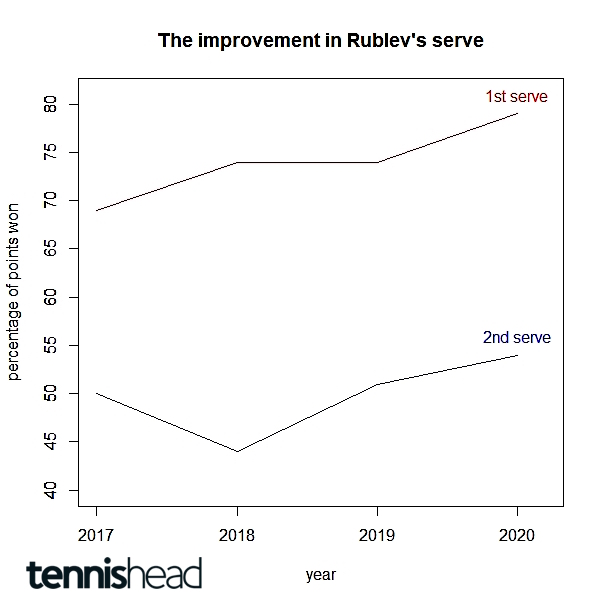 That Rublev has been working on being more effective behind his own serve, is shown by the accompanying figure. In 2017 Rublev was winning 69% of points behind his first serve and 50% behind his second serve. While the second serve percentage has increased slightly in the last 4 years, his points won behind his first serve has increased significantly by 10%, from 69% in 2017 to 79% in 2020. This stacks up well against the best players, as Djokovic and Nadal managed only 75% and 74% respectively for the 2020 season. This notable improvement behind his first serve also coincided with Rublev's most successful season. He won 5 titles in 2020, matched only by Djokovic, and was the recipient of an award for being the most improved player on the ATP Tour.
It does not look like Rublev has any intention of slowing down his impressive progression. At the 2021 ATP Cup he won 84% of points behind his first serve and he looks to be taking up where he left off at the end of 2020 season.
Luka Elliott has a B Com in Economics and Statistics from the University of Cape Town. His thesis was titled "Engineering Features for Tennis Match Outcome Prediction in a Statistical Learning Framework". He now writes for Tennishead focussing on how statistics effect the outcome of ATP matches