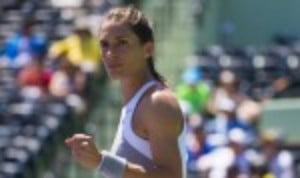 Petkovic back on track after 'midlife crisis'
Originally published on 18/02/16 00:00
A 6-0 6-0 defeat to Carla Suarez Navarro in Zhuhai was a disappointing end to the season for the German, whose mother had fallen ill while she was in Asia.
"I'm so thrilled that I made the decision to keep playing," Petkovic told Sport360. "I think maybe that crisis actually made me work harder in the offseason because I really wanted to make up for the lost time."
Currently ranked No.28 after finishing 2014 No.14, the 28-year-old described her uncertainty at the end of 2015 as a "midlife crisis".
"I think it's just a thing of growing up. When you're 20, 21, 22, you just feel like all the doors are still open," she said. "You can still be a surgeon, you can still be a lawyer, you can still be an actress, you can be whatever you wish. Once you get older, I think you realise that certain doors are closing, and there are certain paths in life that you can't go back to.
"Actually Jimmy Page from Led Zeppelin, he actually quit playing guitar when he was 28 exactly for a year before he came back and became a huge star, obviously. For me, that was maybe not the thing that I could identify most with but that made me realise most that it was just a crisis, because if you don't want to be a rock star, what else in life do you want to be?
"So I figured if he's going through a crisis, it's okay for me to go through a crisis as a tennis player."