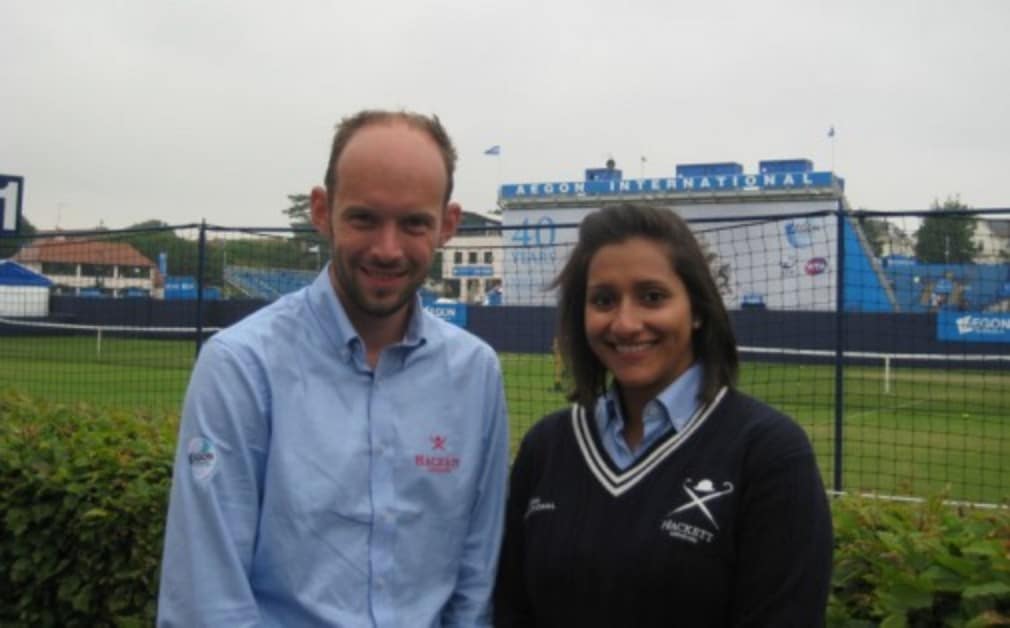 My Wimbledon: Lydia Fernandes and Steve Bishop
Originally published on 30/06/14
What are your earliest memories of Wimbledon?
Lydia: I was one of those crazy campers! We always used to camp overnight and then queue for hours. Tennis has always been a big part of family life – my dad played junior Wimbledon so I have always gone to Wimbledon every year – it's a tradition. The queue is such fun – everyone has a great time. We all share drinks, play games together and you just go and chat to other people – it's all very friendly.
Steve: My first Wimbledon I had tickets to Court One, quarter-finals day – Tim Henman was playing but it rained almost the entire day. There was two hours and one minute of play – enough to not get a refund! I spent my entire day in the kids' zone with one of the coaches from my local centre.
And your first Championships as an official?
Steve: I remember it was 'wow!' As you walk through the gates and there is nobody else there, no public – there's a wow factor. It's amazing. This is my seventh year.
Lydia: This is my third year. Steve was one of my first team captains!
Do you remember what the first match you officiated was?
Steve: Feliciano Lopez.
Lydia: I don't remember – something on the outside courts! I do remember on my second or third day Ivo Karlovic served at me and I got hit! I got told off afterwards because you have to keep a poker face – you can't laugh or smirk – you've got to hide the pain! Unlike the players, a successful tournament for an umpire or line judge is presumably to avoid the limelight?
Steve: If you're not being seen, you've done something right. If you're drawing attention to yourself, you're doing something wrong.
Lydia: Unless you make a call and HawkEye proves you right. I've had one – at Queen's on Centre Court. I've not been 'HawkEyed' at Wimbledon yet!
Steve: It is a satisfying feeling. I remember I was overruled in a ladies' doubles match at the Olympics and the HawkEye proved me right.
How did you get into officiating?
Lydia: We are both players, both coaches and this was the next step really.
Steve: It's a way of getting involved in the top level that unless you are a very good player you can't get involved in.
Does it make you appreciate it from the other side when you step back on the court as a player?
Lydia: I still get a bit argumentative with the umpires!
Steve: I haven't played for a few years but I reckon I would be a bit vile if I did!