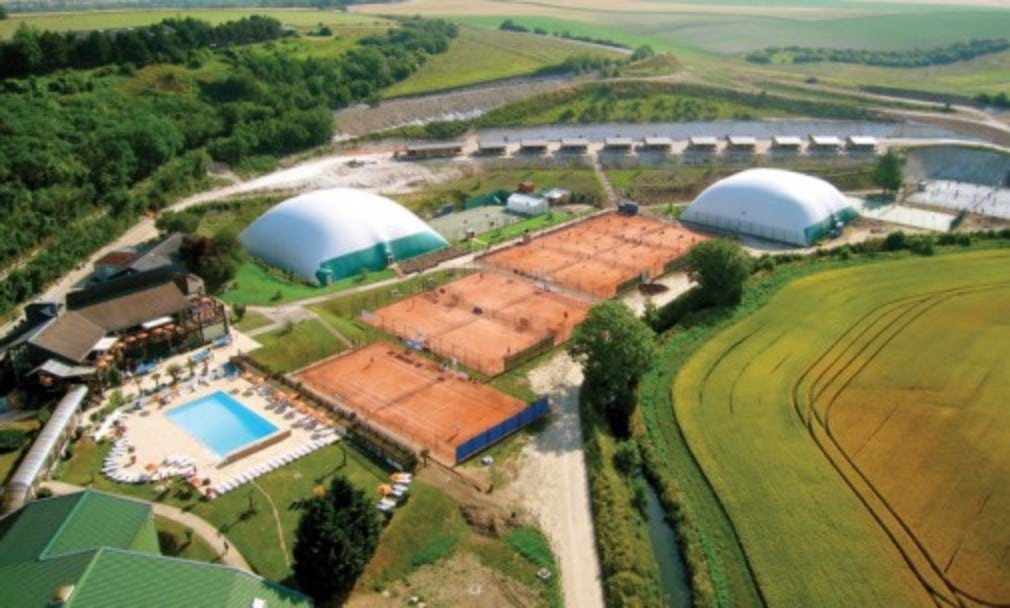 Mouratoglou plans 'biggest and best academy in Europe'
Originally published on 26/05/14
In everyone's life, as well as in a tennis career, there are two or three key moments when you have to make big decisions. I had such a moment quite recently. The academy which I founded in Paris 18 years ago has been my pride and joy, but I have felt for a while that it might be time to move on. Now my decision has been made: in 2016 we will open a new academy in the south of France, which I aim to make the biggest and best in Europe.
I am so excited about it. The academy at Biot-Sophia- Antipolis next to Nice will feature world-class facilities, including 33 courts, a state-of-the-art medical centre, swimming pools and a running track. There will be a school, a four-star hotel and spa, permanent accommodation for 150 young players and the capacity for more than 3,000 people to attend the academy for a training session for a week or more during the year.
We have been running out of space in Paris. Although we had room to expand I wanted to explore other options, particularly in more favourable locations. In Paris it rains 180 days a year. In Nice, where the climate is much warmer, we benefit from 300 days of sun. Even when it rains in Nice you can usually play an hour or two after it's stopped. In Paris when it rains you normally can't play for the rest of the day. In Nice, where the weather is similar to what the players experience week in and week out on the tour, you can play outdoors 12 months of the year.
When I was a kid I played at a club in Paris that had no indoor courts. Weather permitting, I played outdoors the whole year. Many more clubs these days have indoor facilities, but I'm a big believer in the benefits of playing outdoors.
Tennis, in my opinion, is an outdoor sport. On the women's tour 80 per cent of the tournaments are played outdoors. On the men's tour it's probably about 70 per cent. If you're a good outdoor player you're going to be a good indoor player, but the opposite isn't necessarily true. It's much more difficult to play outdoors than it is to play indoors. By becoming a better player outdoors you'll be a better player indoors.
Outdoors, players have to learn to deal with the sun and the wind. If you know how to use the wind you effectively have an extra weapon at your disposal. I have a book of quotations, which I regularly dip into, and I came across something the other day that I liked: "Entrainement difficile, guerre facile" ("Tough training, easy war"). I've always believed that if you experience tough moments and situations in practices, the matches will be easier. Training outdoors will benefit everyone at the academy, including future professionals, players who will be heading for American universities and even those who just come to enjoy the experience of professional training for a week.
In Paris we cover some courts with a bubble during the winter. The problem is that you generally fit only two or three courts under one bubble. That means that you don't benefit as much from the energy coming off other courts. I think it's good to feed off the energy generated by other players and coaches.
There is already a successful academy at Biot-Sophia-Antipolis, founded and run by Charles Auffray, who will be the on-site manager at the new academy. There are currently 17 courts, but we will increase that to 33, comprising 21 clay and 12 hard. I believe that clay courts are the best surface on which to learn for the same reason that I advocate practising outdoors. It's harder to hit a winning shot on clay. There are no easy winners. You have to learn to work the point. What you learn on clay will benefit you on other surfaces.
We will build a completely new medical centre, which will be staffed by the best personnel. The centre will have an area dedicated to improving recovery: we will have everything you need to put players in the best shape to resume their work the next day. There will also be a swimming pool inside the medical centre to help with rehabilitation, plus a fitness room. Outside there will be a running track and a sports pitch on which to work.
An on-site school will provide education for 150 young players aged 11 and upwards and there will be accommodation for 300. The goal is to have around 150 young players there full-time, plus maybe 20 to 30 elite professionals. In addition we aim to have 3,000 players every year who will attend for just a week or two at a time. The challenge is to provide such a large number of players with programmes that remain individualised. I want to keep on guaranteeing the same quality. We will have a professional coach on every court and there will never be more than four players on one court.
The academy will be up and running by the summer of 2016. We will keep the Paris site, which is a successful club in its own right and will soon benefit from a new 18-hole golf course. It will be good to have somewhere to practise occasionally in Paris, but most of the academy programme will be in Nice.
If players want to get a little time away from Sophia-Antipolis, it's in a great position to visit other places. It's only 15 minutes from the sea and 45 from the mountains. It's also just 15 minutes from Nice airport, which is the second biggest in France. Players spend so much time travelling to and from airports, so it is a great advantage to have a big international airport so close.
The elite players will either live outside the academy – some could travel daily from Monte Carlo, academy where a number of top professionals live – or at the four-star hotel on site, which includes a great spa.
I don't think there's a hard-and-fast rule about whether or not it's best to live on-site, but many players find it's an advantage because you can focus on your practice without any distractions. To wake up, have breakfast and walk straight into the gym or on to the court makes life so much easier compared with having to fight your way through traffic every day.
I also think it's good to be working alongside other elite players. Having other players practising hard around you helps to push you. Even for the best players it can be good to feed off that energy. When we trained in Mauritius the winter before last I remember Serena Williams watching some young Russian players working and saying to me how much it motivates her to see that.
When we announced our plans for Biot-Sophia-Antipolis earlier this year the mayor of Biot described it as the opportunity of a lifetime. That's exactly how I feel about the project. I can't wait to get started there.
This article appeared in tennishead Volume 5 Issue 2. Subscribe to the magazine today or download tennishead on iTunes.