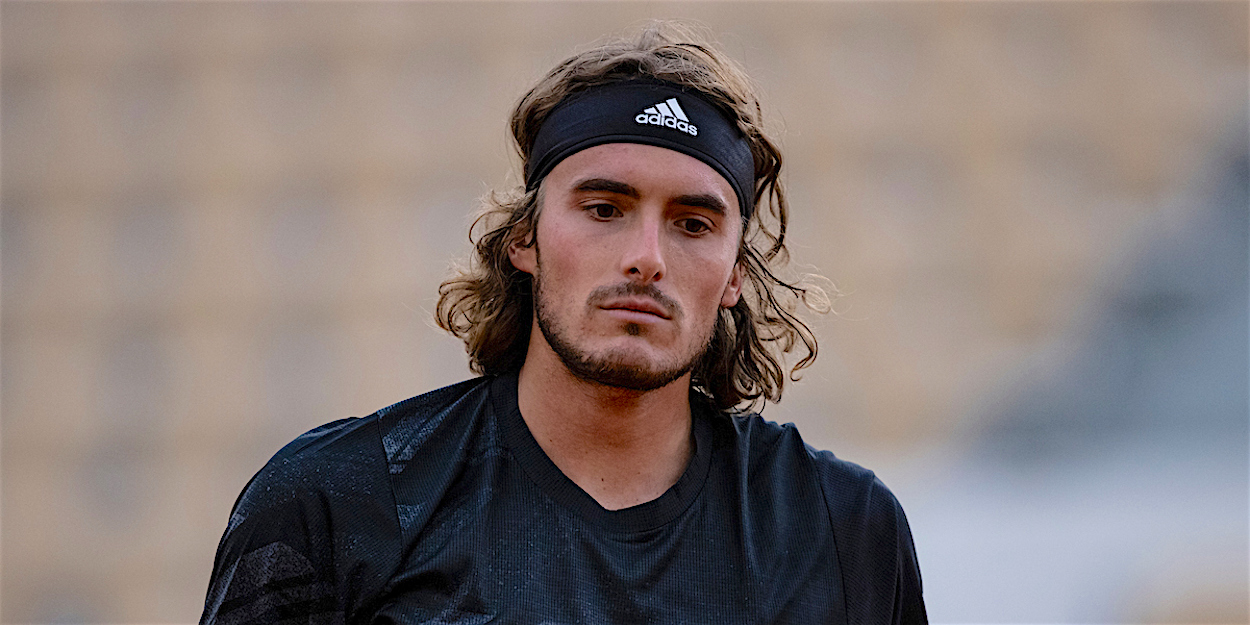 "Last year I was still a kid" Evidence grows that Stefanos Tsitsipas is maturing
Stefanos Tsitsipas' second appearance in a Grand Slam semi-final ended in another defeat but provided evidence of his growing maturity.
Stefanos Tsitsipas has played in two Grand Slam semi-finals and lost to members of the sport's "Big Three" on both occasions, but that is where the similarities between his defeats at the 2019 Australian Open and the 2020 French Open begin and end.
In Melbourne 2019 Tsitsipas won only six games as he was swept aside by Rafael Nadal in their semi-final in just 106 minutes. In contrast, in Paris last autumn the 22-year-old Greek fought back from two sets down against Novak Djokovic before finally succumbing in five sets after nearly four hours. It was still a defeat, but the manner of his gutsy fightback suggested that it cannot be long before Tsitsipas claims his first Grand Slam title.
Despite his undeniable talent and his triumph at the 2019 season-ending Nitto ATP finals, Tsitsipas' performances at Grand Slam tournaments following the 2019 Australian Open had left doubts about his ability to perform consistently at the highest level. Tsitsipas had failed to progress beyond the fourth round in five successive Grand Slam tournaments following his defeat to Nadal in Melbourne last year. He suffered two first-round defeats and his losses in five-set encounters to Thomas Fabbiano in the first round at Wimbledon 2019 and to Borna Coric in the third round in New York last summer, when he failed to convert six match points, suggested that his powers of endurance might be wanting.
At Roland Garros last autumn, however, Tsitsipas reminded everyone why he has been acclaimed as the most exciting player of his generation. He won his first-round match against Jaume Munar from two sets down and did not drop another set until the semi-finals. Against Djokovic, Tsitsipas again fought back to level the match after losing the first two sets and might have gone on to reach his first Grand Slam final but for a leg injury which had been troubling him.
Tsitsipas himself believes he has made major strides since that first appearance in a Grand Slam semi-final in Melbourne last year. "When I think back to the Australian Open I was still a kid and now I'm turning more into an adult," he said. "My thinking has changed. I've matured. I've been through a lot of things. I have grown [thanks to] the people around me, my relationships, people in general. They have contributed a lot to that.
---
"You have to think long-term at a Grand Slam tournament. It's important to go into every single match thinking that way."
---
"I have, of course, more experience in my pocket than before. I've played matches. I've experienced different things. I know when something is good or not and I think I can dictate that earlier. So a lot of experience, a lot of physical improvement, and the ability to read the game a bit better. Also, for sure, 100 per cent, I am more relaxed on the court. I saw videos of myself from two or three years ago and I've matured a lot in a way that I'm more calm."
Tsitsipas has come to realise that Grand Slam tournaments require a different approach to other events. Asked what he saw as the greatest challenge at Grand Slam level, he was clear. "It will be the physical challenge," he said. "Grand Slam tournaments are way different to any other tournaments we get to play the rest of the year. It is very challenging coming into one of them and it requires very good physicality.
"It's a different mindset. Sometimes your mindset is: 'OK, I'll go in and finish it in two sets.' But at a Grand Slam you have one more set and you have to be prepared for longer matches. It can turn out to be unpredictable sometimes. You have to have long-term concentration. You have to think long-term and not so much short-term. It's important to go into every single match thinking that way."
While there has been evidence of Tsitsipas' growing maturity, he is still the youngest player in the world's top 10 and at 22 years of age there are times when it is clear that he is still learning. His last match of 2019, a shoot-out with Rafael Nadal to decide which of the two men would go through to the last four at the Nitto ATP Finals, was a good example of that. Having lost the first set, Tsitsipas levelled the match with a an admirable display of controlled aggression, only to lose it by playing a reckless decider.
---
"I've experienced different things. I know when something is good or not and I think I can dictate that earlier"
---
"I was rushing," Tsitsipas admitted afterwards. "I don't even know what I was trying to do, honestly. I was trying to be way, way too aggressive. I was giving him free points without him really doing too much or hurting me from the back. I should have handled it a little bit more cleverly and patiently, but it didn't happen. My serve was not there when I needed it, and against these guys you just have to be there. I wasn't fully present. I wasn't playing in the moment."
As someone who likes to play as many matches as possible, Tsitsipas found 2020 "unfulfilling" and the absence of spectators challenging. "Only now do I realise that crowds create more adrenaline when I'm out on the court," he said. "They give me – and I think they give this to every single player – bigger purpose. It's just so elevating when you have people watching."
However, Tsitsipas also said there were positives he would take from the year. "I will try and forget the negatives, because who needs negativity in this world?" he said. "I'm just looking at the bright side of it, trying to get to the end of the tunnel and to see something better in the near future."
---