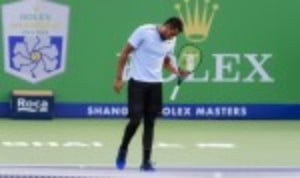 Kyrgios quits in Shanghai
Originally published on 10/10/17 00:00
The Australian No.1 was noticeably irritated by the constant movements of the crowd and his anger only increased after being issued with a point-penalty for an audible obscenity in the first set tiebreak.
It was a tiebreak that was eventually clinched by the American and Kyrgios immediately made his way to the net, embraced his opponent, and retired. The spectators jeered the 22-year-old as he made a sharp exit and Johnson was left bewildered.
It's the second consecutive year Kyrgios has been engaged in controversy in Shanghai. In 2016, he was fined and suspended for eight weeks due to a lack of effort in his second round loss to Mischa Zverev – and he may encounter the wrath of the authorities once again.
The Australian, who impressed in his run to the final of the China Open last week, took to his Twitter account to explain why he felt unable to complete his first round match.
"I want to apologise to the fans in Shanghai and to those watching around the world on television today," said Kyrgios. "I've been battling a stomach bug for the last 24 hours and I tried to be ready but was really struggling on court today – which I think was pretty evident from the first point.
"My shoulder started to hurt in practice today which didn't help either, and once I lost the first set, I was just not strong enough to continue because I've not eaten much in the past 24 hours.
"I'm hoping to be okay for the doubles and will make a decision tomorrow morning – hopefully after a good night's sleep which I didn't get last night. I'm gutted, to be honest, as I was keen to keep the good momentum that I built in Beijing going and finish the season strong. I'll do what I can to make sure I do."