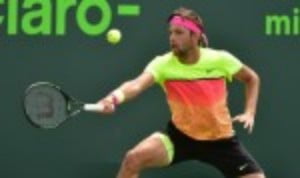 Krajinovic to meet Sock in final
Originally published on 04/11/17 00:00
The Serbian, ranked No.77 in the world, had to battle through qualifying just to make the main draw of the final event of the regular campaign.
It's been an extraordinary week for the 25-year-old and he could barely contain his excitement after winning a third set shootout. On Sunday, he will attempt to become the first qualifier since Albert Portas in 2001 to win the ultimate prize at a Masters 1000.
Krajinovic, who will crack the Top 25 if he achieves one more victory, has ended John Isner's hopes of qualifying for London.
"The emotions are amazing," said Krajinovic, who saved all five break-points he faced. "When I served for the match, my hand was shaking. It was tough to control my emotions, but I knew I had to stay aggressive all the way to the end. I did it, and it is the best day of my life."
His final opponent will be Jack Sock. The American reached his first Masters final by overcoming Julien Benneteau 7-5 6-2.
The 35-year-old Frenchman had thrilled the locals with his unexpected run through to the last four, but he appeared weary this afternoon.
Sock is now just one victory away from bagging the biggest title of his career, reaching the Top 10 for the first time and also securing his spot at the World Tour Finals.