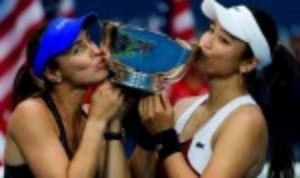 Hingis makes it a double
Originally published on 10/09/17 00:00
Hingis, who also won the mixed-doubles crown with Jamie Murray on Saturday, has now won 25 major trophies and it's her first triumph with her partner from Chinese Taipei.
The No.2 seeds made a miserly two unforced-errors as they outclassed their Czech opponents from beginning to end. Hradecka and Siniakova had not dropped a set en route to the final but they had no answer to the fine combination play of their higher ranked rivals.
The outcome was never in doubt from the moment Siniakova dropped serve in the fourth game of the opener. Victory was sealed after just 55 minutes of action and it was perhaps fitting that it was Hingis who added the finishing touches with a delightful forehand winner.
"It feels awesome, especially with two titles in two days," said the delighted Swiss with a grin. "I had Michael Jordan's number of 23 when I started the journey here and 25 sounds even sweeter."
Chan added: "It's been a dream come true to play with you {Hingis} and now that we have won this US Open title together, it's a real dream come true. I'm living my dream."
"It was a really tough match, I was really nervous before the match," admitted a downcast Siniakova. A few years ago I was standing in the box watching the Czech girls win the title and I was dreaming of the chance to play on this court [Arthur Ashe}. The dream has come true, but unfortunately we didn't win the title but I hope I have many more matches here."
"We had a very nice few weeks here and played good matches together," remarked Hradecka. "Today our opponents played so good and I hope we will have a chance in the future to beat them. Congratulations to them, they are an unbelievable team."