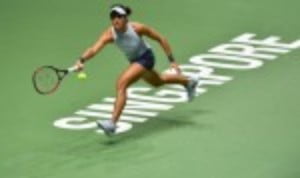 Garcia completes semi-final line up
Originally published on 27/10/17 00:00
The Frenchwoman made it 13 wins from her last 14 starts after recovering from an awful opening to defeat Caroline Wozniacki 0-6 6-3 7-5 in two hours and 18 minutes.
Garcia still required Elina Svitolina to defeat the world No.1, Simona Halep, to reach the last four – and the Ukrainian duly obliged.
The 24-year-old, who had been eliminated before even striking a ball in anger this evening, made it four wins from five meetings with the Romanian.
The semi-final line up is now complete. Wozniacki will tackle Karolina Pliskova and Garcia will face Venus Williams. None of the final four have captured Grand Slam silverware this year.
Halep's group stage exit means Pliskova can end the season as year-end No.1, but only if she lifts the title on Sunday.
Garcia recovered from 5-3 down in the third set of her entertaining battle with Wozniacki. The 24-year-old produced the highest quality tennis of the week when she required it most, and the Dane had no answer to the shotmaking on display from her rival.
"In the first set, she [Wozniacki] was playing amazing," admitted Garcia afterwards. "I was a little bit down and not believing enough, but she was playing great and gave me nothing.
"In the second set, I played with greater intensity with my legs and found my rhythm. The match was up and done, but I finished well."
The Frenchwoman's impressive win would have been in vain if Halep had prevailed against Svitolina. It was the Ukrainian who ensured her season would end her season on a high note though, and she was a convincing 6-3 6-4 winner over her agitated rival.
"It wasn't the best week for me," remarked Svitolina after the finest campaign of her career drew to a close. "It was the last match of the season and I was playing free.
"It was a very good match from me and I'm very happy to finish in Singapore with a win. It's been an amazing year for me and to finish in Singapore was my goal. I started the year not so well, but then I started winning titles.
"I'm leaving in a good mood, and that's all that matters."