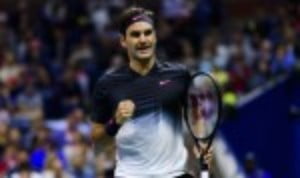 Federer into fourth round
Originally published on 03/09/17 00:00
It was not to be thirteenth time lucky for Lopez as the No.3 seed eased to a 6-3 6-3 7-5.win.
The start of the night match on Ashe was delayed until 9.49 pm local time by the over running of the last match of the day session between Rafael Nadal and Leonardo Mayer, which followed two long women's matches.
Federer came out all guns blazing and took the first set in just 24 minutes. Lopez tried to advance to the net a little more in the second set, but the Swiss dominated that too.
The Spaniard managed to press a little harder in the third, despite being broken in the fourth game. He managed to break Federer's serve in the fifth game but the 19-time Grand Slam winner held on to take the set 7-5.
So despite the late start, Federer was off court in an hour and 46 minutes, much quicker than his previous two matches against Frances Tiafoe and Mikhail Youzhny, both of which had gone the distance.
"With those first couple matches, obviously my opponents came out and played very well and pushed it to extra sets," Federer said. "And today, that almost happened again in the third set. Feliciano is always a tough opponent to play against so I kind of expected he would fight."
Federer is trying to win a record-breaking sixth US Open crown and the back injury which caused him to withdraw from the ATP Masters 1000 at Cincinnati appears to be a thing of the past. He played freely under the roof, which was closed because of rain.
The next opponent who will attempt to stop Federer winning his 20th major is Philipp Kohlschreiber. The Swiss has won all 11 of their previous matches.
This story is brought to you by Wilson, the global leader in performance tennis